The reason to replace your old windows is simple: they don't do their job anymore and lose heat. But for homeowners looking for a Calgary window company, some factors are worth more consideration than other. For example, the price of windows or a warranty.
Are you looking for the cheapest windows possible? Are you trying to optimize the efficiency in your home? Is maximum comfort a must in your new windows?
For any of these scenarios, there is a local window company that is capable of delivering the results. It is mostly a matter of homeowners doing their research and asking the right questions at their consultation appointment.
Find out what people are saying about us online:
Ecoline Windows on BBB
Ecoline Windows on Facebook
Ecoline Windows on Twitter
Ecoline Windows videos on YouTube
But there are certain factors that all window companies in Alberta should have. Usually, these are certifications that assure the business is legitimate, the product is of a certain quality standard, and the window installers follow proper installation techniques. Regardless of the size of your replacement, Ecoline Windows can do 5 or 25 windows to improve the efficiency and comfort in your home.
We will break down what to look for in a local window supplier, and tell you where we stand in regards to some of these qualifications.
Industry Canada profile
The Industry Canada registry provides profiles on legitimate businesses in all areas of our economy, as well services and products that they offer. While being in the Industry Canada listings doesn't automatically make a company legitimate, it is a good way to separate serious companies from seasonal one-man-show operations. You can find Ecoline Windows' Industry Canada page here.
Service Alberta Prepaid Contracting License
This license is mandatory for any business in Alberta that negotiates prepaid contracts and collects money before work is done. Because most residential custom window orders involve a down payment, pretty much all companies in the province must have this license to legally collect a down payment from homeowners. The license also ensures that any window company or renovation business is bonded and you are financially protected in the event the business cannot fulfill their contractual promises. If you are buying custom windows and are putting a down payment forward, make sure that the company has a Prepaid Contracting License. You will know right away that your money is going toward new windows and not elsewhere.
You can find information about Ecoline Windows license as well as other companies on the Service Alberta website.
Better Business Bureau (BBB)
Although the BBB is not an official or government related organization, it is still respected and commonly used by consumers. What is more important is that businesses are made accountable through this website and are forced to address customer complaints and desired resolutions. Because customers usually file complaints with the BBB in very extreme cases, the number of complaints alone can be a good indicator of how well the company tries to resolve problems with customers.
You can visit the Ecoline Windows BBB page here.
Homestars.com
Homestars is probably the most comprehensive and inclusive renovation company rating website in Canada. But although Homestars does a job of moderating and regulating the customer feedback, many companies still rise in the ratings through fake reviews. A lot of companies also offer additional discounts or monetary incentives for customers to write positive reviews. When looking at any business on Homestars, make sure that the company page has been set up for a while, or that the vast majority of their feedback isn't from a short period of time. Also, look for some variety in the reviews. No company is perfect, so it should be suspect if all of a company's reviews are a perfect 10. The language in reviews can also be a giveaway to their authenticity. If the same spelling or grammar mistakes persist throughout, chances are the same poster is behind several reviews.
You can see the Ecoline Windows Homestars reviews here.
How to know if a window company's product is of good quality?
Getting the most out of your energy efficient windows depends on two factors: quality of the product and proper installation. There are associated groups and companies in Canada that ensure testing of window performance and efficiency in different climate zones.
ENERGY STAR
If you are looking for quality windows, then it is almost mandatory that the product you buy is ENERGY STAR rated. The rating not only measures the performance of your windows but also assesses their efficiency in relation to three distinct climate zones in Canada. If a product meets the necessary energy rating for specific zone it is deemed efficient.
Windows are considered energy efficient if they collect more energy than they lose. But wait, a window can collect energy? Modern windows actually utilize a certain amount of UV radiation to heat the room they are installed in. A big advantage of ENERGY STAR rated products is that by regulation all the performance specs are stickered onto each window when it leaves the manufacturing plant. That way you can see exactly what criteria your new windows meet before they are even installed.
You can find a list of ENERGY STAR window companies, including us, on the Natural Resources Canada page.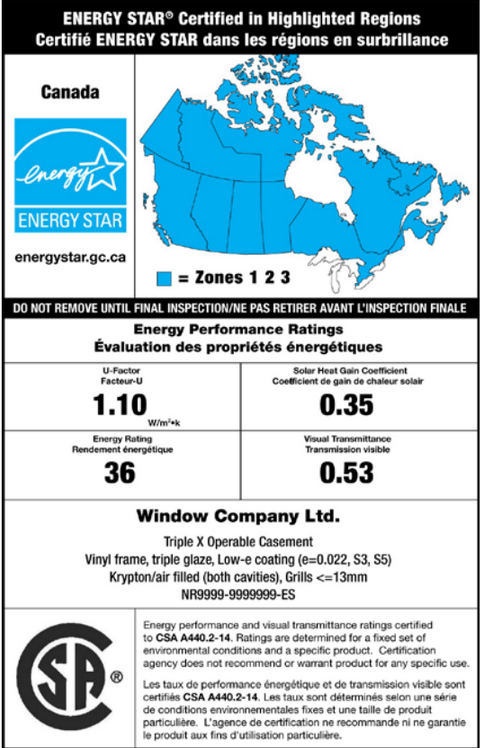 Canadian Standards Association (CSA)
Similarly to ENERGY STAR, the CSA provides testing, certification, and verification of standards for windows in North America. The CSA also relies on ENERGY STAR qualifications and energy ratings to certify all products they test. The certification is usually labeled on the window itself with a CSA logo. CSA also lays out the correct methods for replacing windows and is generally considered as a rulebook for window installers. Although there is no online directory for CSA compliant companies, any product that is certified, is always labeled with the appropriate logo. Some companies will also claim that they are CSA compliant, but don't actually carry a CSA logo. This means that their windows meet CSA requirements on paper but have not in fact been tested by the organization. All Ecoline windows are labeled with the CSA logo and an appropriate ENERGY STAR sticker that lists all the performance ratings for that unit.
Window Wise
Window Wise is a quality assurance program that provides training, certification, and random inspections for window installers and contractors working with replacement windows and doors. You can find Window Wise participation information on the same Natural Resources Canada page that lists window companies participating in the ENERGY STAR program.
Remember, none of these three certifications are mandatory for window companies in Canada. However, if you want the most value out of your replacement, make sure that the companies you consider for a quote at least sell ENERGY STAR certified product.
There are Calgary window companies that deal with supply and install, and ones that do supply only. There are ones that specialize in all types of window installations, and once that only do replacement windows in residential homes. Even when it comes to the kind of installation, different companies have their own preferred methods; some do full-frame replacements and some focus on retrofit or insert windows. Ultimately, there is a company for every kind of customer, that can help you achieve exactly what you want out of your replacement. But if companies have some or all of the above mentioned certifications, licenses, and ratings you have the added protection of knowing that you're working with a reliable company that won't just disappear with your money.
Check out:
Find Out The Cost of Replacement Windows
One Thing You MUST Know Before Scheduling A Window Replacement Quote
Modern Windows Compared: Awning And Casement vs. Slider And Hung