In the Calgary Windows Replacement Market, window manufacturers offer several types of frame materials: wood, fiberglass, aluminum, and vinyl. The majority of homeowners choose to replace their old windows with new vinyl windows because of minimal maintenance, durability, and affordable price of windows. During the consultation appointment, buyers tend to ask us what window components affect the final window price in the most significant way. Also, they would like to know which components are essential for maximum energy efficiency. At the end of the day, buyers want to get a good product at a good price, which is true for all purchases. In order to achieve these objectives, it is beneficial to know the 3 main components that determine the cost of new windows.
Window Glass
Window glass accounts for approximately 70% of the whole window area. Usually, most window companies in Calgary carry double and triple pane glass. Even though Calgary is considered to be in a less cold climate zone than Edmonton most homeowners still choose to go with triple glazed window glass for the additional window pane protection it provides. On average you should expect the difference in glass price between double and triple pane to be 7%-10%.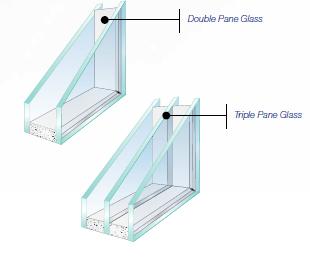 Window Style
Casement and Awning windows are more expensive due to their superior seal and safety features. The range of casement windows prices, as well as awning windows, can be on average as much as 8%-12% more than vertical and horizontal sliding windows.
Full Frame vs The retrofit installation
The retrofit installation is characterized by the installation of a new window into the existing wooden frame. Full frame installation is characterized by a complete removal of all the old window components up to the studs and installation of new vinyl window, jamb extension, casing, and brickmould.
Replacing old windows often comes with surprises, such as rotted structural parts; the full frame replacement ensures that these parts are found, removed, and brand new ones installed in their place. For this reason, vinyl window prices with full frame replacement cost 10%-15% more than a retrofit installation.
Retrofit Installation