Installing new vinyl windows is a great step in making your home more efficient and uplifting the way it looks. But the new windows themselves are only half of the solution. What goes on top of them is often the determining factor in completing the vision you had in mind before you even began the project.
Curtains and shutters are more traditional choices for window coverings, but undoubtedly most customers today prefer blinds for their modern look and ease of maintenance.
This is where most people shopping for quality replacement windows run into problems. Why? Most Canadian window companies don't supply and install blinds with new windows.
While your project consultant may advise a good blinds company in Edmonton, Calgary, or Winnipeg, rarely will your blinds order be a part of your window replacement order.
This means most customers are left to purchase their blinds separate. But when is a good time to start shopping for them?
It is best to measure and order custom blinds or window coverings AFTER your window installation is complete and you've ensured there are no problems that still need to be addressed.
Watch this video to learn everything you need to know about correct blinds installation on new vinyl windows:
This sounds quite simple, but it is actually a practice most people overlook, as they want their new windows covered from the first day and try to order their blinds at the same time as their custom windows.
While an installation like a nail flange replacement (the whole window gets cut out and an IDENTICAL sized window gets put in) may allow for a measurement for new blinds, this is not the case for full frame replacement installations. Because your windows are custom made for your house, and often assume changes in the structure, there is no way to guarantee or foresee the precise measurements inside the frame of your window until the day of the installation.
If you are deciding on a blinds company for your new product, wait until your windows are installed. That way you can have a representative come out, take a measurement and provide the best-fitted blinds you can get. Maximizing the space within the window is also about getting the most out of your blinds. Blinds that are too short or not properly fitted simply may allow too much light in.
Will my existing blinds fit into the new window?
Depending on your existing window, how it was installed, and how your new window will be installed, your blinds may end up being too big or even too small for the new windows. Most full-frame installations aim to match the dimensions of the existing window, so hypothetically your new blinds should fit. In practice, however, many factors can influence the change in the size of your window opening, and new windows and jambs. If you are interested in retaining your existing blinds with your new windows be sure to discuss this point at the time of your quote consultation: at that point it maybe easier to match the installation to the size of the blinds than trying to match the blinds to an already installed window.
Can blinds be drilled into new windows?
If you discussed keeping your existing blinds, or are looking to install the new blinds yourself, remember to exercise caution. If your blinds installation requires drilling, only drill through the jamb extension (Refer to the video above for a visual example). While this does not void the warranty, if you decide to take off the blinds later on, the company will not replace your jambs for free and you may be left with unsightly holes in your jambs. NEVER drill through the actual frame of the window, this will leave your frames prone to water damage and drafts.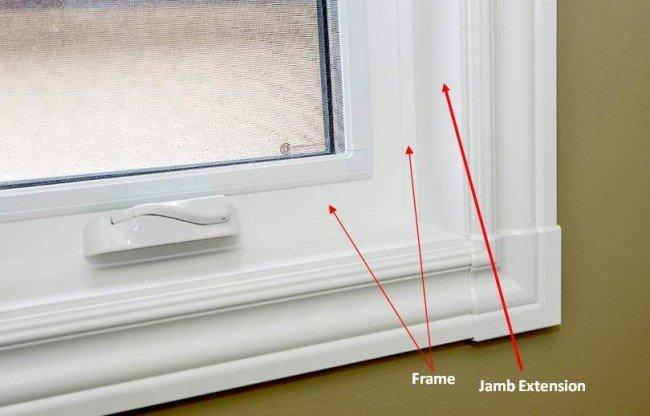 Getting right blinds is the perfect way to complete the look of your modern windows and prevent UV damage in your rooms. Plan adequately, and you will get the best product for your replacement.
Vertical Or Horizontal Blinds: What's Better?
Which blinds should you get for which windows? Traditionally, vertical blinds have slightly wider slats and let in more light when they are open. That's why these blinds are used on wide windows, and sliding patio doors, or in areas where you want to have the option to let in lots of natural light. They also allow easy access to the door and don't require a lot of adjusting for someone to pass through.
Horizontal blinds, or "Venetian blinds" as they are sometimes called, are usually used on narrow, taller windows. This type of blinds is ideal for casement and awning windows because it allows for easy access to the crank mechanism to allow the window to open. Horizontal blinds are most useful in rooms that require the most privacy. When they are closed there is no risk of them moving, and they provide a better barrier to light. Combined with drapes, these blinds can provide near zero light penetration into the room.
When designing homes, interior decorators often use the location of the window to determine which blinds are more suitable. On windows that face north or south, it is recommended to use horizontal blinds. On east or west-facing windows, it is preferred to use vertical blinds. These rules are dictated by the different angles at which the light hits your home throughout the day and allow for optimal adjustments to filtering the sunlight.
Finally, the material from which the blinds are manufactured may play a role in what you decide to go with. Horizontal blinds are usually made of aluminum or wood and are much sturdier than fabric vertical blinds. They are also easier to clean and can be wiped down or dusted.
Ecoline Windows and Budget Blinds Calgary: Better Together
For our Calgary customers, we currently have a promo in place, where you can get an additional discount on window covering products from Budget. Check out how new windows can benefit from a window covering solution from Budget Blinds:
Learn everything you need to know about replacement windows:
Find out how much a new window project should cost
See our full line of vinyl window styles
Find out why you can purchase with confidence when you pick Ecoline Windows