If you are thinking about a replacement window installation this year, consider end-vent windows for your living room or master bedroom. Ideal for bigger openings, end-vents are designed specifically to look similar to your existing or new slider window styles.
These modern windows feature the same low-profile frame, so they let in a lot of lights.
End-vent windows have a slider sash on each end (hence vent) and a fixed casement unit in the middle.
To open the window, begin by lifting the cam-lock so the operable sash is free to move. Hold on to the pull rail with both hands and slide the sash horizontally.
Just like sliders, these windows offer a tilt-in feature for easy cleaning and maintenance.
When closing the window, make sure the sash is flush against the frame to avoid any damage to the hardware or the locking mechanism.
Many window companies today offer energy efficient end-vent windows. They are one of the most practical window designs, with easy maintenance, that perfectly matches with smaller slider windows around the house.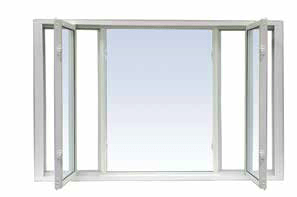 Learn more about replacement windows:
See our full line of replacement window styles
Find out how much new windows should cost
Check out our installation process INFOGRAPHIC