Replacing windows and doors in your home can be a daunting and stressful undertaking for many homeowners. There are simply too many variables that have to align in order for everything to go right.
But it's not impossible. The best thing you can do before getting a window replacement is doing your research. And that doesn't mean you have to become an expert in the field. But knowing some basics can help you better assess the condition of your existing windows, and hopefully figure out what windows are right for you.
The second best thing you can do is pick the right company. Because they are responsible for the product, installation, service and warranty, not to mention taking your money. Many times window replacement projects are motivated by the cheapest price. And while price is a very important consideration, it shouldn't be the only driving factor in deciding which company to go with.
What you need to know about window and door companies in Regina
Most window companies can be classified as either supply-and-install or supply only.
Supply-and-install companies take the full-service approach. The company will quote, measure, manufacture, and install the product themselves.
Supply only companies can work with numerous dealers and contractors in different cities or provinces. These are often bigger manufacturers that sometimes work with numerous installation companies in the same city.
While the type of company doesn't determine the quality of your replacement, it can have an effect on the customer service side of things. Because supply-and-install companies do everything in house, it is usually much easier and faster to get service. There is also less finger pointing when it comes to who is responsible for the service.
If you are buying a big manufacturer's windows and a local company installs them, you may be the one responsible for contacting the manufacturer in order for them to send someone from their end to check out the problem. Hardly a hassle most homeowners have time for.
Which window type is right for your replacement?
You will also need to decide what type of new windows you want in your home. There are four main types of windows on the market today: wood, aluminum, vinyl, and fiberglass.
Although traditionally windows in Canada were manufactured from wood or aluminum, vinyl (PVC) and fiberglass are more common choices today. Many manufacturers today also make combination windows from two different materials.
Each type of window has their own advantages and disadvantages when it comes to performance, price, and esthetic look. Fiberglass windows, for example, are much more efficient than vinyl, but can cost up to 25-30% more. Aluminum windows are more soundproof than vinyl but aren't as efficient.
Nonetheless, vinyl remains the top material choice for most window manufacturers today because it combines performance, easy maintenance, relatively long life expectancy, and a pristinely polished look, for an acceptable price.
How do you know if the windows you are buying are efficient enough?
Regardless of the window material you decide on, it is important that windows you get are actually suitable for your local climate. One manufacturer's wood windows may be more efficient than another's vinyl option.
A window is considered efficient when it collects more energy than it loses. One way to ensure that you're investing into quality windows is by looking for product that is ENERGY STAR® rated. ENERGY STAR rates all consumer home and building product for efficiency based on different criteria for performance. One common way to compare any windows is through their ER RATING. ER Ratings are a number that is derived based on a window's solar heat gain coefficient (SGHC), air leakage loss, and conduction heat loss.
In Canada, ENERGY STAR also specifies three unique climate zones and specific criteria windows must comply with in order to be considered efficient in those geographic regions.
In order to be considered efficient in Regina, your windows must achieve a minimum ER Rating of 29 and comply with standards for climate zone 2.
What type of window installation is best suited for your project?
There are two main types of window replacement installation: full-frame replacement and retrofit.
In a retrofit replacement your new windows get inserted into existing frames. The frame, jambs, and interior trim remain the same as your old window. Aluminum capping is often used on the outside to give the windows an updated look.
A full-frame replacement is a much more thorough way to change windows. Your existing window gets removed down to the studs surrounding the frame, and new windows are installed with new frames, brickmoulds, jambs, and casings.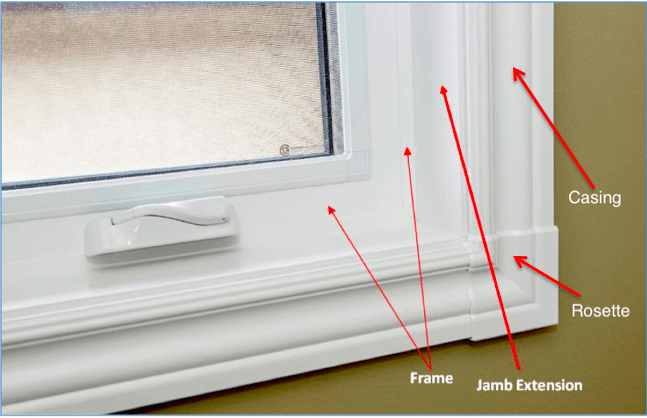 While a retrofit replacement is great for preserving the look of existing windows, it is not recommended if there is any moisture in the frame of your windows. Which is the reason many homeowners have to change their windows in the first place.
The problem is that many dishonest window companies sell retrofit replacements as a full-frame installation to unsuspecting customers. Because of the additional components and labour required in a full-frame replacement, this kind of installation can cost significantly more than a retrofit.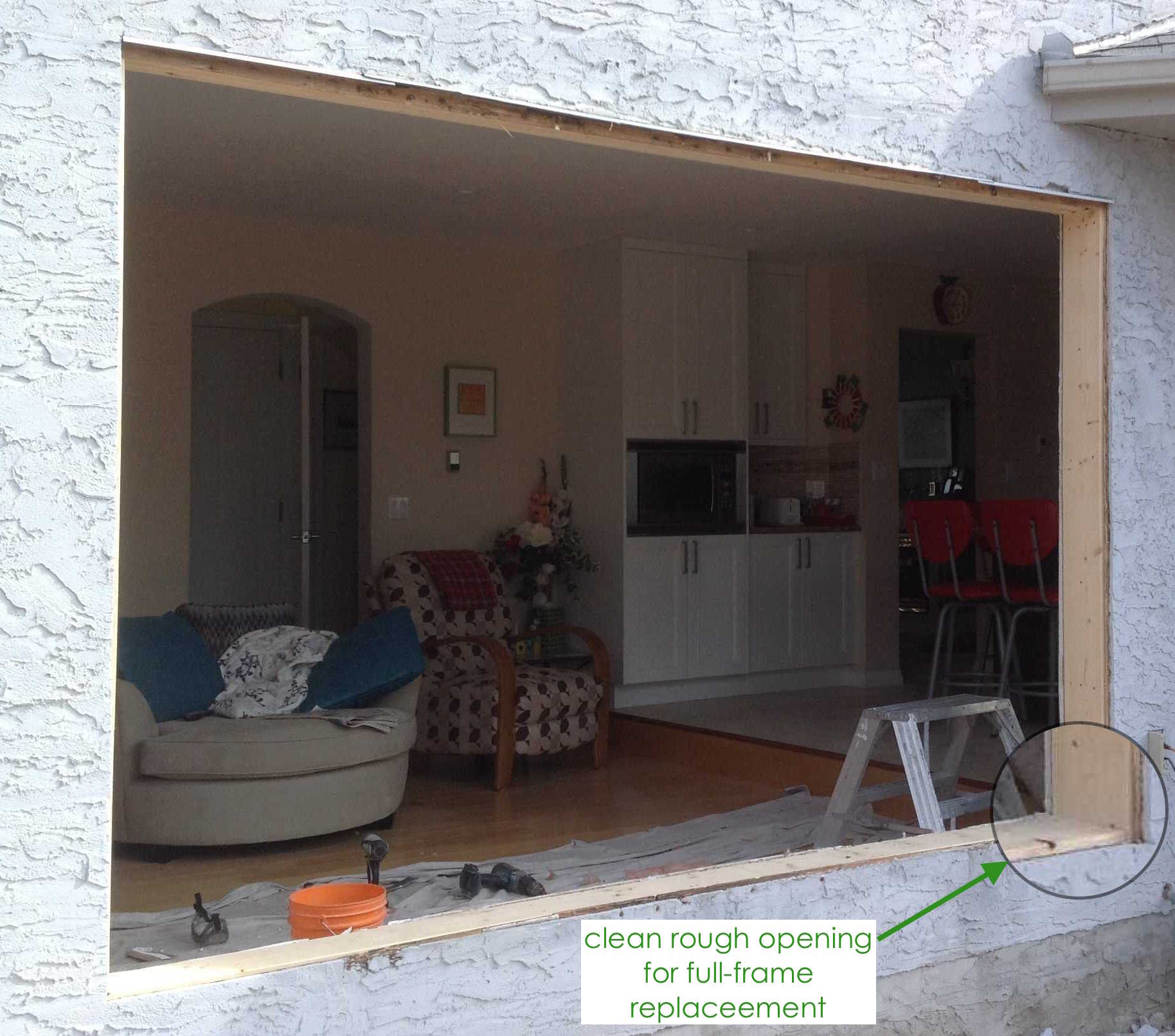 But if you really care about the longevity, performance, and quality of your new windows, a full-frame installation is a no-brainer for most homeowners.
What do you need to know about lifetime window and door warranty?
Most window companies today sell their windows with a "lifetime warranty" package. The term lifetime warranty in itself has become sort of a sales gimmick.
But what most homeowners aren't told is that lifetime warranty doesn't mean their lifetime or the lifetime of the house. Lifetime warranty in the window industry refers directly to the expected lifetime of the window.
While life expectancy for different windows depends on the material, generally vinyl or wood windows have a life expectancy of 20 to 25 years.
When looking for replacement window warranty consider three things: window component warranty, insulated glass unit warranty, and labour warranty.
Window components and glass units will usually be warranted for the same number of years. Where it gets somewhat tricky are the different labour warranties. Most companies offer between one and five-year warranty on labour. However, not all labour is the same. Many companies charge extra for sealed unit replacement or anything they deem "skilled labour."
Considering the above criteria, we've put together a little chart of local Saskatchewan window companies to see how they fare:
As you can see, there are many similarities between these popular window companies. Unfortunately, it is not always possible to discern one company from another just by their websites. Consider tools like Homestars.com and the Better Business Bureau website to read more reviews on window companies in Regina.
And one more thing,
Do you know what most upset window customers complain about? It isn't the quality of the product or installation. Most often homeowners resort to writing negative reviews and filing BBB complaints when they are not being communicated with properly after the installation is done. Many companies simply get a sign-off on the job and disappear into the horizon, leading to months of back-and-forth when a homeowner is requesting service.
Consider a company with a dedicated service department. Your windows are warranted for over twenty years, and you want someone to be on the other side of the line when you pick up the phone to call about service.
Check out:
Find Out The Cost of Replacement Windows
One Thing You MUST Know Before Scheduling A Window Replacement Quote
Modern Windows Compared: Awning And Casement vs. Slider And Hung