Awning Windows in Winnipeg
1. Get a FREE QUOTE and we will bring SAMPLES to your home.
2. We will call you back during WORKING DAY
3. We guarantee Direct Price and Warranty from Manufacturer
or
Along with casements and sliders, awning windows are one of the most popular choices for replacement projects in Winnipeg.
Awning windows are designed and operate in the same way as casement windows, except they open vertically while casement windows turn horizontally to open.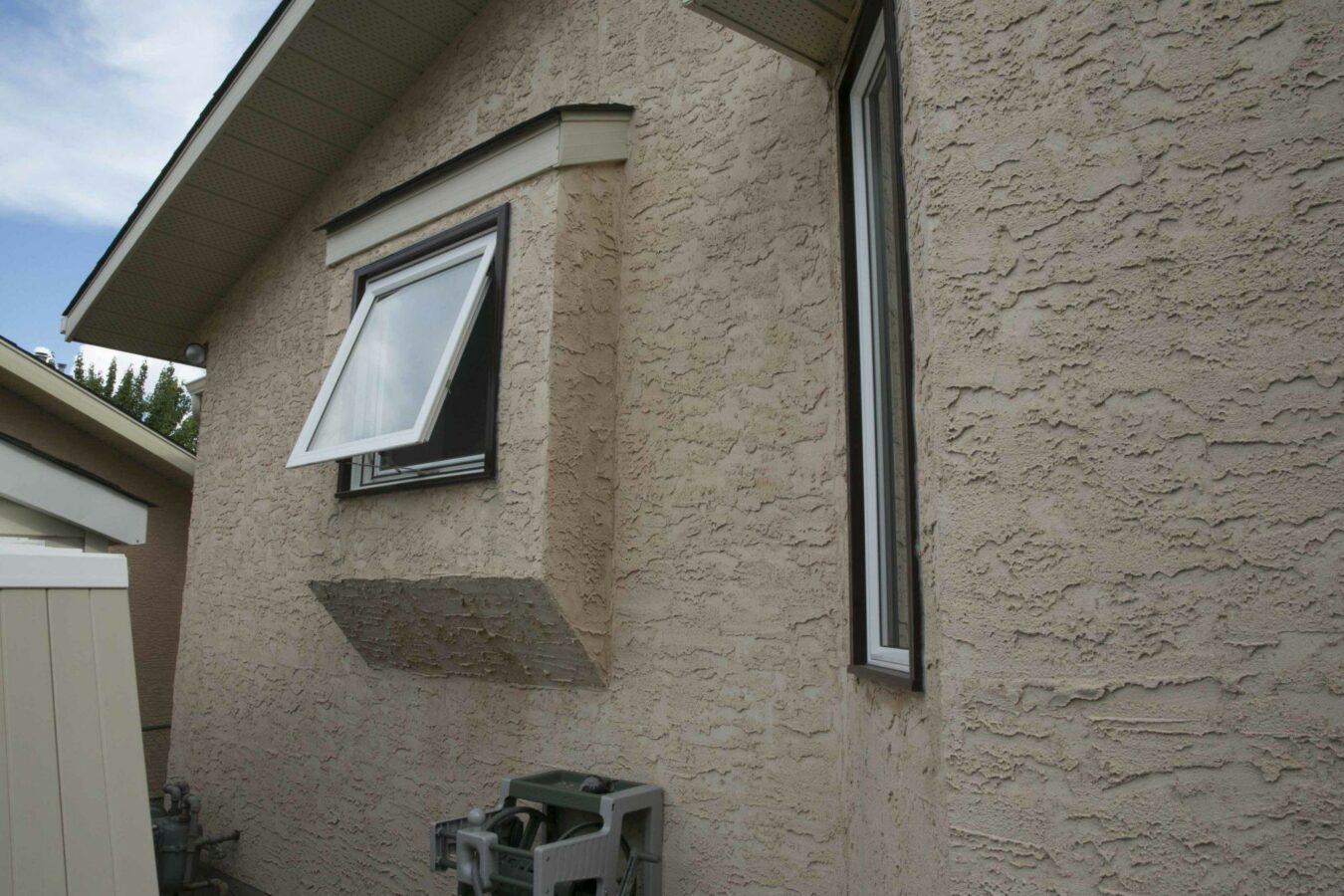 We previously compared casement and slider windows based on their performance. A similar comparison can be made between awning and hung windows.
Check out comparisons for windows in Winnipeg:
Casement Windows In Winnipeg
Slider Windows in Winnipeg
Awning windows have some particular applications where they work better than other windows, we will break it down further, but first here are three key points to know about awnings:
Awning windows perform on a similar level to casements and are are far better performing than hung windows.
Awning windows are ideal in places where ventilation is required year-round, like in kitchens and bathrooms.
It is often possible to combine awning and fixed windows for a unique look in any room.
Awning windows for maximum comfort
We already mentioned that awning windows perform in similar ways to a casement. But what is it exactly that makes them so efficient? A big factor is the use of compression seals in the area where the moving sash meets the frame. Expand to read more
Traditionally, casement and awning windows relied on fiber weather stripping in the areas where the sash meets the frame. The same weather stripping is still largely used in slider and hung windows.
Modern casements and awnings, however, rely on rubber compression seals. When the window is closed, the compression seal evenly fills the space between the sash and frame. This makes the unit airtight and prevents any leaks or draft. Even the best fiber weatherstripping is not as effective as compression seals at keeping the cold air out.
Another reason homeowners often get awning windows is the ease with which these windows can be operated. Slider and hung windows require you to pull the sash by hand. The sashes in modern windows can get quite heavy especially in triple-pane sliders. In casement and awning windows, the sash is moved away from the frame by crank hardware. Crank hardware is about 10 times easier to operate. This is important to consider for awnings, because they often get put above counters or sinks, in harder to reach areas. You don't want to reach all the way over the counter and struggle to pull a sliding window open.
Want to know more about
Ecoline's Awning
Windows?
Go to Awning
How to compare windows
Regardless of the window type, style and even price, all windows you consider should meet local ENERGY STAR performance requirements. ENERGY STAR rates products including household appliances and building products based on whether they help reduce energy consumption in your home.
As of January 2020, homeowners no longer have to consider a Climate zone when shopping for windows that are ENERGY STAR® certified in a particular area. A product in Canada is either ENERGY STAR® certified or not, with a single standard applied nationwide.
But keep in mind that if you are looking to purchase new energy-efficient windows in Winnipeg, you should only consider models with a minimum ER (energy rating) of 34 to make sure that these windows meet the Canadian government fenestration standards.
ER Ratings or U-Factor: What's better for comparing windows?
Both of these values play an important role in determining whether any window is efficient enough for your local area. But which is a better representation? A window's ER number can be significantly improved by higher SHGC factors. U-Factor, on the other hand, measures how resistant the window is to lose heat. [hypotext target="2″]Expand to read more[/hypotext] [hypotext id="2″]An ER number is a more encompassing measure of how a window "transfers" energy. The more heat it gains rather than loses, the more efficient a window is considered. Therefore, it is always important to look at the SHGC number to see how it plays into the window rating.
The U-Factor, on the other hand, assesses a window's resistance to heat loss. This is especially important to consider in Canada as we often have longer nights in the winter where it is essential for a home to retain as much of its heat as possible. [/hypotext]
We have compared awning window ratings from Winnipeg companies: All Weather Windows, JELD-WEN, Polar Ray-o-Max, Duraco Windows, Ecoline Windows, and Canadian Choice Windows and Doors.
Below are performance numbers for triple-pane single awning windows with a gas fill and Low-E coating application. Consider both the ER number and U-Factor number for each company's awning windows. But also pay attention to the value ranges each company offers. It is often possible to get better performance numbers by adding more features to a window.
Not seeing information about the company you like? Performance numbers for all ENERGY STAR compliant window companies can be found on this Natural Resources Canada page.
And another important thing to remember…
No matter how good your windows look on paper, their performance ratings mean very little if the actual unit isn't installed properly. In fact, the success of your replacement project depends just as much on the installation as it does on the quality of the windows you decide to go with. Consider this when picking a window company.
Check out:
Find Out The Cost of Replacement Windows
How To Pick A Window Company
One Thing You MUST Know Before Scheduling A Window Replacement Quote