We understand that every homeowner's needs are unique, so we have developed a simplified full-service approach for each project.
Watch this introductory video to get a better understanding of our approach to replacement windows.
In-House Installation
We use only highly trained, in-house installers to ensure quality control over the entire installation process.
What you should know about window installation before getting quotes
Guidelines and Building Codes
We adhere to guidelines and provincial building codes for replacement windows.
Do you need permits for a window replacement?
Safety
To safeguard our customers and employees from potential dangers, all workers are covered by WCB and every installation project carries liability insurance.
Can My Installation Be Done in The Winter?
Construction Debris
As part of our full-service approach, we make sure to leave the residence clean and to remove all construction garbage upon completion of the installation.

All crews carry extra drop cloths to cover all walkways, protect your floors and maintain a clean work area.
Windows and doors are installed level, square and plumb to ensure the seals are not compromised.
Pre-cut shims are used to level a window. They minimize deflection, distortion and rotation of the frame and permit proper operation of the window.
Polyurethane foam functions as both an air and thermal barrier. This prevents drafts and keeps the home warm.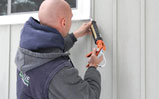 Sealant is added on the outside unit to act as part of the air and vapour barrier. It keeps moisture out of the home, prevents drafts and air leakage to the outside.