Energy Efficient Windows & Doors Designed & Assembled in Canada
Energy Efficiency & Glass
Stop drafts and leaks in your home
Old windows don't just lose heat, they also drain money out of your pocket. New ENERGY STAR® rated windows are specifically designed for your location.
For maximum comfort and efficiency, thermal windows feature key elements in their construction:
High-performance triple-pane or double-pane glass
Argon or Krypton gas to fill the gaps between panes, making the windows even more efficient
Low-E coating during the winter retains heat inside while keeping the cold air out
Low-E: warmer in the winter, cooler in the summer
The glass in our windows comes with a standard Low-E coating. Rooms that get a lot of direct sunlight can overheat during the day. Low-E glass reflects sun rays away from the house and keeps your home comfortable. There are different Low-E coatings based on how much sunlight you want to block. The same technology stops heat from escaping your home during the winter, reducing heating costs.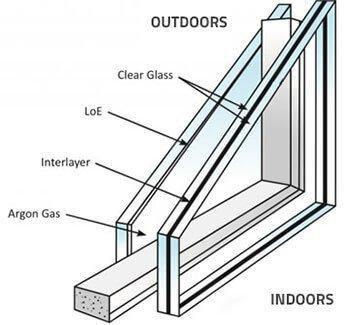 Noise reduction and security
If you live in a neighbourhood where noise or security is a concern, our windows can be manufactured with special glass to reduce noise and provide additional protection against a break-in.
Never paint your windows again
One of the advantages of vinyl windows over aluminum or wood is that these windows are virtually maintenance-free.
Easy to use durable hardware
We only use high-performance, rust-resistant hardware on our windows that ensures smooth and easy operation for years.

Finance your window replacement
We offer a few fast, flexible and easy ways to pay for your window replacement project. Payment deferral for 3, 6 or 12 months is available. Competitive rates with monthly installments.