Double & Triple Pane
Nowadays, double pane windows are standard for Canadian homes. Two layers of glass with the Argon gas between them make these units a perfect match for most Canadian homeowners. Thanks to the fantastic thermal performance, you enjoy cool in summer and warm in winter.
As the name suggests, triple pane windows have three layers of glass that make them up to 50% more efficient than double glazed units.
Ecoline offers only Energy Star-rated windows, so whatever is your choice, your home will benefit a lot after the replacement of your old units.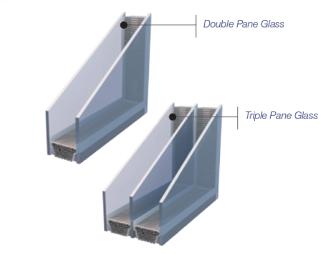 STOP DRAFTS AND LEAKS IN YOUR HOME
Old windows don't just lose heat, they also drain money out of your pocket. New ENERGY STAR® rated windows are specifically designed for your location.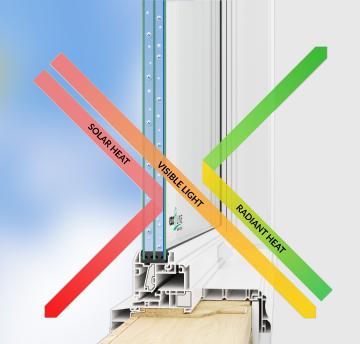 LOW-E: WARMER IN THE WINTER, COOLER IN THE SUMMER
The glass in our windows comes with a Low-E coating.
Rooms that get a lot of direct sunlight can overheat during the day. Low-E glass reflects sun rays away from the house and keeps your home comfortable.
There are different Low-E coatings based on how much sunlight you want to block. The same technology stops heat from escaping your home during the winter, reducing heating costs.
Watch Video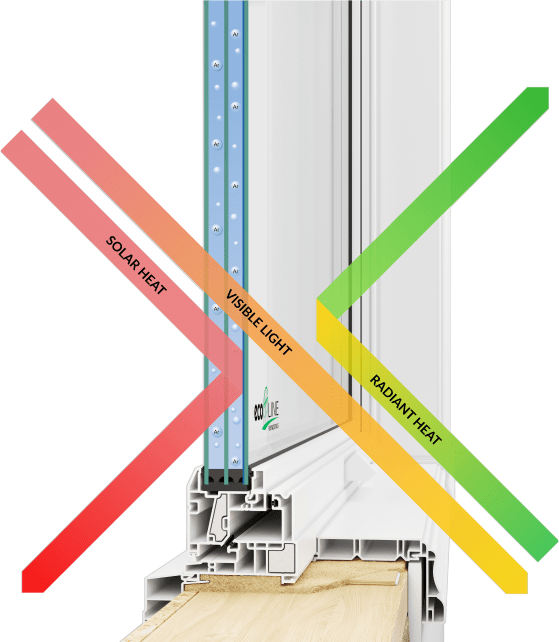 For maximum comfort and efficiency, thermal windows feature key elements in their construction:
High-performance triple-pane or double-pane glass

Argon or Krypton gas to fill the gaps between panes, making the windows even more efficient

Low-E coating during the winter retains heat inside while keeping the cold air out

Low-E glass. The same technology stops heat from escaping your home during the winter, reducing heating costs.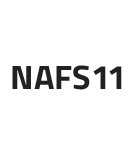 NAFS 11 and 2020 Energy Star® Requirements
All Ecoline windows meet or exceed NAFS 11 program standards and have achieved superior performances to meet the new 2020 Energy Star® efficiency requirements.
Argon and Krypton Gas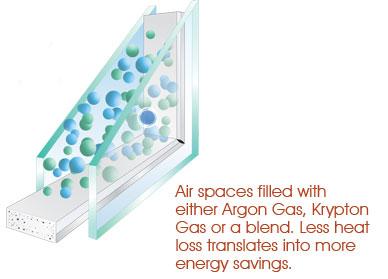 Argon and Krypton Gas
Argon and Krypton gases conduct up to 50% less heat than air. Using these gases to fill the spaces between double and triple pane windows protect against heat loss, condensation and cold weather for increased energy cost savings and overall comfort.
LEARN MORE GAS FILLING
SuperSpacer
SuperSpacer
Our windows are equipped with Super Spacer – a cutting-edge sealing technology that makes your new units more energy efficient and soundproof. Unlike most metal-based spacers, Super Spacer's all-foam solution blocks heat flow and drastically reduces the condensation. It endures the 140°F temperatures and 95 – 100% humidity.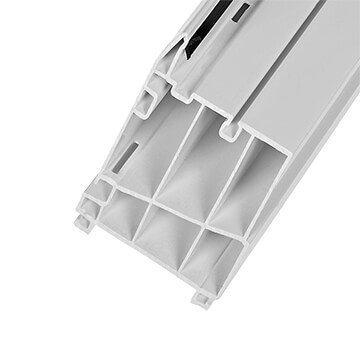 Up to 10% Thicker PVC Profile Walls
Ecoline incorporates 7% to 10% thicker PVC profile walls than industry average for all awning, casement, casement fixed and picture windows. They are also engineering to comply with heavier, large windows and triple-glazed glasses.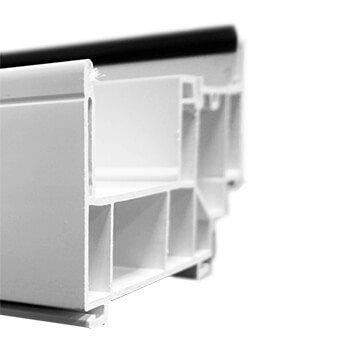 True Multi-Chamber Design
To improve structural performance and sound insulation plus reduced warping, all Ecoline window styles utilize a true multi-chamber design.
Multiple Glazing Options
A variety of glazing options are available for the best possible structural integrity. Traditional double glazing has a 7/8″ overall thickness (OT.) Triple glazing options are 1-3/8″ for awning, casement, casement fixed and picture windows. All triple glazing options for sliders and hung windows are 1-1/4″ with no grill limitations.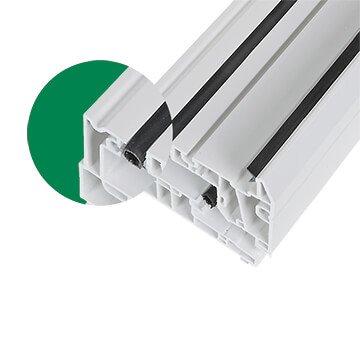 Screen Groove Port Design
Casement and awning windows now incorporate a new screen groove port design for improved push-down screen fit.