When planning a replacement project, kitchen windows can often require more consideration than windows in other rooms. There are certain things you want your kitchen windows to do.
Firstly, you want to be able to open your kitchen windows throughout the year, regardless of the weather or conditions outside. Kitchens generally contain a lot more moisture than other rooms, not to mention the smells from last night's dinner. Being able to open your window even for a couple of minutes throughout the year, can help bring the humidity levels down and reduce condensation on the glass.
Secondly, you want these windows to be accessible and easy to operate. You don't want to be stuck reaching over the sink every time you want to open or close them.
And thirdly, because your kitchen is generally a high-traffic area, you want these windows to let in as much light as possible, so you don't have to rely on lighting when you don't have to.
All the above criteria make awning windows a perfect choice for your kitchen.
The biggest advantage of this type of window over others is the fact that they can be opened essentially in any weather. Because the bottom of the pane tilts away from the house, you can enjoy fresh air flow even in rain or snow. The fold-down turn handle also makes these windows easy to operate, meaning you won't have to lean over the sink every time you need to open and close them. Awning windows also maximize the amount of light and don't obstruct the view like sliding windows do.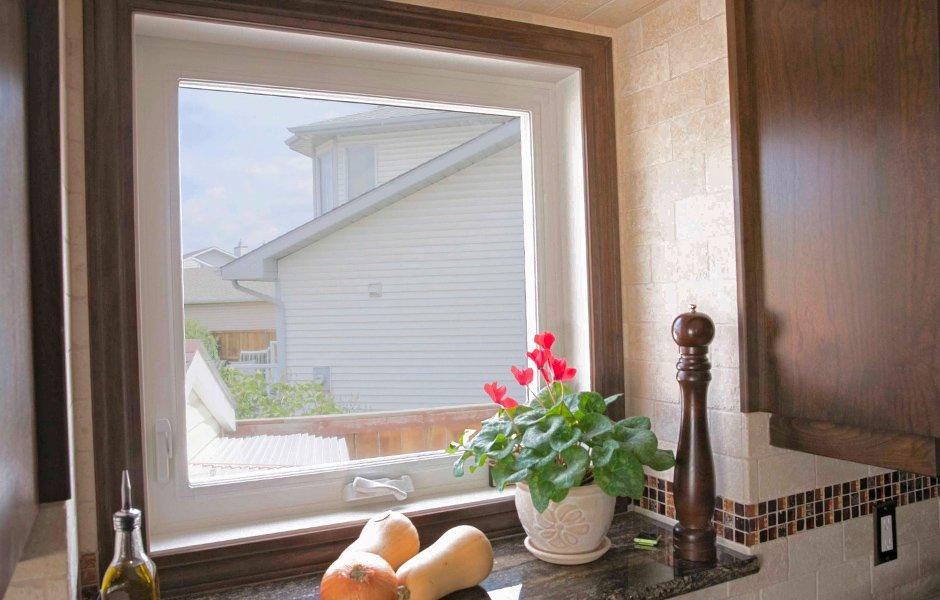 Slider Windows
However your lay-out, look of the home, or even personal plans for the replacement project may call for a different window in the kitchen. Double slider windows are another popular choice when it comes to ensuring good air flow to your cooking areas. The tilt and turn technology allows for these windows to open inward up to ninety degrees. These windows also come standard with drainage channels to ensure no water ends up sitting of freezing on the window.
Hung windows for kitchens
For tighter areas between cupboards, you may want to consider a single hung window. These windows can still incorporate designs like grills to match the rest of your house while giving you an easily accessible way to open them.
Kitchens are one of the few areas in your house where you need to take the functionality of your windows into consideration above their aesthetic appearance.
Thankfully, Canadian window manufacturers today offer a plethora of choices that combine functionality and beauty for a perfect custom window that feels right at home in your kitchen.
Learn everything you need to know about getting new windows:
See our full line of vinyl window styles
Find out how much you should expect to pay for new windows
Read more about our installation services