Kitchen windows should get more attention when planning your replacement project, for several reasons.
Obviously, this is a high traffic area, so there is a lot of importance on how the window should look. You don't want to be cooking dinner every night or washing dishes while looking out a window you hate.
Just like bathrooms, kitchens are also a higher source of humidity and moisture in your home. Therefore, it is crucial for these windows to be operable so you can let in fresh air and balance the humidity in your home.
The two best options when it comes to window styles for the kitchen are slider windows and awning windows.
Each of these windows has their own benefits for maximum energy efficiency, but they also have drawbacks that many people don't consider when they plan their replacement.
We'll take a look at some of these factors today so that you can have a better understanding of which style is more suitable for your kitchen.
Awning Windows For Kitchens
Awning windows are considered to be the more efficient – i.e. more expensive – choice for kitchen windows. Besides improved comfort, there are other pros to getting this specific type of window. For starters, they look more original and unique than plain sliders.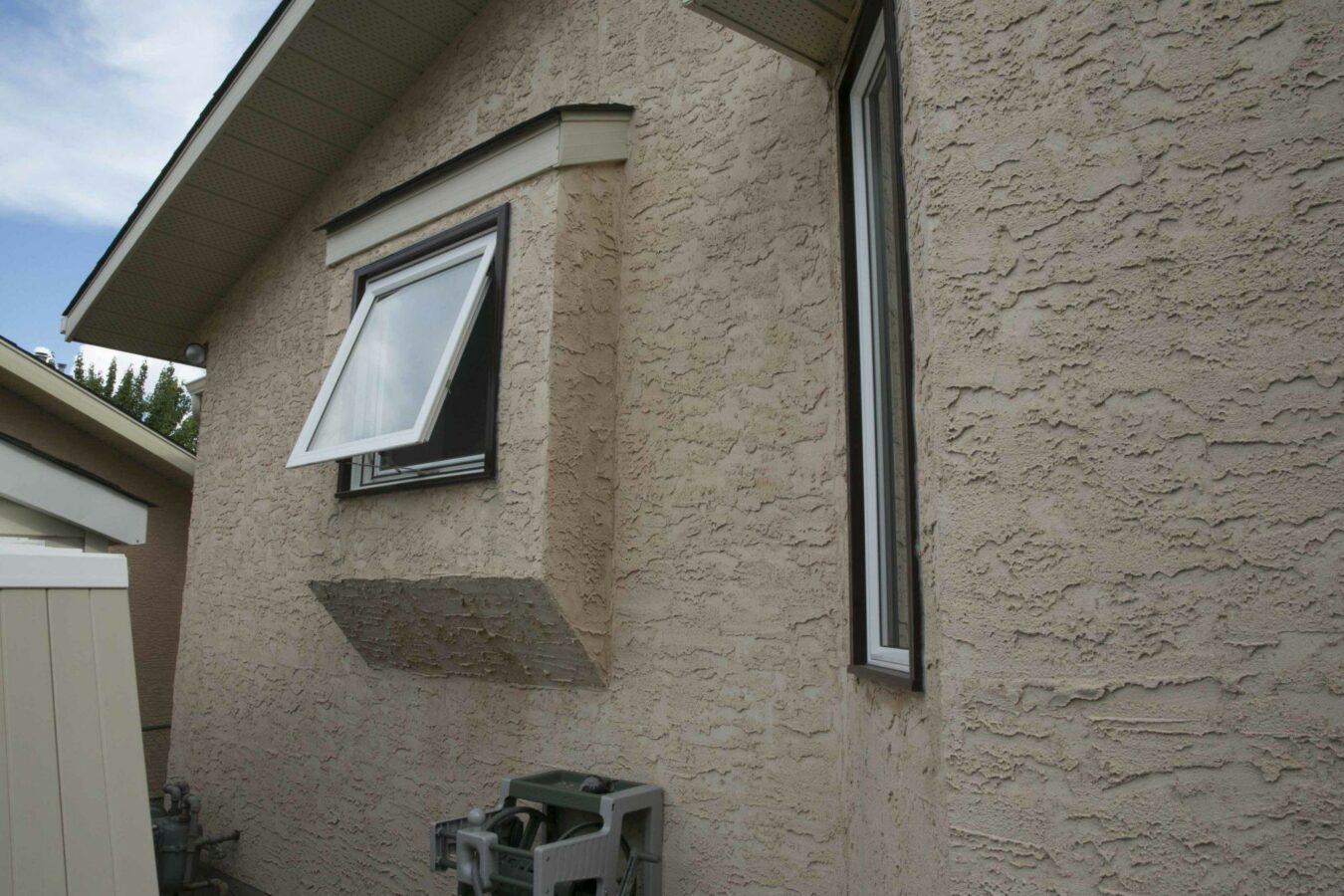 The crank mechanism in awning windows makes them much easier to open, especially if you have to reach over a sink. This is important as most people don't consider just how heavy a sash with multiple panes can get.
A serious factor you should take into consideration when deciding on awning windows is what is outside of your window. Because the sash opens outward, it may be blocking a passageway, or take up a part of the deck. It is also not uncommon for people to bump into these windows if they are not paying attention. A good workaround for this scenario is a combination fixed-awning window. You can choose to have the awning on the bottom or the top. With combinations where the awning is on top, however, you may have difficulty reaching the handle to operate it. Having the awning on the bottom of the combination window makes it easier to avoid bumping into, and doesn't take up as much space as a regular awning sash does.
Slider Windows For Kitchens
Slider windows are a more budget version, but may be a better fit for your specific project depending on the space outside. There are several problems that are specific to putting these kinds of windows in a kitchen space, however.
With slider windows, especially triple-pane sliders, a serious consideration is the weight of the sash. Having to reach over the sink to slide these kinds of windows open may be a challenge. This is why we generally don't recommend these windows to our senior customers, or if the window opening is located higher than normal.
Another potential drawback of having these windows in your kitchen is not being able to utilize the tilt-in feature. Some slider window manufacturers still make sliders without a tilt option, while others have moved completely toward tilting sliders. If your faucet is too high, or the window is too close to the sink, it may physically be preventing the window from opening. This way you would be paying for the additional benefit without actually being able to use it.
Issues with interior window finish in kitchens
Regardless of whether you go with a slider or an awning, an important esthetic factor to consider is how your custom windows' interior finish is going to look. Kitchen windows in Western Canada are generally tucked away in a sort of nook between cabinets and pantries. Old aluminum or wood windows also have much more narrow casings than new vinyl ones. Because the window gets installed into the existing opening, the finish may not quite fit with the shelving around, requiring it to be cut down or taken out completely in parts of the window. Although this doesn't affect how the window performs, it may not look as clean or uniform as the casings around the rest of your house.
Consider what your kitchen looks like, what is on the outside of the wall, and what cabinets or shelves are in the immediate vicinity of your kitchen window. This will help you decide what window is right for you. Be sure to discuss with your product consultant how the casings or window trim will interact with the interior of your kitchen, and what the finished window will look like.
Learn more about getting replacement windows:
Find out how much new windows should cost
Check out our full line of vinyl windows
Follow the process in our visual INFOGRAPHIC