Casement windows are one of the most popular choices for customers in Calgary. They often surpass other window styles in performance, functionality, and the amount of light they can provide for small rooms.
But even the highest quality windows will do very little for your home if they are not put in properly. In that sense how good your window installers are, is equally if not more important than the quality of the product itself.
If your chosen Calgary window company has the best workers, you still have to consider some common problems when looking into buying casements for your replacement project.
How casement windows work
Common Problems With Casement Windows
Warping and bowing
Although vinyl is one of the sturdiest materials for custom windows, there is still some concern about it warping after it has been exposed to the changes in temperature for some time. When it comes to casements this is true in a couple scenarios: oversize windows and dark colored casements.
The operable sash in a casement window carries a lot of weight. In units that are close to their maximum size, the heavy sash can pull on the frame causing it to bow. Be wary of triple-pane casement windows in these situations. The sash in a triple glazed unit is much heavier than a dual pane. In reality, most double pane casement windows already perform at a very high level, so you may want to settle for fewer panes if the window is really big.
Similarly, dark colours attract and absorb more UV radiation. If you rarely open your coloured casement window in the summer, the material can expand and change shape over time. When the weather is nice, make sure to open your windows for at least a few minutes a day. This will not only help them function properly but improve air flow in your home.
Egress hinge
All windows in bedrooms must meet fire code requirements in order for residents to be able to escape in case of emergency. An egress hinge allows casement windows to open ninety degrees. In reality, the sash moves a few extra degrees past right angle, making it stick in that position. That is why you generally want to open casements close to, but not to the full extent of the egress hinge.
Screen position
One feature that customers often overlook, is the placement of the screen in casements. Unlike sliding windows, the screen on casement windows is on the inside of the house.  Although realistically the difference may be negligible, some clients don't like how that makes the window look or think the visibility is decreased with this set-up.
Fold-down handle
The handle on casement windows folds in and out as needed, for proper operation. If your windows have bigger decorative trim around them, the handle may not be able to fully open, hindering its ability to function properly. The picture below demonstrates this predicament.
Hinge placement
One of the best things about casement windows is that they can open to the left or the right, based on what's needed for your home specifically. But this is also an area where you should spend the most time planning. Once the operable sash is in an open position it can act either as a block for wind or as a rudder that directs air into your home. This, of course, depends on the area you live in and the positioning of your house. The diagram below demonstrates how orientating your windows properly can be used to create the right climate in your home.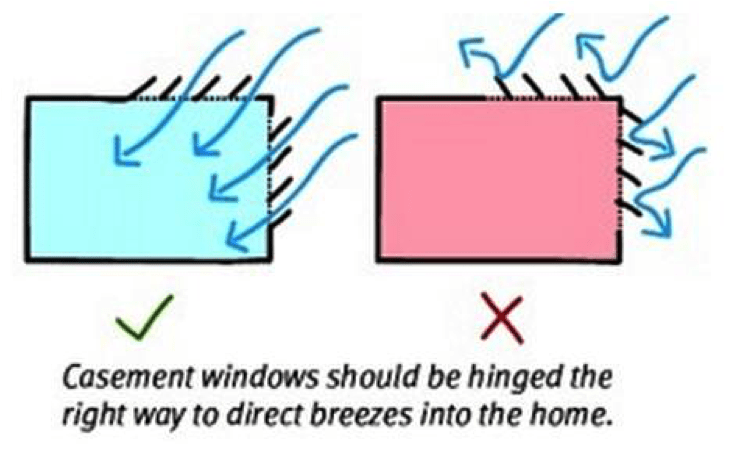 The human factor
This is worth mentioning, because the majority of issues we see with our casement windows warping and bowing are a result of mishandling by the customer. When closing casement windows make sure you don't overtighten the crank. Bring the sash in just enough for the locks catch onto it, and pull it the rest of the way. Overtightening puts stress on the middle of the sash, causing the corners to bow away from the frame. Besides making the window crooked, this can also create spaces for moisture and drafts to enter. Be sure to take care of all your windows properly, and familiarize yourself with proper operating techniques.
Casement windows are a top choice for a window replacement in Calgary and much of Canada. If installed correctly and operated properly, these windows are the embodiment of what makes vinyl replacements a worthy investment.
Learn more about replacement windows:
Find out how much a new windows project should cost
See our full line of replacement vinyl windows
Check out the gallery for pictures and videos of finished window projects