Casement windows are arguably the best selling style of windows on the Canadian market. They are also the most energy efficient and practical to use.
But, on the other hand, casement windows can be the most expensive of all the types available.
And while you may or may not need the benefits of additional energy efficiency in your home, it is definitely worth knowing why casement windows cost more, and what goes into that price.
Why are casement windows more expensive than slider or pocket windows?
There are several factors that make casement windows a superior choice to other options, and naturally they are all geared toward homeowner comfort and convenience.
Compression Seals
A big reason casement windows are the most efficient operable windows is the compression seal technology. The seal, attached around the edges of the moving sash, ensures that the unit is airtight when closed, and doesn't leak air out or allow drafts in. Compression seals are far superior to weather stripping used in lower quality windows. There are still companies that manufacture these windows with weather stripping around the edge, so be sure to ask about the seals if you are interested in this style of window.

Premium Hardware
The hardware utilized in casements is more sophisticated than in other windows. It also works to maximize the efficiency of the window's compression seals. Multi-point locks physically lock your windows in multiple places. This not only ensures the compression seal is evenly pressed up against the frame of the window for maximum efficiency, but also acts a strong deterrent against break-ins.
Casements also feature a crank mechanism for seamless opening and closing. Unlike with sliders, you don't have to move the sash by hand, and operating windows is easy with just one hand.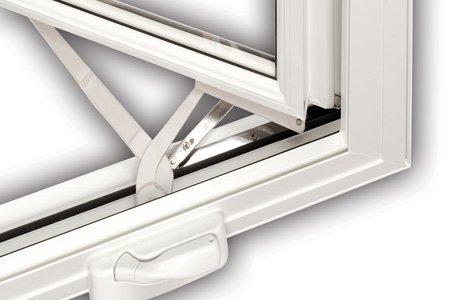 Window Profile
Another important factor in the final cost of casement windows is the window profile. Casement windows are of a higher profile (wider frame) than sliders. This obviously means they require more vinyl to be manufactured and, therefore, cost more. This is especially true for bigger casements, although the time and process are the same as in smaller windows, the amount of material is what drives the casement windows price up. For combination windows, casements can be matched with fixed windows of the same profile to complete the look.
As you can see casements start several hundred dollars higher in price than slider style windows because of their superior energy efficiency and premium hardware.
While the numbers presented here are just ball-park figures, the best way to find out the exact cost is to have someone look not only at your existing windows, but also at the surrounding structure. This may seem like a gimmicky request for a sales pitch, but when it comes to windows there is really no way to price the project over the phone or e-mail.
Good window installers usually need to see exactly the condition of your home and windows in order to know how much work will be required. This also largely determines the final price of your windows.
Learn everything you need to know about replacement windows:
Awning and Casement Windows: How Multi-Point Locks and Compression Seals Work
Calgary Windows Replacement: Common Problems With Casement Windows
Find Out The Cost of Replacement Windows