How Much Does It Cost to Cut a Window?
Need to cut-down your basement window or make it bigger? Find out the cost to install a new window or enlarging the existing one for egress.
1. Get a FREE QUOTE and we will bring SAMPLES to your home.
2. We will call you back during WORKING DAY
3. We guarantee Direct Price and Warranty from Manufacturer
or
A window replacement project is a great time to bring your vision for your home to life! New windows can offer your home a refreshing update that provides both energy efficiency and customization options.
Replacing old, tired windows with new, quality and energy efficient ones adds both value and aesthetics to your home. Besides simply replacing old windows with new custom ones, you also have the option to expand existing windows, combine individual windows into a larger one, or even add a window in a place where there wasn't one before!
Should You Get a Window Cut-Down, Enlarged, or Cut-out?
Short of structural concerns with oversize windows, you truly can customize or change the way your home lets in light, circulates air, and even the views you see from it.
Consider your goals when selecting your ideal window. Are you looking to add sunlight, or reduce unwelcomed mid-day glare? Perhaps your current window configuration is distorting your home's curb appeal or detracting from the lovely garden view. Whatever your project, when you're aware of the associated costs, you can more accurately assess if your window goals are in-line with your renovation budget.
Projects that require extra work will inevitably cost more. By educating yourself on replacement costs you can plan your dream renovation project without any surprises or headaches.
Installing a New Window in an Existing wall
Planning your window replacement is easier when you understand the structural requirements of each window renovation option. You don't need to be a home renovation professional to plan and estimate a rough budget for your window replacement project. Rather, you can educate yourself on the basics in order to establish a better understanding and realistic budget to suit your individual needs.
Every window has a structural header, or beam that supports weight. If the weight is distributed onto a window, (as you may find in some older builds), you will find it hard to open and close, or worse it could actually break!
Your window is supported by tall King Studs on either side of the window and a header above the window. In the case of a window enlargement, you would need to replace the King Studs in addition to the header for overall structural integrity. With this in mind, you could anticipate the additional cost for such a project.
Cost Factors to Consider
Additional Framing

Cuts that will need to be made

Plumbing or Electrical

Materials

Additional Labour
Here are some price ranges to keep in mind when considering cutting a window:
| | |
| --- | --- |
| Service Type | Avr. Price Range |
| Cut-down | $200 – $350 |
| Cut-up or sides | $700 – $900 |
| New window cut-out | $700 – $900 |
Concrete Wall
Planning your window renovation project in a concrete wall will add to overall project cost in both labor and materials. Most basement window replacements must take into account the additional cost of the concrete walls. If you are looking to enlarge your basement windows, you will need to cut the concrete in the basement walls or foundation.
Not all window companies cut concrete, but most will be able to suggest a competent contractor in the area. Keep in mind that cutting concrete walls in the basement can include additional costs for any site-specific requirements. This can include trenching, window wells, sidewalk and sprinkler relocation, or even any landscaping.
Get a quote up to $5,600 grant for window and door replacement.
Brick House
When adding a window to a brick home you can expect that extra work will be needed to get the exterior of your home looking great again, or with your new window, even better! Brickwork is not a barrier to having a window replacement or renovation completed. The cost of adding a window to a brick home can vary of course, due to size and structure. However, generally speaking you can anticipate increasing costs: about a thousand dollars. In addition, please keep in mind that for cutting brick you will also need to hire a bricklayer.
Cinder Block
While cutting a window through a cinder block is possible, the higher cost may be prohibitive to some budgets. The additional work is extensive in this scenario and requires the knowledge of a skilled contractor to accurately assess your individual window renovation project.
When planning a widow cut through a cinder block wall budget anywhere from one to five thousand. Exact costs will of course be left for the professionals to determine.
Knowing whether your project will require additional framing, cuts or extra material and labor will help you assess cost and prioritize your budget. When installing a window in a brick, concrete, or cinderblock wall the total bill will increase due to the additional labor that will be required to safely and efficiently complete the job. As a rule, the more extensive the project is the greater the cost that will be incurred.
Window Cut-Down
A window cut-down is an excellent option that can cut costs while still enjoying the benefit of larger windows. A cut-down involves expanding the window opening downward to make room for a longer window in its place.
This work doesn't affect the header above the window or the studs around it. Because the structural integrity of the walls surrounding the windows is not challenged, cut-downs usually don't require a municipal building permit. This type of cutting requires less work than expanding sideways and costs less as a result.
Cutting Benefits
Usually doesn't require a permit

Increases window area

Less expensive then Expanding
If you are looking to add a window to your basement, prices might vary depending on where you are in Canada.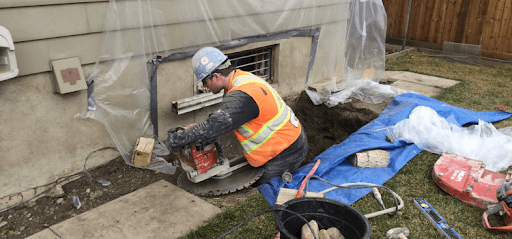 Enlarging a Window
In need of bigger windows? Making a window bigger is a great option to allow more natural light into the home. Perhaps you're wondering how to make basement windows bigger or considering making windows bigger in a brick house. No matter what your window replacement goals may be, it is important to estimate the total cost into your renovation budget.
Expanding the walls to the side or cutting a window from a wall, requires some interruption in the wall construction, and a permit for this kind of work is a MUST. Some companies will try to forego getting the permit or tell you that you don't need one. In the end, it's better to do things the right way as a permit will ensure any work that is being done results in a stable structure.
Enlargements cost more than cutting a window down, but tend to be the windows that get the most attention by creating the greatest impact. Feature windows, curb appeal and plenty of natural lighting tend to make enlargements a popular choice in spite of the increased cost.
Enlarging Benefits
Increased Natural Lighting Indoors

Can Create Room Feature

Adds Curb Appeal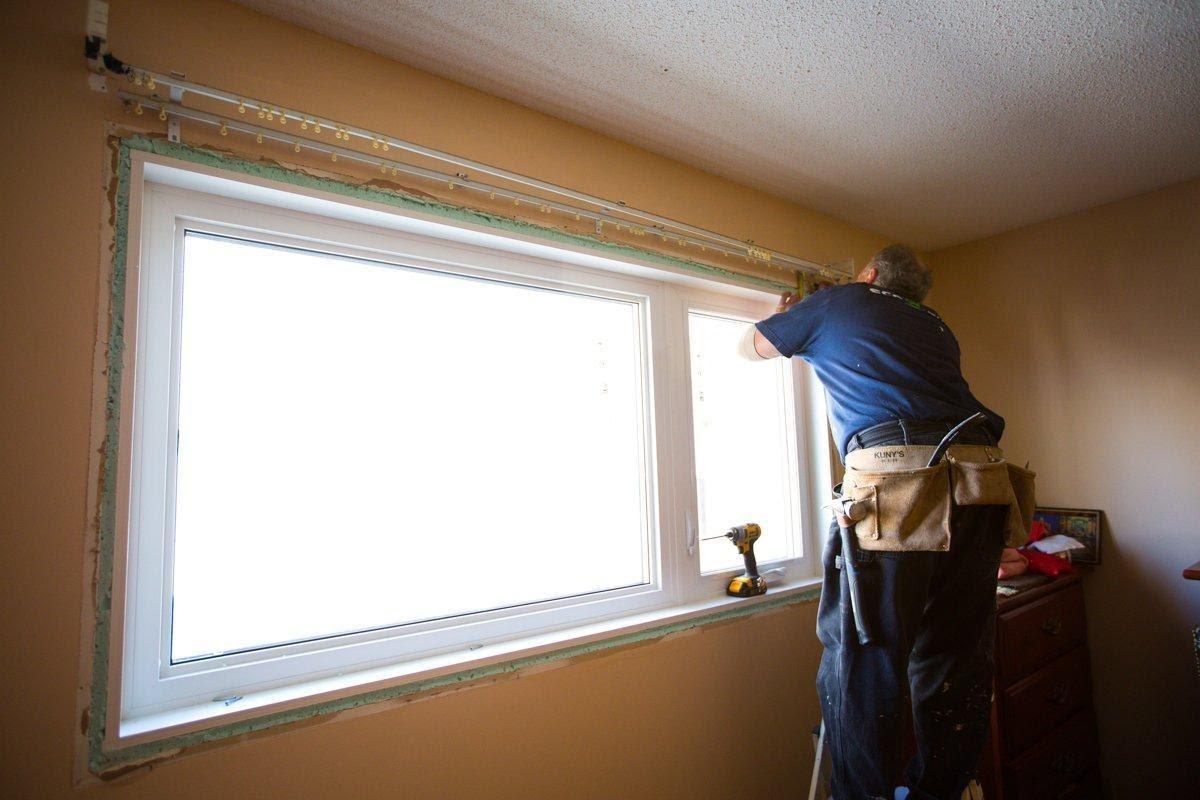 Basement Windows
Basement windows are a popular renovation project. Basement updates allow for an extension of indoor living space and when it comes to basements, the brighter, the better! Traditional basement windows do not always provide adequate air-flow or the desired amount of light. The popularity of basement apartments, and finished basements has also increased the window update trend.
If a window is located in the basement, additional costs per window may include:
| | |
| --- | --- |
| Service Type | Avr. Price Range |
| Window installation and Concrete cut-out | $1,450 – $2,650 |
| Building a window well | $350 – $450 |
The location of the window can affect the total project cost in a variety of ways depending on materials needed for the project. Opening the siding wall behind the kitchen sink to add a lovely garden view may cost less than installing windows in the basement depending on such factors as exterior finish, plumbing, or electrical.

Making a Window Smaller
Shrinking a window is an easier and less-expensive option than choosing to enlarge. This is often done in the Victorian era and other period homes that tend to feature very tall windows. If making your window smaller is the practical option for your project you will save in structural costs. However, you must consider the additional cost of replacing exterior siding which depending on your home can impact the savings of making a window smaller.
Smaller Benefits
Less Expensive

Less Structural Work

Can Update Over-sized Period
Moving or New Windows
Moving and New windows can be expensive due to the structural elements that are involved in placing a window where there is only a wall. In this scenario drywall, plywood, plumbing and electrical may need to be addressed in order to access framing. Both interior and exterior costs must be considered to decide if moving windows in your home is a practical option.
Cutting through brick and concrete can increase the cost of this type of window renovation. If cost is manageable, this certainly is the most dramatic home window update. Additional light, air-flow and scenic, well-placed views can make the investment well worth the effort.
Moving/Benefits
Dramatic Home Change

Added Views

Better lighting and Air-Flow
Points to Consider
Assess each potential step for your project

Estimate the costs for your plan

Contact a Professional

Request a full Quote and budget accordingly

Keep in mind that in some cases (water damage, etc.) additional unplanned costs may arise
As you can see, with any Window Replacement Project there are quite a few variables that go into pricing the work!
Make sure to do your homework when hiring a team for your window renovation project. And don't be afraid to get more than one quote for the work you have planned, it never hurts to have more than one professional opinion!
Its pays to read reviews and get a transparent and upfront quote. When signing a contract or reviewing a quote, be sure to look out for any hidden costs. Make sure the window company you choose can provide you with the total price of all the products and labor that are needed to complete the project.
It's much easier to manage when there are less surprises along the way. Less surprises mean less stress for you!
Knowledge and a little pre-planning can go a long way toward making your window dreams into a reality!
Whether you're planning to expand, shrink, replace or add a window to your home, knowing the costs of cutting a window can simplify your planning and make your home look its best. Plan your window renovation and brighten your day. 
Get a quote up to $5,600 grant for window and door replacement.
Check out these window replacement articles:
Find out how much new windows should cost
Learn more about our professional window installation
Get answers to other frequently asked questions about window replacement