7 Common Mistakes That Prevent Choosing the Ideal Entry Door
1. Get a FREE QUOTE and we will bring SAMPLES to your home.
2. We will call you back during WORKING DAY
3. We guarantee Direct Price and Warranty from Manufacturer
or
Home and Garden shows are a very popular form of entertainment and information today. You can learn about the latest trends and styles, learn how to tackle any sort of home improvement project, and even watch as families search for the home of their dreams.
Have you ever noticed, though, that every beautiful home on those shows has one main thing in common? A stunning front entry.
We've all heard the experts tell us how important it is for a home to present exceptional curb appeal. The one key component to helping your home stand out is by choosing an ideal entry door, but how do you do that? Whether you're building a new home or selecting a replacement door for your existing home, you'll want your front entrance to provide a welcoming environment for your guests and reflect your own personal style.
Rather than using trial and error, we've assembled a list of the 7 common mistakes homeowners generally make, so you can avoid these pitfalls.
1. Choosing the Wrong Material for the Weather Exposure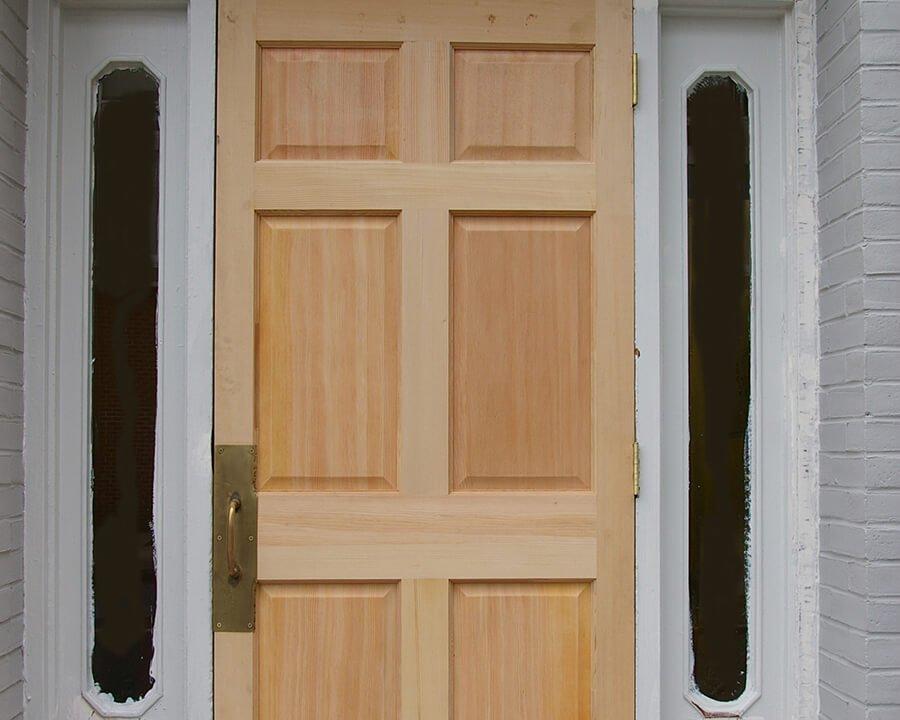 It's important for your front door to look good and maintain that "like new" appearance for years to come. To avoid choosing a material that will compromise your door's performance and potentially shorten its life, you'll want to consider these issues:
What weather conditions will the door be exposed to? Does it get direct sunlight every morning or afternoon? Is the doorway covered, or if not, what kind of adverse weather conditions will your entry door be subjected to on a regular basis? Each material has its own set of pros and cons and should be considered carefully before purchase.
Steel—these doors are typically comprised of a steel skin over a wood or steel frame and an inner filling of high-density form. Finishes can be baked-on polyester, a vinyl coating or wood veneer. Although more durable than other materials, steel doors may be susceptible to:
Heat build-up on doors in direct sunlight can cause the finish to peel and the weatherstripping to breakdown.
Even more heat can be generated if an aluminum storm door is used in conjunction with the steel door. The finish can peel and the warranty may be voided.
Both heat and cold can be transferred from the exterior to the interior, making the interior door surface difficult to touch and humidity to increase unless there's a thermal break.
Wood—a beautiful, natural choice the comes in a variety of species and are available in solid wood or veneer skins over engineered wood. They usually come unfinished for on-site staining or painting. These drawbacks should be considered:
Unless in a protected area, the wood will weather and require substantial maintenance.
Warping may be an issue from temperature changes, especially if 3/4″ panels.
Solid wood doors consistently have shrinking and swelling issues that will crack if painted.
Fiberglass and Composite—extremely durable, energy efficient and low maintenance. They look like real wood doors. Usually made from molded fiberglass skins over wood framing and foam insulation.
Can be more expensive than any other material.
Resealing may be needed, especially if exposed to severe weather conditions.
To prevent cracking or warping may require regular maintenance.
Note: A multipoint lock is recommended if the door is exposed to harsh weather conditions.
Get a quote up to $5,600 grant for window and door replacement.
2. Use the Wrong Installation Methods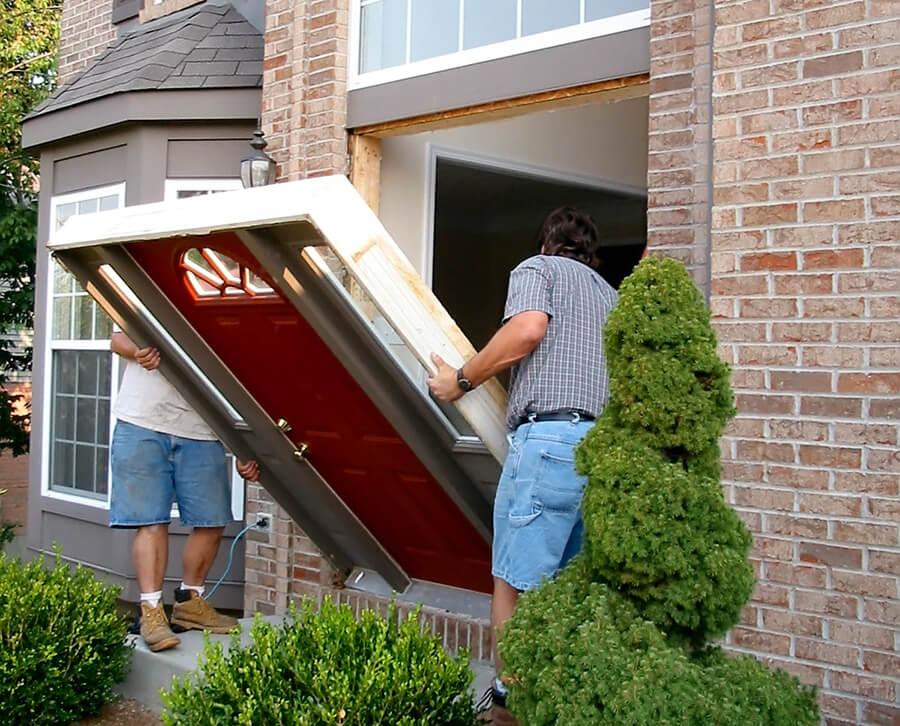 Choosing the right entry door involves more than just deciding what look you want. You also need to be sure it's installed properly. If you're going to do the work yourself, you should understand that many problems occur from installing a new door in an old structure. Measurements alone will not guarantee a trouble-free operation.
To prevent your beautiful new door from constantly swinging open or closed, dragging on the floor or leaking, you'll want to make sure that:
The bottom plates are aligned
Floors are leveled
The door is plumb with the wall
An adjustable threshold system is used to create an airtight seal
Decorative glass is supported from the inside, not just popped in
A flashing system is used to prevent water infiltration
3. Not Doing Enough Research
Shopping for a new front door can be exciting and intimidating, so many homeowners spend little or no time researching their options. This can lead to making an impulse decision and an overall poor choice.
Like any major purchase, the more research you do prior to making a final decision, the better results you'll achieve. While the entry door options can be significant—material, smooth or raised panel, decorative glass, hardware, sidelites, paint or stain—take the time to review them thoroughly.
Start with these tasks:
Make a list of what you like (and don't like.)
Consider weather and sun exposure.
Establish a budget.
Determine a timeframe for doing the work (you might take advantage of special incentives for a winter purchase or installation but frigid temperatures or snow storms will limit what can be done immediately.)
Recognize your skill level and determine if you want to tackle the job yourself or hire a contractor.
Then, visit home improvement retail centers, search the internet, watch home and garden television programs, get recommendations from friends and family, consult with a window and door specialist. Consider all your options, then narrow down your choices by eliminating doors that don't fit the criteria you established.
4. Choosing the Wrong Paint Colour
Colour is very subjective, and making it the focal point of your home can come with both good and bad consequences. You can use this as an opportunity to make a bold statement by choosing a bright hue or compliment your home with simple elegance by choosing a more traditional shade.
Many door manufacturers offer baked-on finishes or vinyl coatings that come in a limited colour selection. Choose a wood veneer that can be stained for a more natural appearance.
5. Not Matching the Architectural Style of Your Home
You don't have to be an interior designer to appreciate the architectural style of your home. Just like salt and pepper, a knife and fork, and yin and yang go together, it's important to match your door selection with the architectural detailing and proportion of your home.
You may really like the intricate caming of an Art Deco style decorative glass but choosing it for your simple Craftsman style home would be a distraction instead of a complimentary decision. Not sure what door designs will match your decor, refer back to item #3 and do some research.
6. Buying Only for Looks
It's easy to get caught up in the attractive entry door options available today. One look at a glossy brochure cover showing a magnificent estate with a grand entrance and you'll be looking for your debit card. Of course, there's a lot more to consider than just looks:
Energy efficiency—pay special attention to the efficiency ratings and choose one that best matches your home design and climate. Consider adding Low-E glass coatings to reduce infrared radiation or Argon gas-filled panes to improve the U-value of your door.
Privacy and security—decorative or clear glass in a door may enhance the overall appearance of your home, but it will reduce both privacy and security. Consider adding obscure glass panes or mini-blinds between the glass. Note that this option will eliminate any Argon or Krypton gas fills.
7. Selection Only Based on Price
Of course, you'll want to establish a budget for your new entrance door, but to base your decision solely on price may limit your choices or lead you to the wrong selection for your needs. Consider these:
Economical—steel doors will give you the best option for obtaining a stylish, energy-efficient unit while adhering to a budget. They check all the boxes for low maintenance (they hold paint well), good insulation value (foam core) and fire resistance.
Mid-Priced—fiberglass doors give the look of wood without the maintenance or price tag. While more expensive than steel, they're a slightly better insulators and will not rust. There are many styles and textures available plus paints and stains adhere well.
Luxury—wood still remains the ultimate choice for homeowners looking for a high-end natural material. The variety of wood species available means you'll easily find the right door to complement your personal taste and architectural style. Paint and stain finishes are easy to apply and the large number of accessories available make paying a little higher price a wise investment.
Don't make these common mistakes when searching for your ideal entry door. While the process may seem complicated, an Ecoline door specialist can help you sort through all the choices and provide insight into all the latest trends and options to best fit your needs and budget. Call today to schedule a free on-site consultation.
Get a quote up to $5,600 grant for window and door replacement.