Glass Patio Doors In Victoria, BC – Bring The Outdoors Inside
Elegant, durable and extremely stylish, our patio doors let you enjoy the world outside from the comfort of your home. Discover all the design options available in Victoria and find inspiration.
1. Get a FREE QUOTE and we will bring SAMPLES to your home.
2. We will call you back during WORKING DAY
3. We guarantee Direct Price and Warranty from Manufacturer
or
Jun 24, 2022
Nov 27, 2022
Nothing excites homeowners in Victoria like patio season, so it's hardly surprising that sliding glass doors have a long tradition in BC. In the province that impresses with its spectacular views, people are expected to enjoy their space outside whenever possible. Installing sliding patio doors that will bring the BC scenery into your Victoria home makes good sense.
We all like it when our house looks good. A stunning patio door is an easy way to highlight both your interior and exterior. When it comes to the installation of sliding doors, residents of Victoria and BC have a wide range of options – Ecoline will be glad to help you with any replacement project.

In this guide, you can learn more about sliding patio doors, their features, and their benefits.
What Are Patio Doors?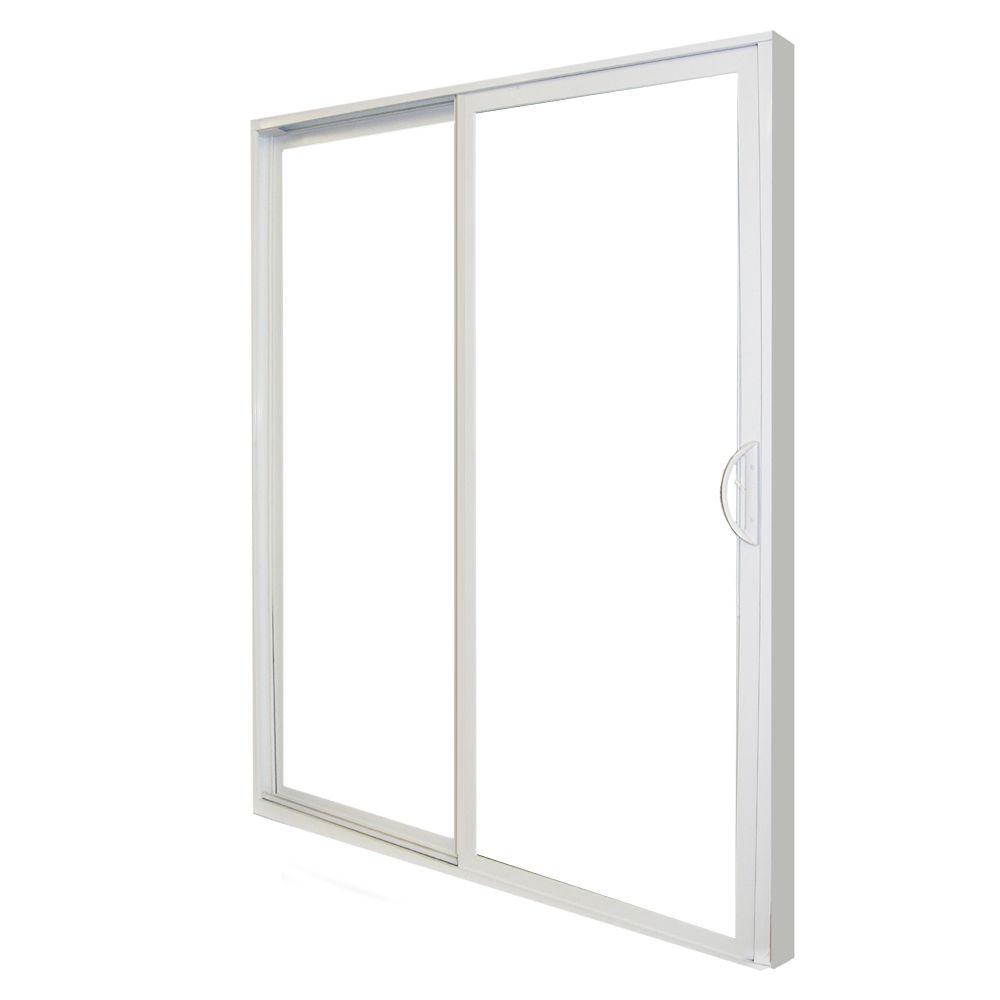 Patio doors are units that give you access to your garden or patio – that's where their name comes from. They are quite versatile and can be found in various sizes and configurations to satisfy all your design needs.

In Victoria, we offer homeowners sliding patio doors that open by moving one of the panels to the side to create a wide and clear opening. Thanks to the easy and space-saving way of opening, these units are ideal for residences with limited indoor and outdoor space.

Glass patio doors provide an exceptional look. Their minimalistic and elegant design brings a touch of luxury. Due to their variety in styles and customization options, they are a great match for both traditional homes and those in a contemporary style.

Don't be misled by the sliding glass door design that looks unreliable. Our units are of high quality. Properly installed, our patio doors will last up to 25 years for your house in Victoria without the need for major repair.
Common Types Of Patio Doors
How do you know which type of door is best for your home? Deciding which unit to choose will mainly depend on the size of the opening you have as well as the functionality you need.
For example, very large openings are usually best suited for our multi-panel or bifold patio doors. Such units can replace the entire wall.
For small spaces, it is better to choose two-panel sliding patio doors which provide a wide entrance without cluttering up the place.
Here are the main types of patio doors we are happy to offer in Victoria:
| | | | |
| --- | --- | --- | --- |
| | | | |
| 2-panel patio doors | 3-panel patio doors | 4-panel patio doors | Bifold patio doors |
| | | | |
| A standard two-panel patio door consists of two panels. One of them is fixed, and the other is operating – it slides along the horizontal track, opening a door half the width of its size. | A 3-panel sliding patio door consists of one operating panel and two fixed ones. You can choose which panel you want to open according to your preference. | A 4-panel patio door consists of two moving panels in the center and two fixed panels on the sides. Such units significantly enlarge the entrance space. | A folding patio door is a multi-panel unit, which can include from 3 to 8 panels depending on the design. They fold back onto each other like an accordion. |
The Key Benefits of Patio Doors
Whether you're considering replacing your old door or adding a new glass patio door to your home, it's high time to learn more about their benefits.
Patio doors provide a lot of daylight.
Why turn on all the lights when you can have a lot of natural light? There's nothing that can compare to an abundance of sunlight coming in to provide an inspiring ambiance in your room. Patio doors let a lot of natural sunlight into the house thanks to their massive glass panels. This way you can rely less on artificial lighting and lower your energy bills.
Patio doors maintain proper ventilation.
Patio doors are also a great way to ventilate your home. Thanks to the convenient opening, you can control the amount of air that gets inside. By allowing fresh air to come in, you eliminate the need for air conditioning. In addition, this method of ventilation is safe for children.
Patio doors save extra space.
If your home is tight on space, you can avoid regular doors that swing to open and take up space in your home or backyard. Patio doors, sliding on horizontal tracks to open, let you maximize your space and do not create clutter.
Patio doors bring the world outside to your home.
Patio doors feature large glass panels and pretty narrow frames. This design allows you to look out over your beautiful garden or backyard without even having to leave your home – a sliding patio door conveys the view perfectly. Let your patio and home become one space.
Patio doors add property value.
Patio doors are visually attractive. A well-thought-out and stylish design can make your home more attractive to potential buyers. Even if you are not going to sell your property in the near future, increasing its value just makes sense.
Patio doors increased safety.
Don't be deceived by the large area of glazing – sliding patio doors are pretty safe and secure.
Patio doors can be easily customized.
Our wide range of customization options allows you to make your patio doors truly unique. Choose colour, fittings, glazing type, grilles, and blinds to perfectly complement your home design.
French Doors Vs. Sliding Patio Doors
While many Victoria homeowners opt for fiberglass French patio doors, sliding units may be a better go-to option – with blinds, grilles, and other custom features they offer the same level of appeal but can outperform French doors in some other ways.
What is the difference between French doors and patio doors? It mainly consists of their opening method.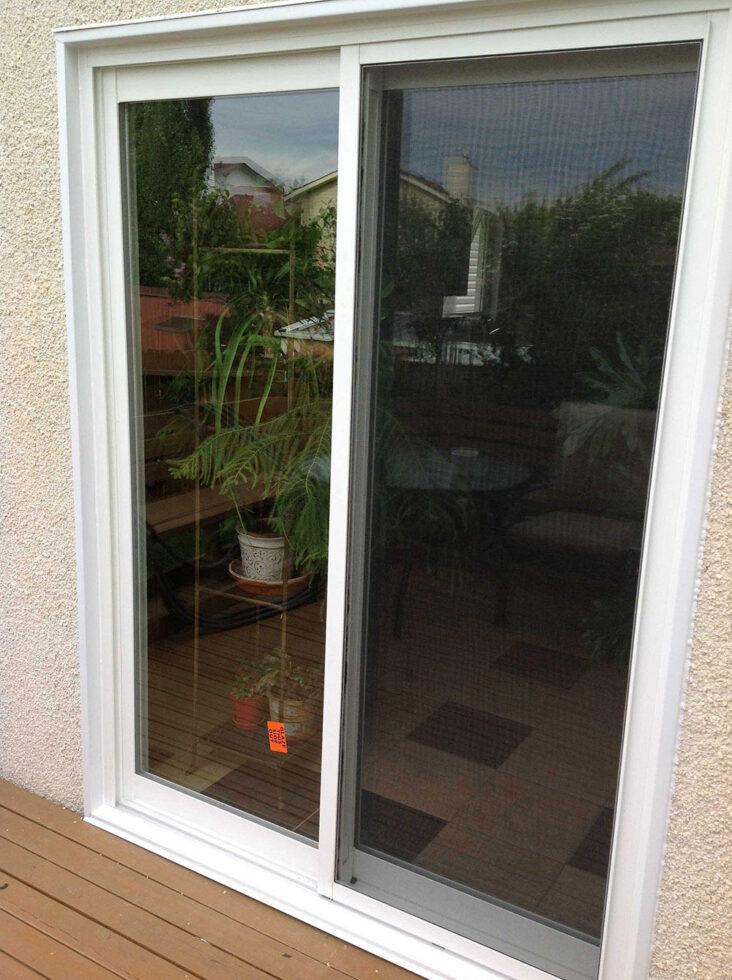 Sliding patio doors glide to the sides along the horizontal track, while the French doors open swinging outward or inward, depending on the configuration. This provides a slight difference in their functionality:
Like all swing units, the French doors have a risk of slamming at the wrong time – this is especially true on windy days. It can be an issue especially if you have kids or pets who can get hurt. You'll have to take care of door stops or safety limiters if you leave the door open in order to reduce the damage that a strong wind can cause.
In turn, sliding patio doors don't assume such a problem since they are absolutely not susceptible to wind. They offer simple and smooth operation. You can be sure that your door doesn't close accidentally and doesn't incur damage.
The convenience of ventilation
Doors leading to your patio or garden provide excellent ventilation. You can leave them open and let a fresh breeze come in, cooling the house down. With sliding doors, it is much easier and more convenient for you to control the opening. You can leave the gap as large or small as you want to let in as much air as you need.
With a French door, it's more difficult. You'll have to open it all the way for good air circulation, which can be inconvenient in some cases. If you leave the door half-open, the opening may not be wide enough to cool the house properly.
By replacing the wall with a glass door, you get inner space filled with daylight. You will also get a great view from the outside. It's easier to do with sliding patio doors since they tend to be larger than French ones.
If you're considering large French doors, you'll need a lot of space to open them. This means you need to make sure you have enough room inside or outside of your house that is not cluttered with furniture or other items.
When you have an amazing view outside, you want to enjoy it. Both patio doors and French doors are big glazed units that make the world outside closer. The difference is that sliding patio doors typically feature a larger glass wall and narrower frames compared to their French-style equivalents, thus providing a better view.
Sliding patio door prices tend to be more affordable compared to the French door cost. However, the final cost of a unit depends not only on the type of door but also on its size, material, custom features, etc.
To find out the approximate cost of patio doors, you can use our online door replacement cost estimator. You can also get a detailed quote by sending us your project specifications.
Interested in this topic?
Or maybe you need our help with this?
Are Sliding Patio Doors Energy-Efficient?
We provide double-glazed sliding patio doors as standard, which ensures a good level of energy efficiency. Double glazing means using two panes of glass set into a frame creating an air pocket for better insulation.
If you want to enhance your energy efficiency, you can opt for triple glazing, i.e. using three panes of glass within one frame. Doors with triple glazing do a better job of maintaining air temperature inside the house at a constant level.

Another way to improve your energy efficiency is the use of a special LoE coating. It is applied to glass panes to lower the amount of heat they absorb and radiate out of the room.
Patio Door Installation: Things To Consider
Patio door installation is a difficult process that requires skills, great experience, as well as special tools. Here are some vital things to keep in mind if you're considering DIY installation:
The weight of the units is quite large, so they cannot be installed by one person.
You should decide in advance on the type of door and the necessary fittings. Your project may need additional work, such as removing the old door, widening the opening, etc.
Every detail counts for the correct patio door replacement. Experience has shown that self-installation quite often leads to a whole range of problems and consequently to additional costs. That's why it's better to entrust your project to professionals.
From initial design to stress-free installation, our experts are here to assist you. Whether you need to replace your patio door or install a new one, let the Ecoline team help you get started with a free quote.
More recommendations from our:
FAQ
Where to buy sliding glass door parts in Victoria BC?
Ecoline provides premium quality, energy- and cost-efficient sliding glass doors in Victoria. You can contact us by phone or email, as well as request a free quote by providing the details of your project.
How wide is a patio door?
Patio doors may vary in their size depending on the number of panels of which they consist. Our units are suitable for any standard or custom size opening up to 12′ wide.
When to replace the patio door?
If properly installed and regularly maintained, sliding patio doors may have a lifespan of roughly 20-25 years without the need for replacement or major repair.
How long does it take to install a patio door?
The patio door installation takes several hours if it is carried out by experienced installers. The exact time depends on the details of your project and the need for additional work, such as the removal of an existing door, an increase in the opening, etc.