Patio Doors In Ottawa: All You Need To Know
Explore our patio door styles that add architectural flair to any home while maximizing daylight in the room. Find more information about patio door installation in Ottawa and make your best choice.
1. Get a FREE QUOTE and we will bring SAMPLES to your home.
2. We will call you back during WORKING DAY
3. We guarantee Direct Price and Warranty from Manufacturer
or
Jun 24, 2022
Nov 30, 2022
When you're shopping for sliding patio doors for your new home in Ottawa, you won't opt just for any units. You'll choose modern and attractive patio doors which can ensure many years of smooth operation. That's why Ecoline provides a large selection of stylish and incredibly secure patio doors in Ottawa, Ontario.
By the way, all entry doors, patio doors and windows installed by EcolineWindows are made in Canada.
But what should you know before making a purchase? How functional are contemporary patio doors? How can you style sliding-patio doors for your Ottawa residence? You'll find answers to these and many other questions in our blog post.
What Are Modern Patio Doors?
In a nutshell, patio doors are any doors that provide access to your garden or patio from your home. As a rule, this term is used to specify a door with some kind of glazing, whether it be large individual units or several smaller panels.
Even though these doors serve as the entrance, their design and construction are very similar to those of windows. A large glass area provides a panoramic view, letting in the maximum amount of light. At the same time, the patio door mechanism is highly reliable and durable – this is due to the simplicity of the system and thoughtful design.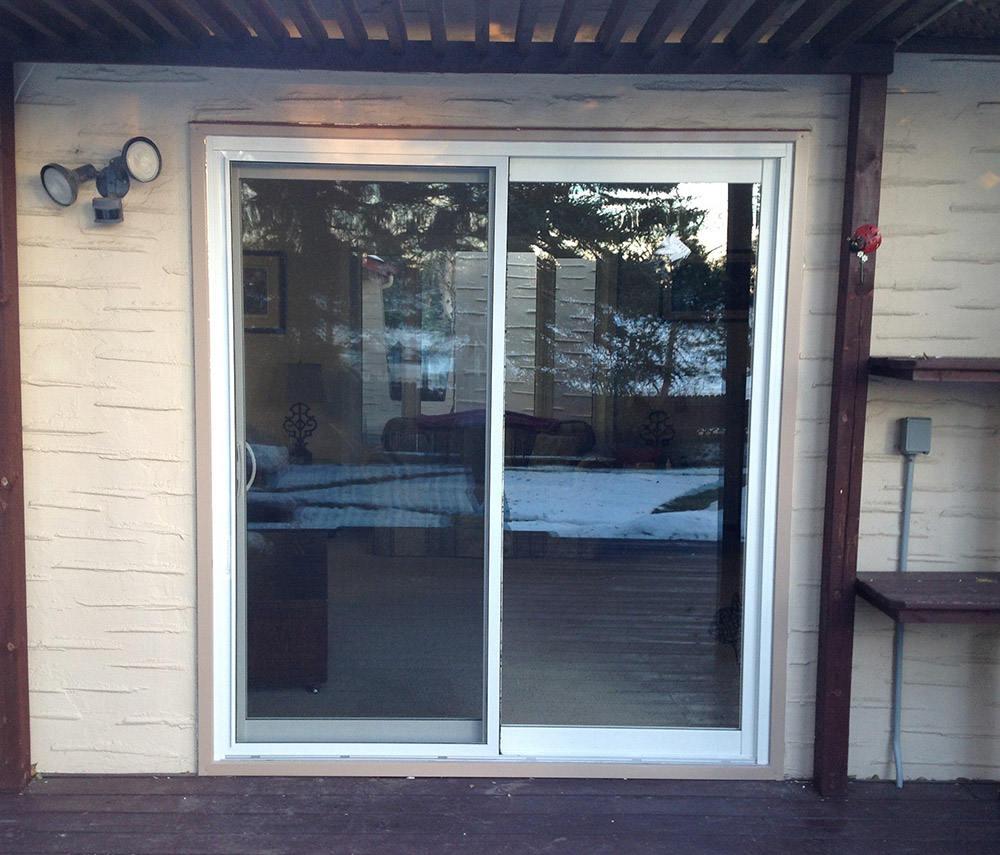 Types Of Patio Doors
The right patio door can add value to your home and highlight its architectural design. Do you prefer standard double sliding patio doors in your Ottawa home or a larger folding unit? We support you in making your choice. So let's break down different types of patio doors, their advantages, and possibilities.
2-panel (Sliding) patio doors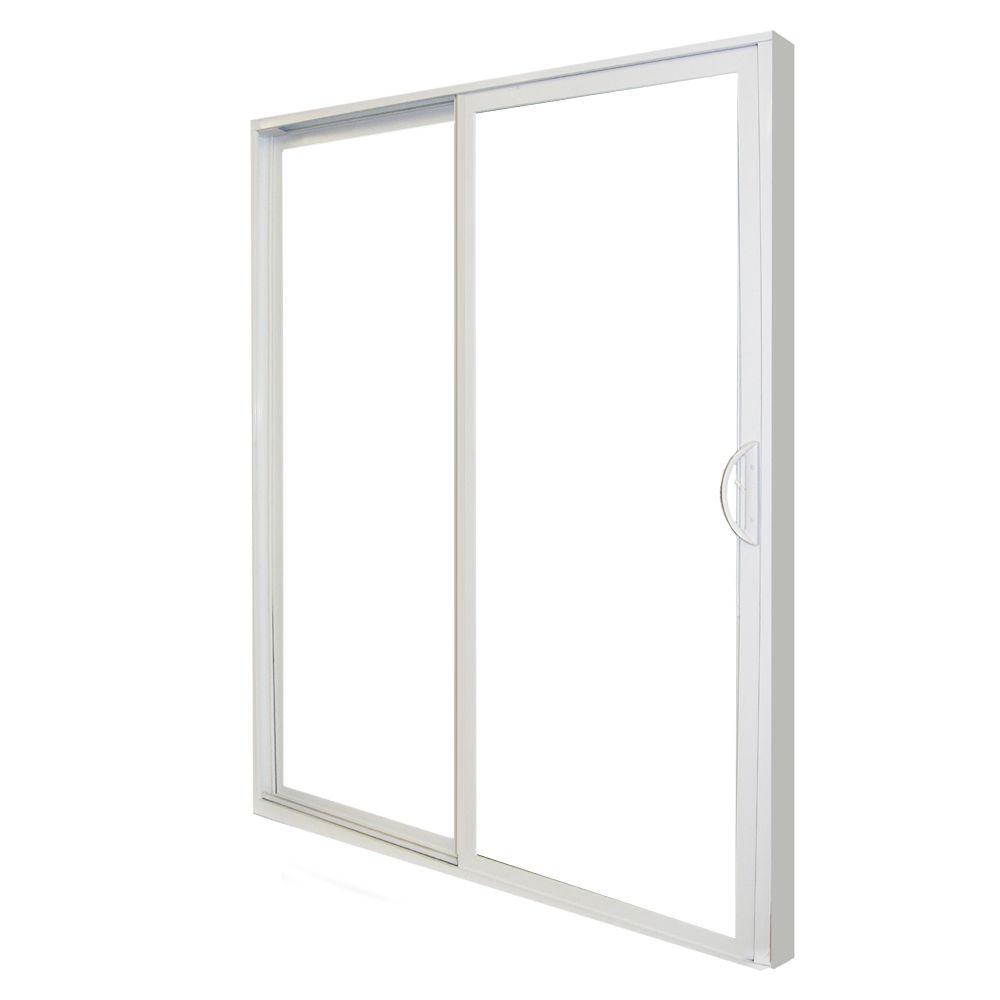 Two-panel sliding patio doors are made of two units, one fixed and one moving. They don't open in or out – they operate by sliding on horizontal rails, creating a wide opening. Thus, sliding patio doors don't take up space in the room or garden when opened. Double doors are suitable for houses with a small opening – compared to other types of patio doors with a large number of panels, they take up relatively little space on the wall. Two-panel units can be made to size allowing the door to open to the full width of the panel. A moving panel can be designed for right or left-hand operation.
Three-panel sliding patio doors have the same functionality as 2-panel ones with a slight difference in design. They feature a three-unit construction, typically with an opening one in the center and two fixed ones on the sides. The operating panel can move both to the right and to the left to open, but not both at the same time. It is up to you to decide which of the three panels you want to make moveable. Due to the larger glass area, the 3-panel sliding patio door allows more sunlight into the room and is suitable for bigger openings.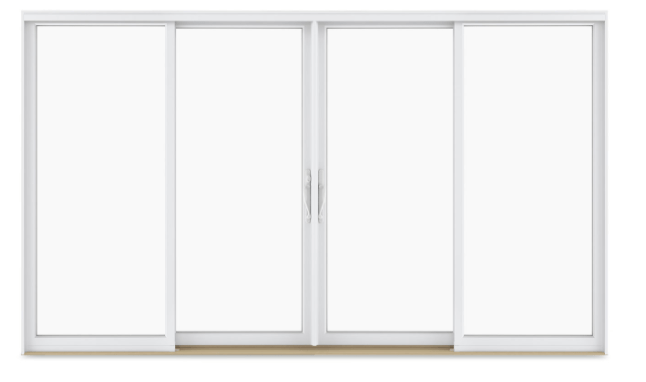 As the name suggests, the four-panel sliding doors are made of four units, most commonly two fixed outer panels and two inner operating ones that meet in the middle to create an opening. In addition to looking great, a 4-panel patio door provides a large entrance space, additional daylight, and good ventilation.
Bifold patio doors differ from standard multi-panel doors in their operation. They consist of a series of panels that join to slide and fold together when opened, like an accordion. Folding doors are something new and innovative in the Canadian market. They can replace most of the wall so that there is little to no barrier between inside and outside. With this model, you can visually expand the space inside the house and significantly increase the incoming daylight.

No matter what model you choose – small or large double sliding patio doors – Ecoline ensures you'll get a high-quality, efficient, and low-maintenance unit. To learn more about patio door prices, you can use our door replacement cost estimator or request a free quote.
Interested in this topic?
Or maybe you need our help with this?
Why Choose Patio Doors?
Sliding patio doors are the top choice among homeowners in Canada for good reason – they have a lot of benefits you can take advantage of.
The first thing you'll pay attention to when considering glass patio doors is their appearance. No matter what size door you order, it will look extremely elegant and discreet. Add your custom fittings and decorative layouts and you'll get the maximum aesthetics to perfectly complement your home design.
More daylight and a clear view are the main benefits of sliding patio door models. They perfectly let in sunlight and create the illusion of more space. If you decide to visually expand the room, providing more natural light and a great view of the garden or backyard, then glass units are your best solution.
The parallel-sliding principle of the opening helps save a huge amount of space. To open the door, you just need to slide it to the side instead of swinging it outward or inward. This is important if you have little free space and don't want to create additional obstacles.
Even if you order a large size door, it will operate smoothly and comfortably. A simple mechanism allows you to close and open the door without any extra effort.
The possibility of ventilation
The patio doors can be an additional source of ventilation. You can control the opening of your door and leave the optimum gap for air recirculation.
You can opt for multi-panel configurations and customize them to your liking to perfectly complement your home design. Choose colours, finishes, hardware, and other customization options to get your ideal match.
Make Your Patio Doors Truly Unique
At Ecoline, we're proud of our flexibility to meet the needs of each customer. Custom-made patio doors can help you add a unique touch to your home. Explore our customization options and boost your home's curb appeal with outstanding patio units.
Colour Options
Choosing the colour of patio doors is a matter of taste. There are no strict rules here. But in order for the unit to look harmonious, consider the colour scheme of both the interior and exterior of your home. If you don't want to go with the standard White or Black patio doors, look to Commercial brown, Chestnut Brown, Sable, Slate Grey, Cream colours, and more. With our wide range of standard exterior colours, paint-to-order, and colour matching program, you can easily match your new patio doors to any design.
Finishing Options
Like colours, your finishing is largely down to personal taste. Perhaps the most important thing to decide here is whether you're looking for all the details in your home to match. Fans of minimalism, Scandinavian style, and generally more traditional design may prefer a single style of finish. Our hardware finishes come in five basic options: white, black, antique brass, brushed nickel, and faux orb.
Door Hardware and Locking Systems
From different handle finishes to complex locking systems, we offer our customers a customization level that is difficult to beat. Here are the options you can consider:
Elitehandles: a contemporary-styled handle fits as standard to all units. You may opt for an additional key lock style as well.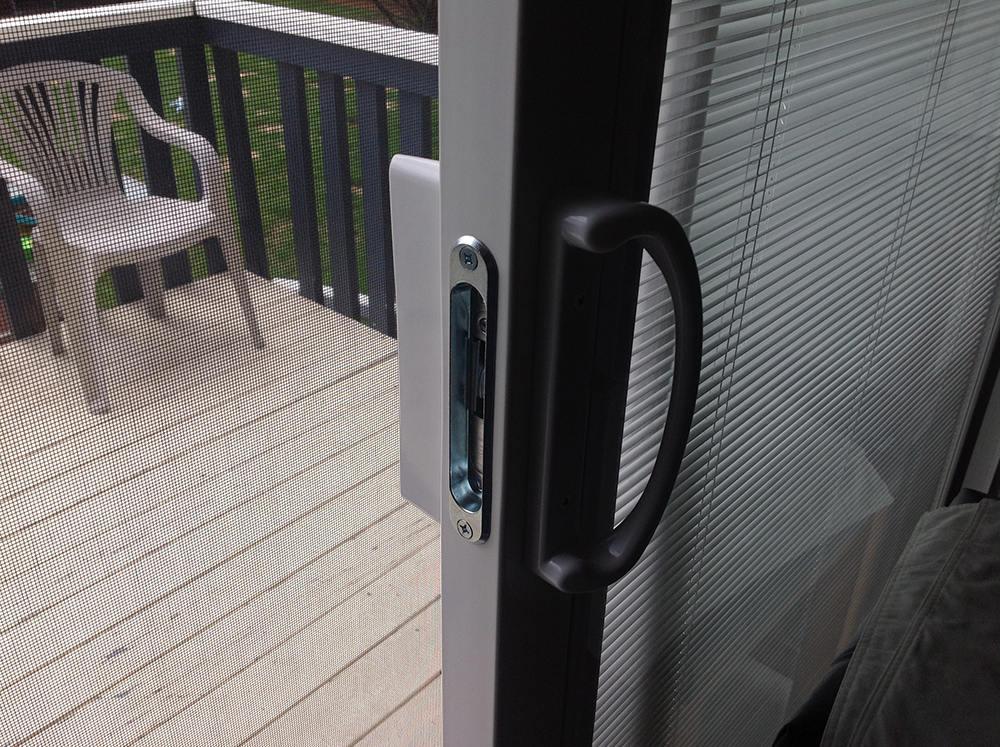 Guardian Locks: a latching mechanism, located at the top of the moving panel.
Folding Security Bar: a piece embedded into the fixed side of the frame rotates into a locked position for secure closing.
Two-Position Kick Lock: an additional lock, which is attached to the bottom of the moving panel to keep the door closed.
Privacy Glass Options
Is privacy your top 1 concern? The textured or coloured glass will hit the spot. Our privacy glass aims at filling your home with daylight while keeping prying eyes out. Ecoline provides seven eye-catching designs including Super Grey, Silvet, Glue Chip, Frosted, Delta Frosted, Chinchilla, and Acid Etched to increase your level of privacy and confidence as well as to highlight a unique design.
Blinds For Patio Doors
If you need a little privacy but don't want to use textured glass, patio door blinds find themselves in demand. What's more, the blinds give you complete control over the amount of daylight that enters your space. This is especially important if your patio doors are on the sunny side. Thanks to a large selection of our blinds options, you can choose what suits you most and customize them in the most appropriate way.
Grilles Options
Create a unique and beautiful look and add style to your glass patio doors by putting grilles on them – narrow strips of wood, vinyl, or metal. They are used to visually divide the glass area into smaller decorative panels. Their colour tends to match the colour of the inner and outer frame.
Door grilles are an easy way to funk up your façade. They work best with traditional and historic home styles. If you decide to go with patio door grilles, you can select from standard patterns or create a custom one.
Patio Door Installation – Aspects to Keep in Mind
Patio door replacement is not an easy process, since it requires special skills, tools, and careful work. If you make some kind of oversight, there may be consequences due to which you'll have to change the entire door. The worst scenario is the deformation of the frame and glass damage.
Before installing a patio door, you need to thoroughly decide on its model and size, since depending on this you need to decide whether you need to enlarge the existing opening.
It's highly recommended to entrust this challenging task to qualified specialists in order to avoid mistakes. With Ecoline professional installers, you can feel confident about your patio door installation from the very start!
Our installations are always carried out in accordance with Canadian Standards Association (CSA) guidelines and your local building codes.
In case of correct installation of glass patio doors and its proper care, you won't have any problems with their operation. Proper care involves cleaning the glass sheet and hardware from various contaminants, as well as timely detection of minor damage, breakage, and loosening of fasteners.
More recommendations from our:
FAQ
How long does it take to install patio doors?
As a rule, installation of patio doors takes several hours if performed by experienced installers. This does not include the time to select, manufacture, and deliver your unit.
What is the difference between French doors and patio doors?
Patio doors differ from French ones primarily in the way they open. French doors are hinged units swinging outward, while patio doors slide left or right along the rail to open
When to replace patio doors?
Sliding patio doors stand out by their durability. With proper use and care, an average patio door may serve you up to 25-30 years without the need for significant maintenance or repair.