Hung windows are one of the best design choices when it comes to combining functionality and a look that is different from generic replacement windows.
In this video, we demonstrate how to properly operate hung windows to ensure their longevity.
Hung windows incorporate the design of a slider window into a unit that operates vertically.
The operable sash has a cam-lock on the top. To operate the window, simply unlock the latch and slide the sash upward. You should be able to move the sash with ease.
When opening and closing the windows, hold the pull rail with both hands to avoid deformation.
When closing the window, make sure that the sash is flush against the jamb to avoid damaging the locking mechanism.
For easy cleaning and maintenance, hung windows come with a tilt-in feature.
Simply push the latches toward each other, and pull the sash inward to clean it. When tilting it back in, listen for an audible click to make sure the sash is fully in place.
Hung windows are a great window replacement option that will add a unique look to your home.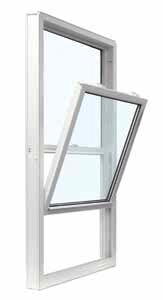 Learn more about replacement windows:
See our full line of window styles
Find out how much new windows should cost
Read about our window installation services