When shopping for new windows in Saskatoon, many homeowners consider replacing their patio doors as well. Most Canadian window companies also sell and install patio doors. That's because modern sliding doors are put together in a similar fashion to vinyl windows. They have similar insulating glass units and are installed using similar techniques.
A sliding glass door is usually a single unit consisting of two sections, a static one and a moving one. It is also possible to custom manufacture configurations for three and four-panel patio doors on the market today. Patio doors can be manufactured to fit into standard or custom-sized openings up to 12 feet in width. Patio doors can be made in double or triple-pane option. They also come standard with a sliding screen door.
How efficient are patio doors in Saskatoon?
Unlike entry doors that are made of steel, wood and glass, new patio doors are made from the same materials as your windows: glass and vinyl. The insulated glass unit in both a window and a patio door is the part that accounts for most of the efficiency and prevents warm air from escaping your home. Because sliding doors have a greater glass surface area, they offer efficiency levels that are comparable to vinyl windows. Modern windows and patio doors are actually designed to capture and trap warmth from the Sun.  In the winter time, the energy loss through the patio door is offset by additional heat gains.
Just like the windows you buy, sliding patio doors should have an Energy Star rating. In order to be considered efficient in Saskatoon, all sliding patio doors must have a minimum ER rating of 29. Getting ENERGY STAR rated products ensures your windows and patio doors will keep your home warm and comfortable during the cold Saskatchewan climate.
For a full list of Energy Star rated windows and doors check out this Natural Resources Canada website.
Standard sizes for patio doors in Saskatoon
Patio doors generally come in several standard sizes, based on the width of the opening. If you are replacing an old door with a new one, your opening can already accommodate a standard 5 or 6-foot wide door. If you are looking to create or enlarge an opening from an existing window, the job often requires walls to be cut, which can add significantly to the cost of your replacement.
In the interest of the client's budget and completing the work efficiently, most window companies in Saskatchewan will recommend that the patio door you get is the same size as your existing ones.
Patio Doors and Home Safety
Traditionally, patio doors had one big disadvantage: they didn't offer much in terms of security. With a glass door, you don't just run the risk of a quick break-in, a potential crook can also see whether anyone is at home or even in the room they're going to target. Old rolling doors were also easy to pop off the track, rendering them useless.
As the window industry in North America began advancing vinyl technology, a lot of smart features got put into patio doors as well.
Today, any sliding door can come with one or several of these additional security features:
Although a key lock is one of the more popular choices for sliding door security, it isn't always offered as a standard feature.
If you are getting a patio door with your window order, be sure to clarify exactly what features it comes with.
A big debate when it comes to replacing the door at the back of your house is whether you should get patio doors or garden french doors.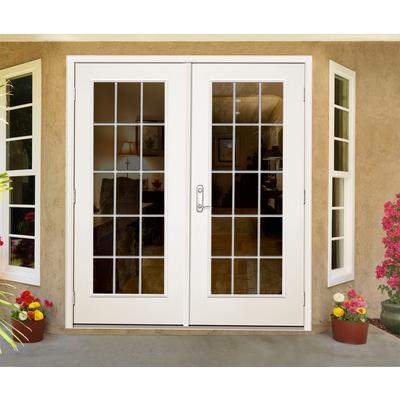 The argument for garden doors is that they are more efficient and secure compared to sliding doors. While the materials they are made out of definitely give them an edge, that doesn't mean sliding doors don't still meet efficiency requirements for coldest zones in our country.
A big advantage sliding doors have over garden doors is that they can be left fully or partially open. Because garden doors function like a regular door, there is no screen preventing the insects from entering when the door is open. Much like a safety latch in a slider window, a kick lock in the sliding patio doors allows you to naturally ventilate the room while keeping the door locked in a partially opened position.
Patio Door prices in Saskatoon
Standard size patio doors range in cost between 1500-2000$ based on the features and additional upgrades you might want to consider.
Expanding the opening to accommodate a bigger size door can add significantly to the cost of your replacement. It is also possible to manufacture custom sized patio door, but again the price becomes much higher than with the standard option. Even if you are considering a cut-out or expanding a window, in the interest of saving some money, consider getting a standard size patio door. A lot of major window companies in Saskatchewan offer options for sliding doors.
Learn everything you need to know about replacement windows:
Find out how much new windows should cost
See our full line of replacement vinyl window styles
Find out about Ecoline windows warranty and post-installation service