Windows With Vinyl Brickmoulds
1. Get a FREE QUOTE and we will bring SAMPLES to your home.
2. We will call you back during WORKING DAY
3. We guarantee Direct Price and Warranty from Manufacturer
or
When you're getting new replacement windows, there is more than just the glass and the frame that are being replaced.
In order to make sure your new windows function to their full capacity, it isn't enough to just keep the warm air inside the house. It is also important to keep the drafts and moisture out of your home, and the wall envelope.
That's why full-frame window replacements require the changing of jamb extensions, and brickmoulds.
A brickmould is a vinyl cover that goes on the outside of the window to cover the gap between the frame and the wall.
It also acts as an aesthetic piece for a nice looking transition between the window frame and the existing exterior finish.
When caulked properly, brickmoulds prevent water from entering and gathering in the space between the window and the wall.
They also come in a variety of sizes for a perfect fit with the exterior, and colours to match the custom finish of your vinyl windows.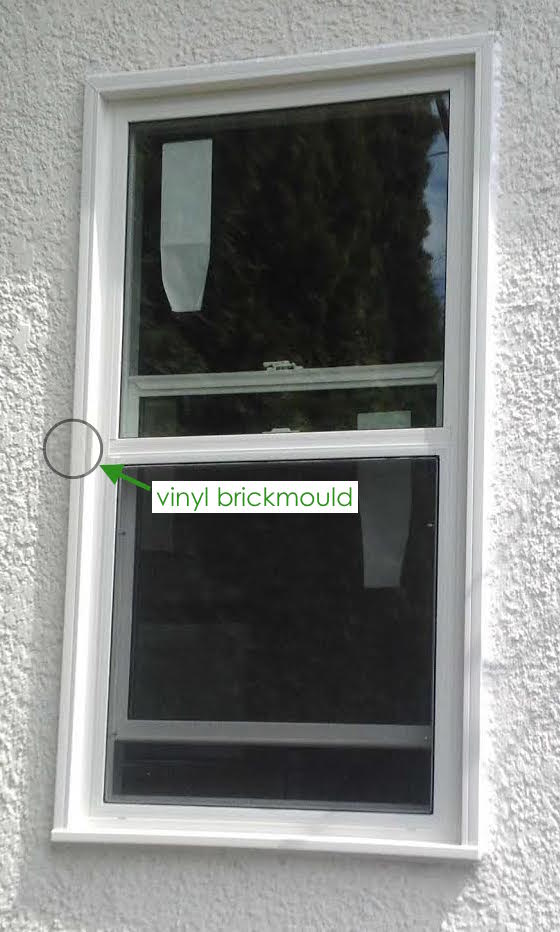 Vinyl brickmoulds on the outside of the window are much more efficient than aluminum capping and will prevent moisture damage and leaks for a longer period of time.
Get a quote up to $5,600 grant for window and door replacement.
Learn everything you need to know about window replacement:

Find out how much a full-frame window replacement should cost
See our full line of vinyl replacement windows
Follow the replacement process in our visual infographic