Why Steel Doors in Vancouver Are Your Best Option
Combining distinctive style with a reasonable price, steel doors make a durable and secure entry. Designed for different home styles, our steel doors come in a variety of finishes. Explore custom options and find your perfect match.
1. Get a FREE QUOTE and we will bring SAMPLES to your home.
2. We will call you back during WORKING DAY
3. We guarantee Direct Price and Warranty from Manufacturer
or
Looking for a new exterior door in Vancouver, BC? Our high-end steel doors are worth considering.
Many homeowners continue to put a stigma on steel doors for their industrial feel, which seems unattractive and certainly not suitable for residential use. But the truth is that design and technology have evolved significantly in recent years. Vancouver homeowners can now purchase exterior metal doors that look just as inviting and homey as their traditional counterparts. In addition, steel doors are perfectly combined with vinyl windows.
Steel doors may be the best choice for your home since they are more affordable than fiberglass doors and more durable and efficient than wood ones.
5 Reasons Why Steel Doors Are Worth Considering
Steel exterior doors have become popular with homeowners because they bring many benefits. Why choose metal doors in Vancouver?
Reason 1: Steel doors provide the ultimate security.
Steel doors are your best bet if home security is on your priority list. Steel doors with a steel frame are very strong and heavy. They are excellent at resisting burglar attempts because they are almost impossible to break.
All Ecoline's steel front doors are equipped with:
Heavy duty hinges that guarantee maximum security and better sealing;
Hidden Adjustment Screws. They are to stop possible water infiltration while providing a cleaner look. Optional screw caps for sil crown adjustment screw and ensures the dirt stays out;
Multi-point hardware options. With Ecoline metal doors, you can easily choose from the best quality multi-point door levers and gripsets. Select among 9 styles and multiple colour finishes ideal for homeowners looking to retain a traditional style on their entrance system, or go with 2 types of pull handles that come in 3 finishes and 3 heights if you are after a more modern feel. Once the door is closed, a 3-point locking system is activated—deadbolt, top and bottom latch bolts—on all 6′-8″ and 8′ doors. It ensures extra protection from forced entry, a tight seal to prevent air infiltration, and keeps the door in place to prevent warping.
Reason 2: Steel doors allow energy savings.
Many homeowners refuse to install steel doors, thinking they are not energy efficient enough and will conduct heat or cold into the home. This would be the case if they were solid. But our modern steel doors are made of galvanized steel and composite materials, which perform an insulating function from the elements.
All our metal doors meet and exceed the standards set to be recognized and approved as energy-efficient front doors by ENERGY STAR:
Minimum Energy Rating of 34 and higher, depending on the customization of your new door;
Maximum U-factor W/m2∙K of 1.22 or less;
Moreover, all Ecoline's doors are NAFS-11 tested which is hard to achieve in the door industry. Only a few manufacturers can claim their doors are NAFS approved, which propels our steel units to the top of the door industry list in Vancouver, BC.
Reason 3: Steel doors are low maintenance.
Steel exterior doors do not require complex care and maintenance. They are not subject to damage, deformation, or erosion caused by the elements. Therefore, you do not have to do regular checks on the condition of your front door and spend money on repairs. All the maintenance you may need is updating the coating on the door over time. Cleaning your steel door regularly with soap and water is all the effort you need to make your door last longer.
Reason 4: Steel doors are highly durable.
Steel doors are known for their strength and durability. They are weather resistant, do not rot from moisture, do not warp in the sun, and are easy to paint. The steel entrance door will serve you for many years. At Ecoline, we provide a general warranty for our doors for 25 years and 15 years warranty for light colour paint.

Ecoline steel entry doors are made using composite materials to assure stability and longevity. We don't use wood or parts that degrade with water or high/low temperatures. Our frames and sills have been tested to guarantee excellent, stable performance.
Reason 5: Steel doors are quite affordable.
Custom-made wood and fiberglass doors tend to come at a high price. In turn, steel is less expensive and extremely durable, saving you money in the long run.
You can use our online price estimator to find out the approximate cost of a steel door and compare it with a fiberglass one.
Interested in steel doors?
Or maybe you need our help with this?
Steel Doors Styles: Explore Your Options
Steel exterior doors are not the usual flat steel panels you are used to seeing in commercial buildings. Today they come in a wide variety of styles and designs. You can easily purchase a double steel panel door with beautifully patterned glass inserts that will instantly enhance the appeal of your home.
Common Steel Door Types
A steel single door is the most standard and common door configuration. It typically does not require much carpentry and is available in a variety of designs.
A steel double door is a good match for those who want a wider doorway. Reminiscent of French doors, the double steel door creates a unique exterior accent.
Steel Doors With Sidelites
Sidelites – vertical glass elements fixed on the sides of the door – will help to enliven your entrance and make it more aesthetically pleasing.
A transom – a small door window located above the frame – allows you to let in more natural light inside and make the house brighter.
Exterior Steel Doors With Glass
Glass inserts on the front door are definitely a modern and creative design idea that is gaining more and more popularity with homeowners. A steel front door with glass can become your design statement and enhance your home's curb appeal.
By equipping a steel entry door slab with glass, you let more light in. Making the most of sunlight can positively impact the atmosphere in your home and lower your energy bills. The more daylight you let in, the less you need to rely on artificial light.
Panel Steel Doors
Our panel steel doors consist of galvanized steel and composite materials. Multi-panel configuration extends the life of the door and adds a lot of aesthetics to it. You are welcome to choose the number of panels for your steel door.
| | | | | |
| --- | --- | --- | --- | --- |
| 2-panel steel door | 3-panel steel door | 4-panel steel door | 5-panel steel door | 6-panel steel door |
| | | | | |
Traditional or Modern: Typical Steel Entry Door Styles
Steel doors come in two basic styles – traditional and modern. Whether you own a vintage cottage or a loft-style townhouse, you're sure to find the right door for you.
If you like eclecticism, you may think out of the box and match styles. A modern steel front door on a traditional house can look very stylish and attractive.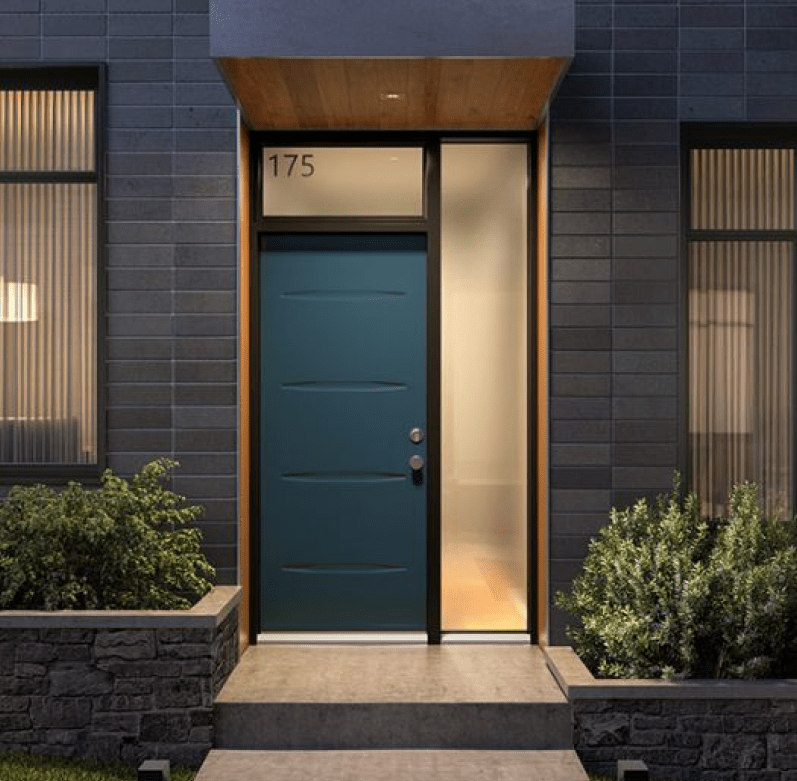 Steel Exterior Door Sizes
Steel doors at Ecoline come in a large selection of sizes, so it will be easy for you to choose the right match. Make sure you are sizing correctly. If you go with a double door, its width will be equal to two single doors.
Custom Options & Features
Your door does much more than just cover your entrance. In addition to being the basis of security, it affects the overall attractiveness and value of your home. The quality of workmanship and custom design will have a noticeable impact on the overall aesthetics of the home, enhancing its appearance.
Learn more about the customization options available to you at Ecoline.
Colour options
We offer over 24 pre-blended, high-quality paint options to match both standard and unique custom exterior colour schemes.
Our most popular standard paint shades include Ice White, Black, Commercial Brown, Antique Brown, and Slate. But if you're looking for something more original and eye-catching, you can choose Burgundy, Wedgewood Blue, Forest Green, Smoky, Sandalwood, and more.
If you find it challenging to select a suitable colour from our palette, our experts can use a sample to provide you with the perfect match for almost any surface.
Privacy Glazing
If you are equipping your front doors with glass inserts or sidelites, privacy or obscure glass is something you should consider. Privacy glass is partially or completely opaque glass, through which it is difficult to see anything.
Using obscure glazing allows you to make the most of the daylight that comes in while keeping your interior space hidden and safe.
Our privacy glazing options include frosted, tinted, textured, painted, and laminated glass. Each of them provides a certain level of transparency and security.
Way Of Operation
Whether your door should open inward or outward is a matter of your personal preference and convenience. You can also customize your new exterior steel door to be left- or right-hand active.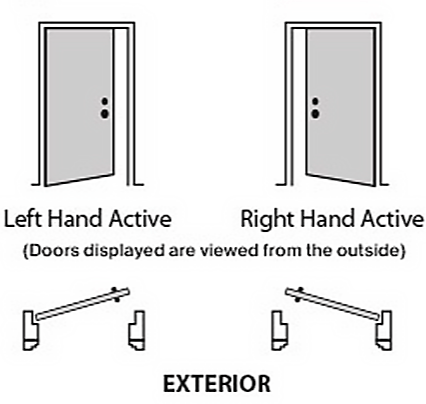 Hardware solutions
The right hardware can make a difference. If you want to make your steel door as comfortable and functional as possible, consider adding custom hardware options:
Pet door
Peephole
Styled hinges
Smart locks working with the app
Steel Exterior Door Installation In Vancouver
We at Ecoline are working directly with homeowners in Vancouver and all surrounding areas, including Abbotsford, Delta, Langley, Maple Ridge, Surrey, Richmond, and North Vancouver.
In order for a steel door to provide maximum functionality and all its numerous benefits, it must be properly installed. We strongly recommend that you do not go with a DIY installation. There is a high chance of making a mistake with a lack of experience, tools, and special skills, which can lead to air leaks, hinge wear, reduced security, and other issues. In addition, steel doors are very heavy to manage alone.
Our team of professional installers ensures that your door is installed correctly and will last for many years. Ecoline's installers have completed hundreds of successful projects and are true experts in residential door installation. Entrust us with the installation of your new steel door and be sure of a quality result.
More recommendations from us:
How much would a steel door cost?
The cost of a steel exterior door depends on its size and custom features. At Ecoline, prices for a single steel door start from $1280. Use our online door cost estimator to determine the approximate price for steel doors. You can also request a free quote from us, providing your project details.

Can you buy just a steel door?
It's possible, but we recommend choosing a prehung door that comes with the frame. The prehung door installation is much easier and often more beneficial. In addition, your existing door frame may be damaged or rot on the inside, even if it looks good, and this can only be understood during the installation process.

Are steel doors more expensive than wood doors?
Steel exterior doors are more affordable than wooden doors, although there are low-end wood doors that are comparable in their cost. Keep in mind that the price of a steel door depends on its quality, size, and custom features.
Are steel doors better than wood doors?
Since steel doors are not subject to rotting and weathering, they are more reliable and durable than wood doors. Steel is naturally stronger than wood, so steel doors are more secure than ones made of wood.