Window grills are the decorative bars that are placed in between the panes of your window to give it a unique look, or match the aesthetic with other windows.
As a homeowner, putting grills in is just one way to make your windows look unique, and stand out from the rest of the street.
Different window manufacturers in Canada offer plenty of choices when it comes to grills but ultimately it is up to you decide on the layout, style, and how the grills will look with the other windows in your house. Grills are put in between the window panes at the time of installation and don't impede with cleaning and maintenance of the glass, or the effectiveness of low-emissivity coatings.
Grill Layout
There are several choices when it comes to how your grills will look inside the window:

These are the most common grills layouts available with replacement windows. Colonial and Prairie style grills are usually the most popular with homeowners in Western Canada. Colonial grills are great for making narrow and tall windows look a little wider, or for creating a panel look. Prairie grills can give a large window a nice frame effect, especially when done in gold or a different colour from your vinyl. But ultimately it is up to your imagination to create a look that you think complements the overall feel of your home.
Grill Styles
There are plenty of styles, colours, and sizes when it comes choosing grills for your windows. Most window manufacturers carry grills in all the same colours as their windows, with optional metallic, silver, or gold finishes.
Grills can be circular, flat, or have a protruding edge. They usually range from as narrow as ¼ in. for circular to 1 3/8 in. for flat grills.
Grills for windows with wider panes are often manufactured from aluminum while thinner panes generally come with plastic grills.
Because this is one of the few areas where buyers can customize their windows, most companies accommodate a good variety of choices to appeal to different homeowners.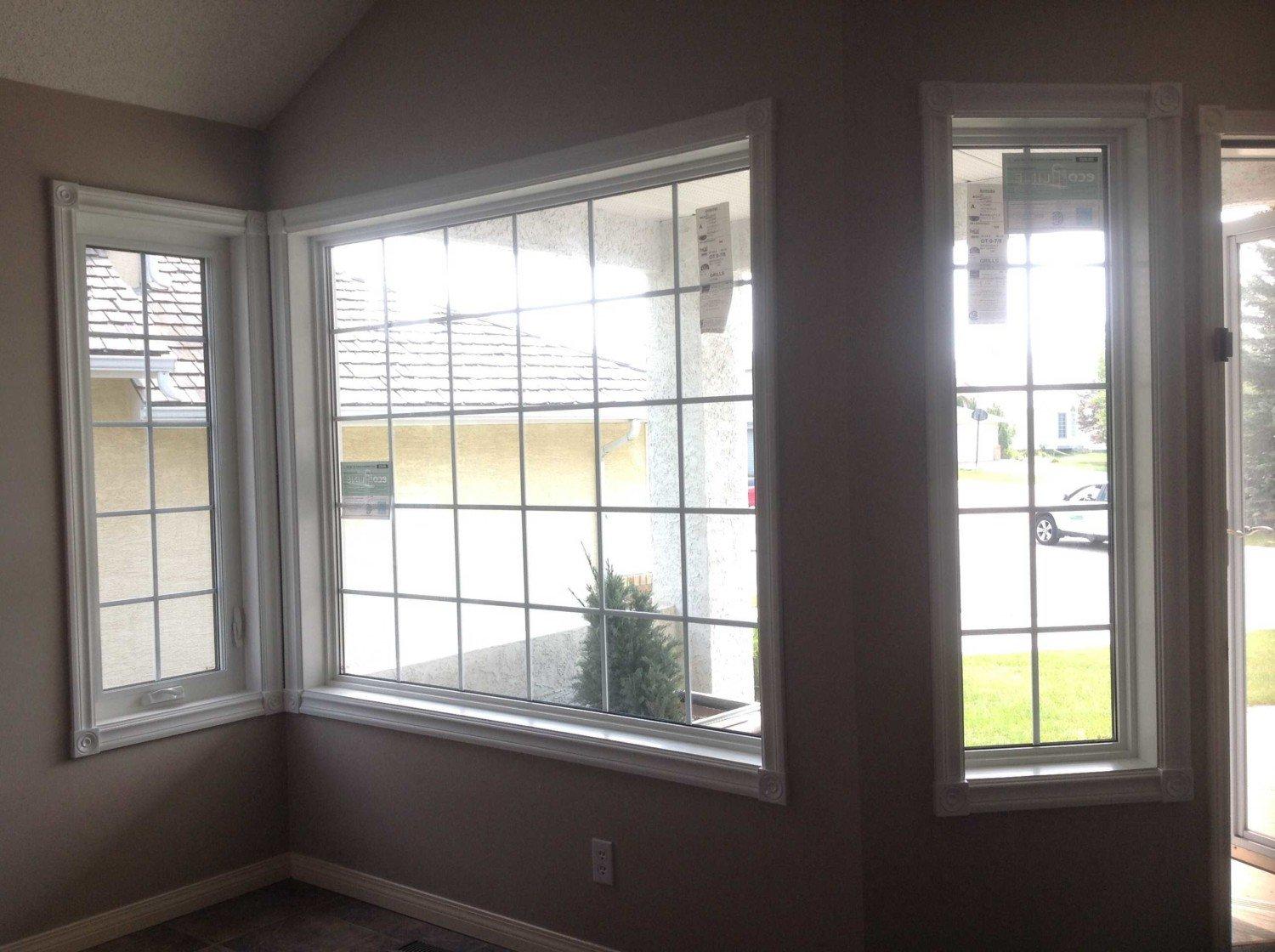 Problems With Window Grills
Matching Grills With Other Windows
One of the biggest challenges to making grills look good in your home is matching them between the different windows. This may not be a big problem if you're getting all windows in the same profile (frame height). But different types of windows in your may have different profiles, and, therefore, the same grills would look different on their respective windows. If you are considering grills for your window replacement make sure you discuss window profiles with your project consultants so you know which of your new windows will look similar or different.
Energy Efficiency
Inserting grills into a window also makes it less energy efficient than the same window without grills. Because grills take up space inside the insulated glass unit, they reduce the amount of sun that warms your home. They also allow for less gas fill to be inserted into the sealed unit, thus making it more susceptible to heat loss than regular windows. The problem can often be rectified with additional Low-Emissivity coatings on the glass to improve performance and efficiency levels.
Fallen Grills
One of the biggest post-installation problems with grills is that they can fall out of place. As the window settles and shifts in the opening after it was put in, grills may come apart from the walls of the sealed unit and fall down. This problem should be covered by your window warranty. Unfortunately, there is no easy fix for fallen window grills and the only way to solve the problem is by replacing the entire sealed unit. Again, if you are interested in getting new windows grills make sure to discuss the warranty terms and service procedures with your project consultant.
Grills in your new replacement windows can go a long way towards creating the look you always wanted for your home. Consider the cons of these additions if you want the best performance out of your windows, or if you're getting different windows from multiple companies. But when done right, grills can give your home a unique feel on the inside, and add extra curb appeal from the outside.
Learn everything you need to know about replacement windows:
Find out how much a new window project should cost
See all the vinyl window styles we carry
Follow the replacement process in our visual INFOGRAPHIC