Let's face it, whether you are looking to get just one or two windows, or planning a replacement in the whole house, price is still one of the biggest driving factors when it comes to deciding on a window company. In the current economy, it may even be the deal breaker between getting new windows now, or putting it off for later.
It is not uncommon for homeowners to be confused or outright shocked about how much windows should cost when they begin getting quotes.
Window Replacement Cost Estimator

The average price range is based on minimum and maximum window sizes:
Bedroom or Kitchen window prices range between $900 and $3600 on average.
Bow or Bay window prices range between $2,800 to $4,500
Living room window prices range between $2,100 to $3,700
Standard size patio door prices range between $1,700 and $3,100
Basement window prices on average are between $600 – $1100
What is more important to understand, is why windows are priced the way they are. Different homeowners have different expectations and goals when it comes to their window replacement project, and this will usually reflect in their budget. Understanding how windows are priced may not get you the cheapest windows in Calgary, but it will ensure that you know what you are paying for when the time comes.
Here are the most important things to consider about window prices in Calgary:
Think of your windows as a long-term investment. It may seem outright daunting when you have to spend thousands of dollars to get new windows. But if you consider that quality windows should last you around 25 years, the processes and components involved have to be of a certain quality standard.
Installation type makes a difference. There are only two types of window installation: full-frame and retrofit. A full-frame installation is more thorough and is usually recommended for residential replacement windows, but it can also cost up to 20% more. Remember, correct installation is essential to the longevity and performance of your new windows.
Window type matters. Customers and even window companies sometimes debate whether to get triple-pane or double-pane windows. What is more important, is that windows you get are ENERGY STAR rated and are considered efficient in your local climate zone.
In order to be considered efficient in Calgary, windows must meet requirements for climate zone 2, and have a minimum ER rating of 29. Many window companies in Calgary will outright lie about the ratings of their windows, or try to make the customer believe that they don't need windows that are rated this high. The truth of the matter is, rated windows are much better and will last you longer. Of course, they also cost more than the imitation. But in turn you get the security of knowing that you paid for a quality product that was built in accordance with all standards and regulations.
Full-frame or retrofit installation
One of the first and main things you will need to decide on is which window installation type is right for your replacement.[hypotext target="1″]Expand[/hypotext]
[hypotext id="1″]
In a full-frame installation, the old window gets removed down to the wall structure around it. This ensures that any rotten or damaged wood around the old window is removed and replaced, and the window opening is properly prepared and cleaned to take a new window.
With a retrofit installation, the old window frame is kept intact and a new window is put into the existing opening. While it helps preserve the look of your old windows, this type of installation does not address the potential moisture or rotting issues inside the structure.
[/hypotext]
Homeowners often think that the installation type is a matter of choice. In reality, it depends entirely on the condition of the existing windows and the condition of the walls around them. The worst part is that there are window companies in Calgary that perform retrofit installations and pass them off as a full-frame replacement.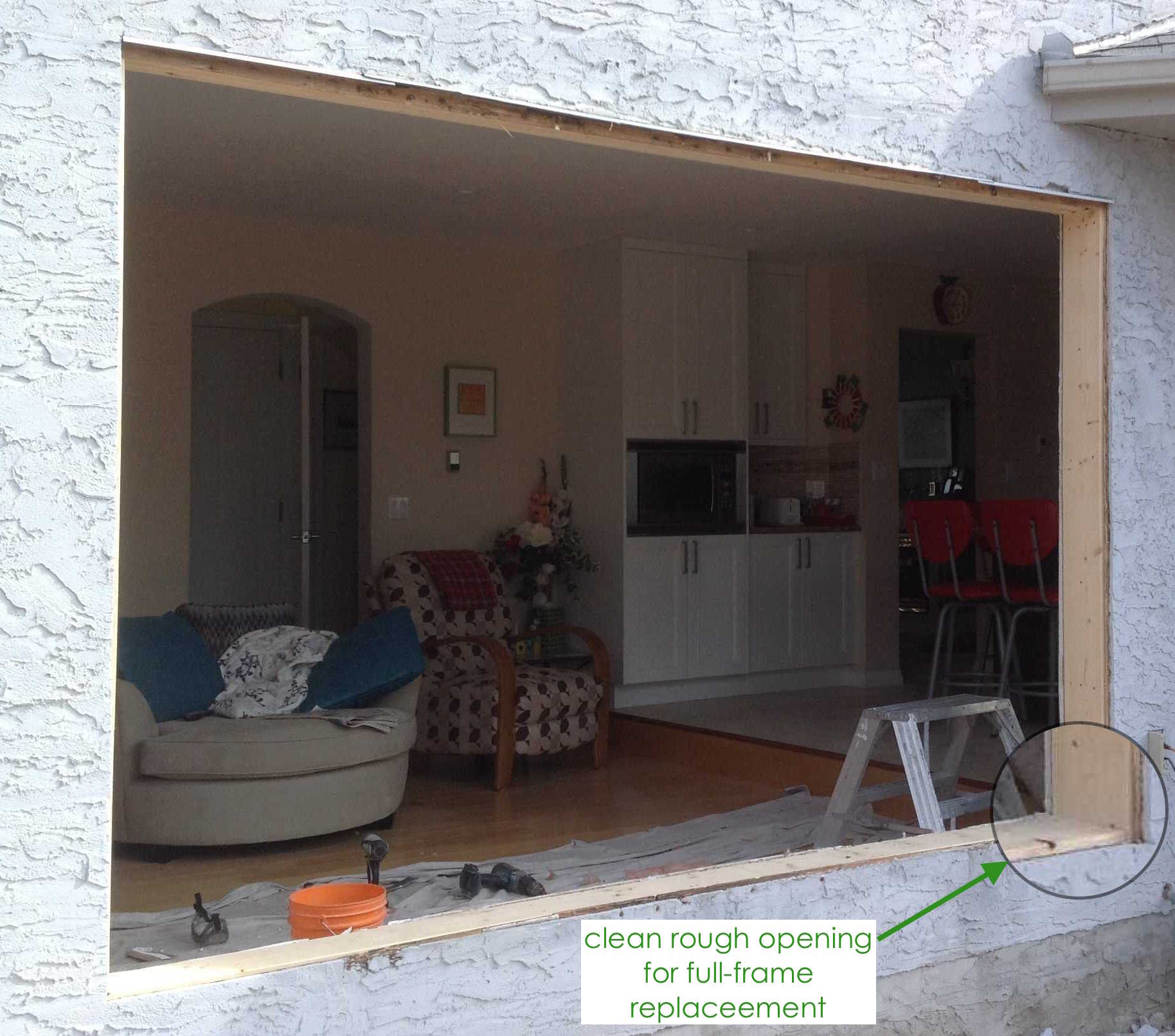 Crank vs. Slider Windows
Similarly to the two types of installation, you can narrow most operable windows into two types: crank (casement, awning) or sliding/hung windows. If you are having difficulty picturing it, remember that crank windows open at an angle.
See how Calgary windows compare:
Slider Windows in Calgary
Casement Windows In Calgary
Besides the difference in how the two window types function, there is also a significant difference in the performance (and price) of these windows. Casement and awning crank windows are significantly more efficient than slider windows, and as a result, cost more.
The big difference maker in casement windows are compression seals that line the edge of the frame that meets the moving sash. In slider windows, these edges are usually lined with fiber weather stripping. In casement windows compression seals evenly fill the gap between sash and frame to make the window airtight and eliminate any drafts. This, in turn results in much higher efficiency and more comfort for the homeowner. Of course, this also means crank windows cost more.
But regardless of the window type, if you really want to get the value for the windows you are getting, make sure that the product you buy is ENERGY STAR rated. This will not only ensure that windows are built tough for the cold Calgary climate, it usually also means that they are manufactured to international standards, and actually meet the requirements they claim on paper.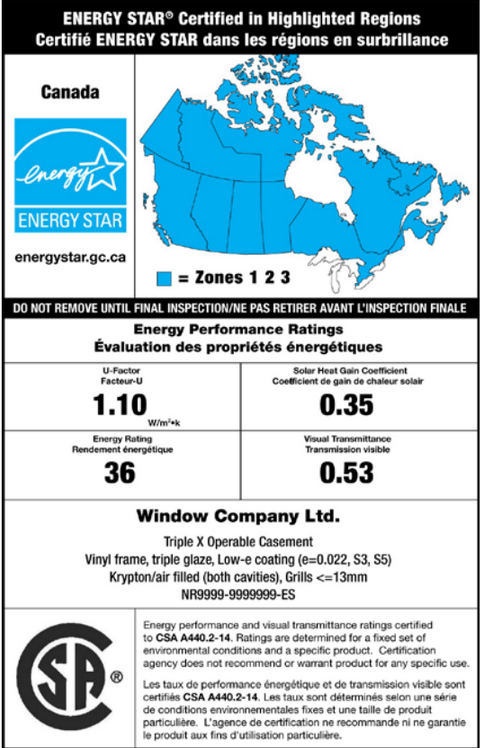 Even if you do end up getting slider windows, it is still possible to get quality units that meet your local climate zone requirements, and will keep you comfortable in the winter cold.
See what's included in the price of our windows and what kind of work we do.
Comparing window prices in Calgary
As we already mentioned, there is no one way to answer how much windows should cost in Calgary. Most companies prefer to give ranges of prices at their quote appointments, and narrow down the number for the actual contract.
Below is a list of best Calgary window companies, and the price range their products fall into.
Comparing Window Prices in Calgary
| COMPANY NAME | PRICE RANGE |
| --- | --- |
| Ecoline Windows | Mid-Range |
| All Weather Windows | Mid-Range |
| Costco | High |
| Cossins | Mid-Range |
| Greg Martineau | Mid-Range |
| Home Depot | High |
| Lux Windows | Mid-Range |
| Meridian | Low |
| Old West | Mid-Range |
| Pella | Very High |
| Ply Gem | Mid-Range |
| Supreme | Mid-Range |
| Western | High |
| Canadian Choice Windows | Low |
| Vinyl Window Pro | Low |
| WeatherPro | Low |
For more Calgary window information check out:
Windows Calgary: Does Local Make A Difference?
Best Window and Door Companies in Calgary: 2015
5 Things to Know About Windows and Doors Lifetime Warranty
Get a Free Quote On Windows in Calgary