In many ways the living room is like the centrepiece of your home. It is the face of your house on the outside, and a hub of family activity inside. That's why windows for living room have to look good, be efficient to keep your home comfortable, let in lots of light, and be operable to allow for ventilation. Factoring that these are probably the biggest window openings in your home and they don't necessarily fit standard sized windows, you may have a conundrum when it comes to deciding which window style to get.
We wanted to discuss some common options for living room windows in Canada and hopefully make the selection process easier for you.
Living Room Window Sizes
As we mentioned above, living room windows often tend to be the biggest windows in the house. Because standard windows have their limitations in terms of size, you may be looking into a combination of several windows put together into one unit for your living room replacement. Check out the chart below for minimum and maximum size dimensions for different windows in Canada.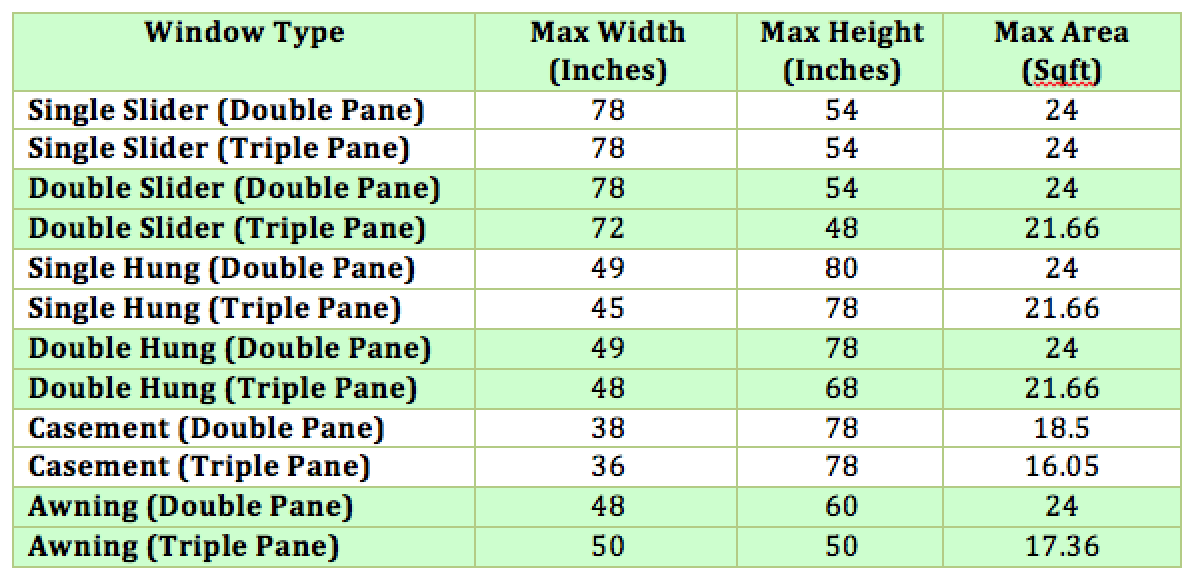 Keep in mind that both maximum dimensions can't be used at the same time. What is more important is that the maximum square footage is maintained within the parameter.
Difference in Window Frame Profiles for Living Rooms
Because you will likely have to get a combination window for your living room opening or elsewhere in the house, it is important to understand which operable windows have a high frame profile and which ones have a low profile. Slider, hung, and end-vent windows generally have a low profile frame. Casement and awning windows have a high, or wider, frame profile. These windows are more efficient but at the expense of less glass surface area. Fixed (inoperable) windows can be manufactured in both high and low profile options, and match the profile of the operable window beside it. But because windows with high profiles have less glass surface area, and therefore let in less visible light, some homeowners choose to mix up the window profiles.
Window Style Options For Living Rooms
Now that you have some ideas about maximum window sizes, and how different window combinations work, you can start thinking about which setup is best for your living room replacement.
Casement Window Combinations
The most efficient and functionally effective combination for living rooms is the casement-fix option. This combination features both operable and one inoperable (fixed) windows. The fixed window provides great energy efficiency and an unobstructed view. Like we mentioned above, it can be made with a high or low profile. Casement windows, which are the most efficient window style, can be used on one, or both sides of the fixed window. The picture below demonstrates a casement-fix-casement combination.
Depending on size, configuration, and additional upgrades, combination casement windows can range in price between $1200-1600.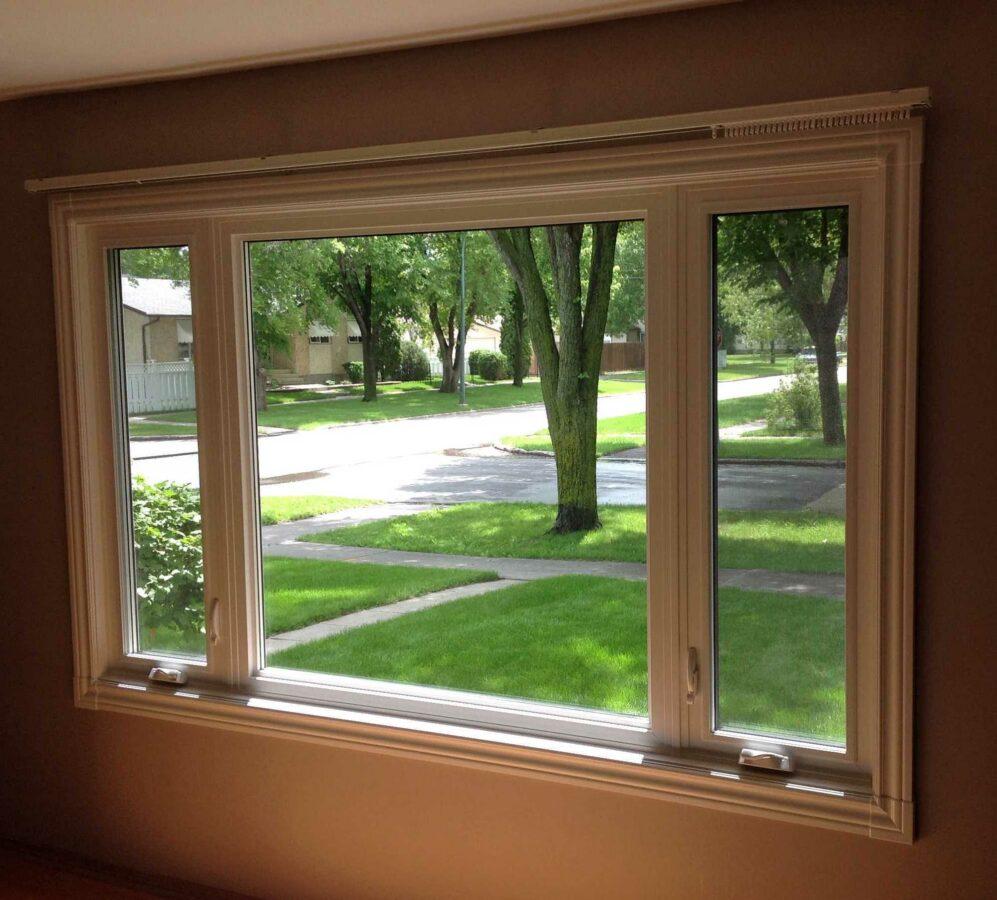 A fixed-casement-fixed window combination is great if you are considering curtains for your windows. This way you can open the middle window without rustling the curtains or getting them blown around by incoming wind.
End-Vent Windows
An end-vent operates like an oversized slider. Because slider windows can only be manufactured up to a certain dimension (24 sq ft), homeowners who want the functionality of a sliding window in their living room often resort to getting end-vent windows. Like slider windows, end-vents have a low profile, so they let in lots of light.
Factoring in the size, and any additional upgrades end-vent windows can range in cost between $900-$1300 with installation.
Picture Windows
Picture windows are an excellent way to combine a great view and energy efficiency inside your home. Windows that don't open are the most energy efficient and let in the most light. We often recommend this option if a living room has multiple windows, like in the picture below. This way you can still get an energy efficient casement window to ventilate your living room while ensuring maximum efficiency in the biggest window opening.
Depending on the size, number of panes, and any additional upgrades, picture windows range in cost between $800-1200 with installation.
Bay Windows For Living Room
Bay windows can be one of the more expensive solutions for a living room window replacement, but they definitely make your home stand out and add an extra space around the windows that you can utilize. It is possible to replace and reinforce an existing bay structure or expand an opening and build up a new bay.
Keep in mind, with existing bay windows you may come across additional costs during your replacement. Because the bay structure is more prone to allowing water leaks than the wall it is in, especially in older homes, it is often difficult to assess the extent of the damage until the old window is removed. Often water-damaged or rotting wood doesn't show on the wall, but is inside all along, only to be exposed during the replacement. To ensure the new bay window is sealed properly, installers may have to replace wood components in the bay structure adding to the labour costs of the project.
Because of the extra labour required to manufacture and install bay windows, these projects usually range between $2800 – $4500.
Bow Windows
Bow windows are another great option for living rooms. The windows make a slight arc in the opening and can come in four or five-panel options.
 Because of the labour required to manufacture and install efficient bow windows, these projects usually range between $2800 – $4500.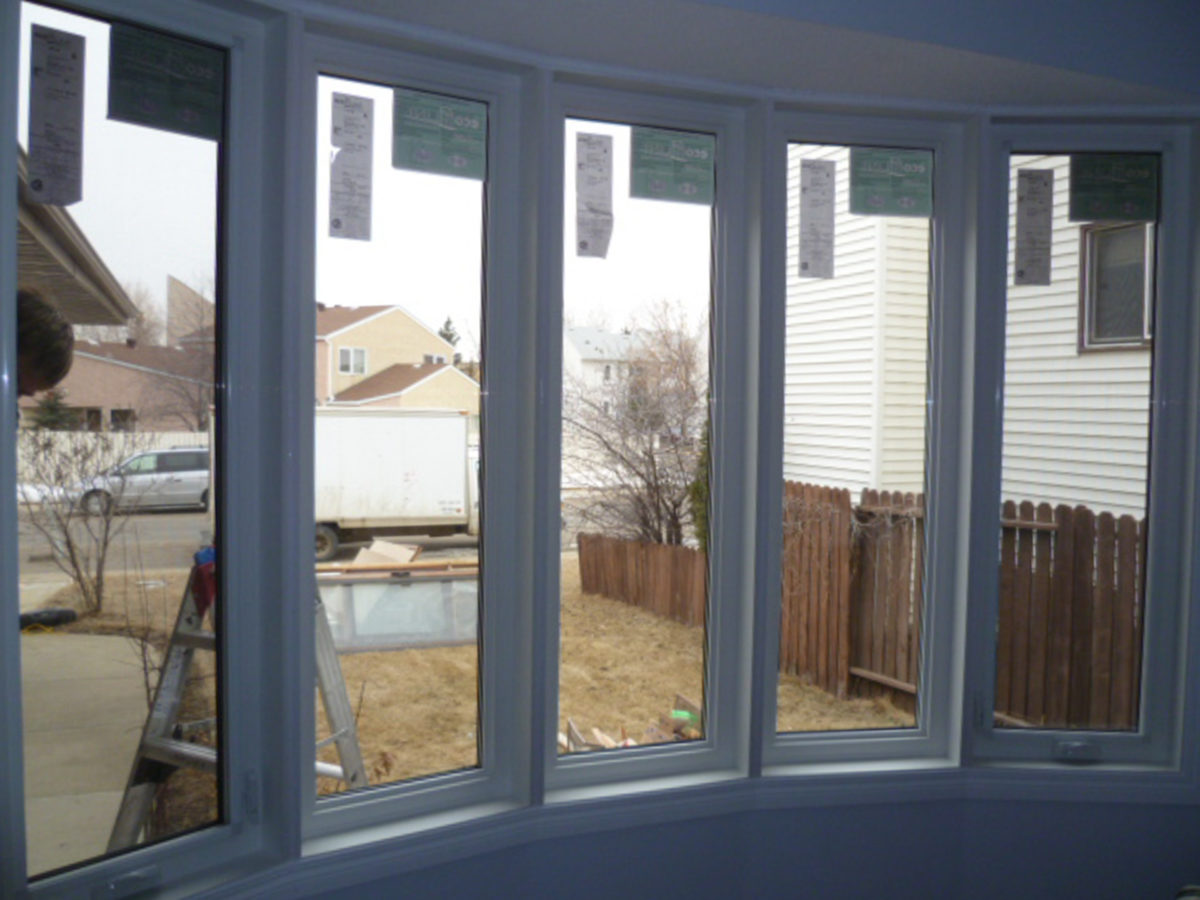 Give Your Living Room Windows a Noble Look With Grilles
Whether you are getting casement, end-vent, bay or bow windows there are ways you can make your home stand out from others on the block.
Decorative grilles are a common design upgrade homeowners invest in, to give their home more curb appeal. Grilles can be installed either on the outside or the inside of the window. Note: grilles on the inside of the window reduce that window's energy efficiency. Grilles on the outside of the glass don't have an effect on the window's performance.
Check out everything you need to know about replacing your windows:
Standard sizes for Canadian windows and doors
See how much a window replacement should cost
Find out about the features and options that go into modern energy-efficient windows