You've decided to replace your basement windows. Basement window replacements are slightly different from windows in the house because they often need to be expanded to meet fire code (egress) requirements.
If you are thinking about getting new basement windows, try to answer some of these questions:
First off, do your windows need to meet egress requirements? How do you know if they need to? And, if so, will you need to create a window well on the outside in order to make the window accessible.
These are important questions that will help determine the kind of windows you should get, the installation type and additional work requirements, and finally the price of your replacement.
Concrete cutting for a window replacement
If you need to enlarge the opening in order to install an egress window, or perhaps you just want a larger window in the basement, you will have to look into cutting the concrete. This is something that will likely require hiring a concrete cutting contractor to get the job done, and may require building permits depending on the project and your area of residence. Make sure to discuss this with your project manager to make sure that you get it done right the first time. Not all window companies will cut concrete, so you may have to coordinate the two jobs happening on the same day so that your windows are put in immediately after the concrete is cut.
Do you HAVE TO get fire code windows?
Simply put, YES.
So, how do you know if you need to make egress windows in the basement? If you have bedrooms in your basement every bedroom needs to have a window that can be used as an exit in the event of an emergency.
Your windows must meet strict measurements in order to be an egress window. They must provide unobstructed openings with areas no less than 3.8ft² with no dimension less than 15in. If there are security bars on the window they must be operable from the inside and not require special knowledge to remove. It is the same with the screens. The window itself must not require special knowledge to use. When it comes to the unobstructed opening that means the occupant would not have to climb over or around a pane of glass to escape. Read more about egress windows in our previous post here.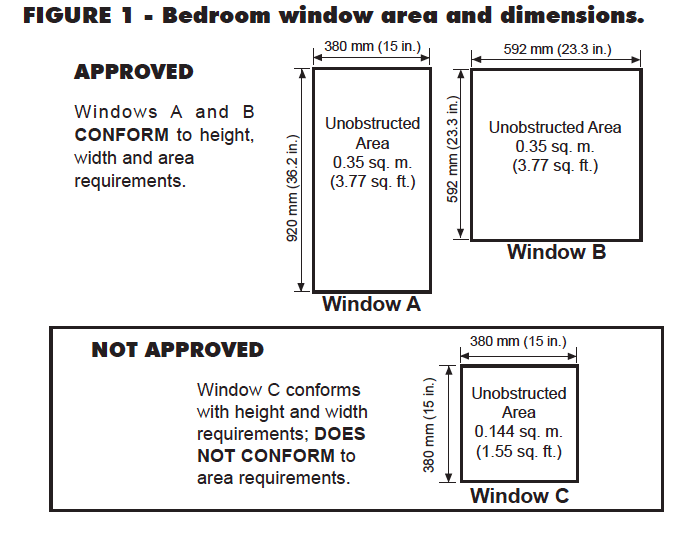 Window wells for basement egress windows
A window in the basement may require a well in order to make it accessible and more importantly "escapable". If it does, in order to make sure the well meets egress window requirements it must have a clearance distance of about 22 inches between the unit and the well wall to ease escape. If a well has a depth greater than 44 inches it must be equipped with a permanently affixed ladder or steps that are useable when the window is in the open position. If you need to enlarge or create a well for your basement windows, like with concrete cutting, you likely will need to hire another contractor outside of the company doing your replacement. Fortunately, most companies that cut concrete will also dig or expand wells.
Basement Windows Cut-out prices
Additional costs may include:
| | |
| --- | --- |
| Concrete cut-out | $650 – $900 |
| Trenching | $350 – $500 |
| Building a window well | $300 – $450 |
Hopefully, now you have a better grasp of what you need to know when you are looking into replacing basement windows. It can be a large job, and it is important for you to be well informed, so don't hesitate to go over any niggling questions with your project manager.
Check out these window replacement articles:
Find out how much replacement windows should cost
Learn what makes a quality window
See how our post-installation service process works