We've previously written about all the great benefits that make casement windows the go-to choice for most Canadian customers. One big benefit is that these windows can serve as exits in the event of emergency and are therefore ideal of use in bedrooms and living spaces.
Check out:
Why Casements Are Possibly The Best Windows You Can Get 
By their tall design, these windows also seem to be ideal for allowing an escape in the event of an emergency.
But there is actually a design quirk that prevents regular casement windows from meeting fire code. 
What are egress windows?
Definition: Egress windows are windows that meet specific size regulation, and allow for an unobstructed exit in the event of a fire or other emergency. In Canada, egress windows are required in every room that is a bedroom or is used for sleeping at night time.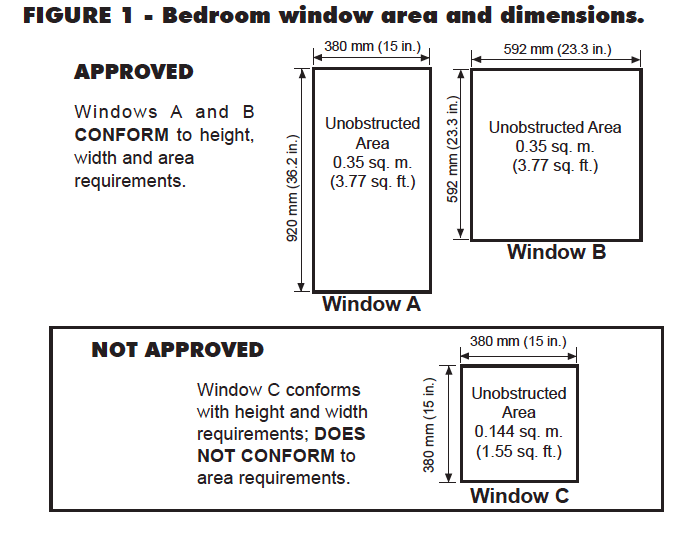 On regular casement windows, the sash opens up to 90 degrees, which is potentially great for allowing tenants an exit. The problem with these units is the placement of the sash. But when opened, the sash ends up in a vertical position slightly off center of the window. This is what prevents regular casement windows from meeting fire code.
Thankfully, for most problems in the world of replacement windows, there is a solution.
And when it comes to making your casement windows meet fire code compliant, that solution is the egress hinge.
Egress casement windows operate just like regular ones. However, when the sash is in the open position, it sits on one side of the frame. This is possible with the specific functionality of the egress hinge. Consider the difference in the picture below.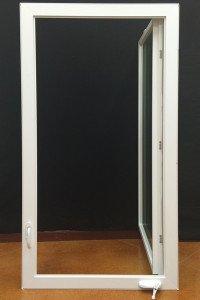 Note: regular casement windows that meet the requirements for the unobstructed surface area with the sash open, do not require an egress hinge, as it is possible to exit without it.
Although awning windows utilize the same technology as casement windows, the crank mechanism actually takes up the space that would otherwise be used to exit. That is why by their design, it is impossible to make awning windows in an egress option.
Regardless of the style of bedroom windows, you decide on, make sure to consult your company as to whether these windows meet fire code requirements. Many window companies avoid telling their clients about egress regulation and installing windows that do not meet fire code.
In certain rooms, the new windows may require the wall to be cut out and the opening to be expanded in order to meet egress requirements. This usually complicates a project and makes it more expensive, but ultimately there is no price too small to pay for the safety and comfort of your loved ones.
Check out:
Find out how much a window replacement should cost
See our full line of replacement vinyl windows
Egress Windows: Absolutely Everything You Will Ever Need to Know