Picking a window company is very much about trust. After all, you are giving large sums of money to virtual strangers long before any work is even done in your home.
That is why it is essential for any homeowner to do their research. Learning as much as you can about windows before you schedule some quote appointments can go a long towards you investing your money the right way.
In today's post, we'll go through everything you need to know to make an informed decision.
Here are three key points about window replacement companies:
The longevity of your window replacement depends on two things: the quality of the new windows, and correct installation. The company you decide on should be able to provide both in order for your replacement to be successful.
There are two types of window installation: full-frame replacement and retrofit (insert). Retrofit installation is only suitable if your existing frames show no signs of moisture or weather damage. The type of installation they specialize in, often also determines the performance level of the windows that a company sells.
In order to make sure windows are efficient in your area, you should only consider companies that sell and install only ENERGY STAR rated windows.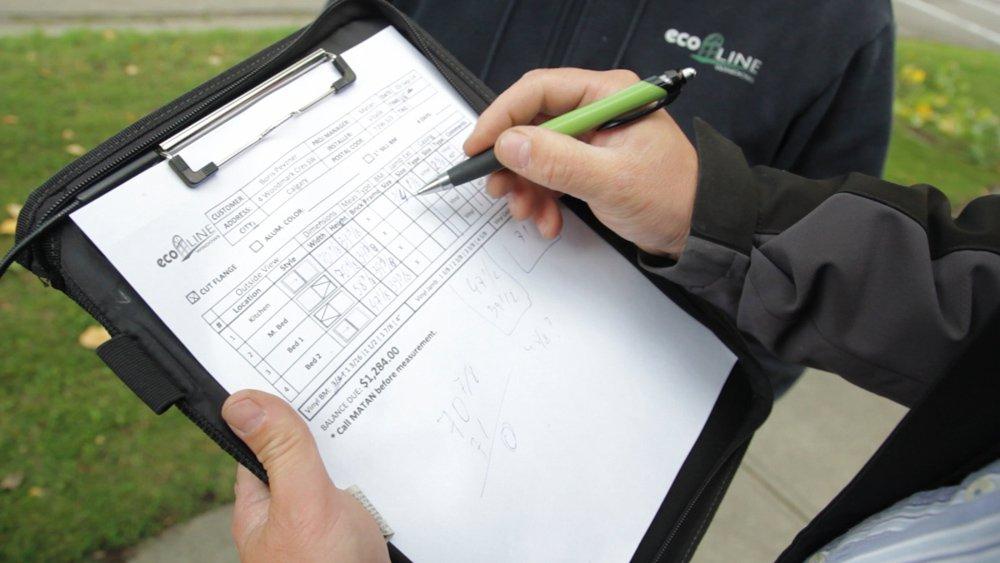 What you should know about window installation

As we mentioned above, there are two main types of installation: full-frame replacement and retrofit. A full-frame replacement is more thorough and long-lasting than a retrofit, but it is also more expensive.
In a full-frame replacement, the existing window gets removed down to the wall studs surrounding it. This is also the time when installers address any moisture damage or rotting wood in the walls surrounding the window. Any bad or old parts are cut away and replaced with new components. In a full-frame replacement, your vinyl windows come with new vinyl jambs, vinyl brickmoulds and customizable casings.
None of these components get replaced in a retrofit installation. A new insulated unit is inserted in place of the old one. Because the frames aren't stripped down there is really no way to tell whether there is damage or any signs of leaks. The existing brickmould is usually covered on the outside with aluminum capping. Although capping can look as appealing as a single piece brickmould, it is not as efficient of an exterior finish as a brand new vinyl brickmould.
Although some window companies do both, most usually prefer to specialize in one or the other. Beware of companies that disguise one as the other. There are plenty of window companies in Canada that are selling retrofit windows at the price of full replacement. Don't fall into that trap. Homeowners sometimes only care about the price, but although cheaper, retrofit installations are only suitable for windows with no damage to their frame components.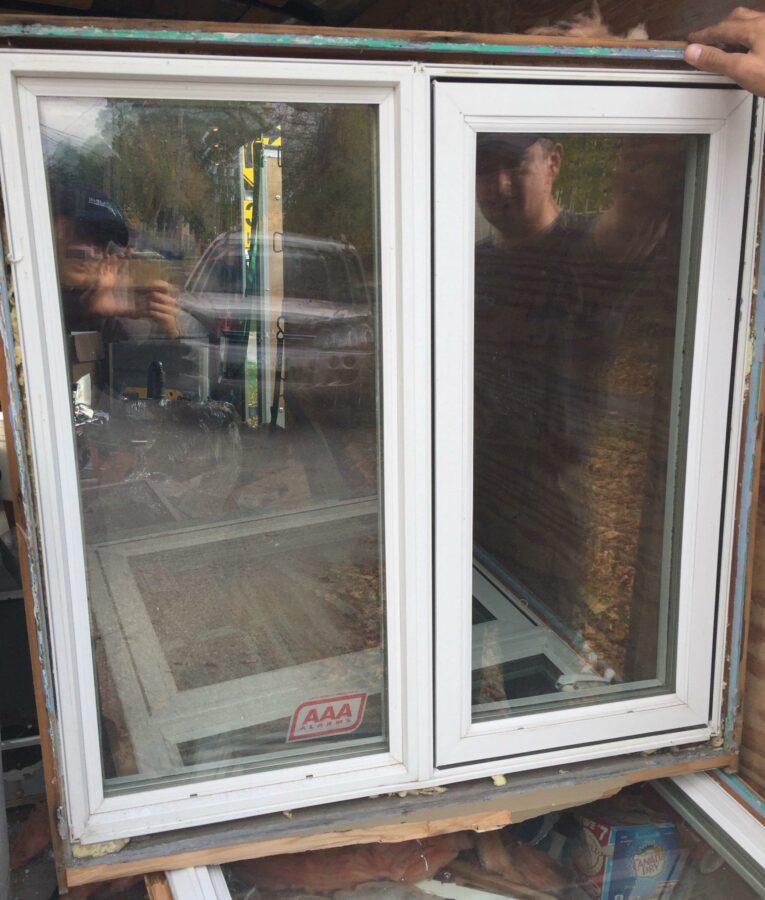 Check out:
Full-frame vs. retrofit installation explained in pictures
How to find out whether a window company carries quality product
In Canada, all efficient windows are tested and certified under the Canadian Standards Association (CSA) requirements. CSA uses ENERGY STAR guidelines for determining whether different company's windows meet nationwide energy-efficiency requirements.
As of January 2020, homeowners no longer have to consider a Climate zone when shopping for windows that are ENERGY STAR® certified in a particular area. A product in Canada is either ENERGY STAR® certified or not, with a single standard applied nationwide.
You can find performance information on windows from ENERGY STAR rated companies on this Natural Resources Canada website.
You can also search window companies on the CSA Certified Product Listing page.
It is really not advisable to buy windows that do not meet ENERGY STAR and/or CSA performance level requirements. An efficient window is one that gains more heat than it loses. The climate zone ratings in our country are designated specifically with efficiency in mind.
Keep in mind that if you are looking to purchase new energy-efficient windows, you should only consider models with a minimum ER (energy rating) of 34 to make sure that these windows meet the Canadian government fenestration standards.
ER Ratings or U-Factor: What's better for comparing windows?
Both of these values play an important role in determining whether any window is efficient enough for your local area. But which is a better representation? A window's ER number can be significantly improved by higher SHGC factors. U-Factor, on the other hand, measures how resistant the window is to lose heat.
An ER number is a more encompassing measure of how a window "transfers" energy. The more heat it gains rather than loses, the more efficient a window is considered. Therefore, it is always important to look at the SHGC number to see how it plays into the window rating.
The U-Factor, on the other hand, assesses a window's resistance to heat loss. This is especially important to consider in Canada as we often have longer nights in the winter where it is essential for a home to retain as much of its heat as possible.
Check out:
3 Window Company Product Quality Scams
Why warranty is important in choosing a window company
When it comes to window and door replacement, longevity is synonymous with quality. Surely most windows will work well in the first week. But which ones will still hold up 20 years down the road? This again depends greatly on the quality of the product and how it was installed. Modern vinyl windows are supposed to have a lifespan of roughly 25 years. You should look for companies that offer warranty terms close to that timeline.
Be sure to find out how long the insulated glass units, vinyl extrusions, and labour are covered for. Some companies will offer a 5-year labour warranty, yet classify things like glass unit replacement as "skilled labour" and, therefore, charge for it separately.
Warranty term lengths, what is covered, and who is responsible are often an area of biggest disputes between homeowners and window companies. Some companies also blatantly lie about their terms because they know they probably won't even be around that far down the road.
When you're considering a window company, think about whether their reputation and business volume are big enough for them to still be able to service your windows 10, 15 or 20 years down the road.
Check out: Why 25-Year Window Warranty Claims Are Sometimes Smoke and Mirrors
What you should know about online reviews and ratings for window companies
Online reviews are probably the first place a person turns when they are trying to research a business or a company. But when it comes to window companies, the world of online reviews can be misleading. As is, there are two main sites to rate and review window companies and contractors in Canada: HomeStars and The Better Business Bureau. Both can be great resources in seeing what past clients didn't like about the company, and how the company dealt with the problem.
But in order to get an objective picture, it is important to look at online reviews with a grain of salt. Unlike in the restaurant or entertainment business, when it comes to their home renovation projects, most people aren't as forthcoming when it comes to leaving positive feedback or becoming a brand ambassador for the company. Because these projects are often fairly expensive, clients often just see it as a necessary transaction rather than a rateable service.
That is why companies often have to resort to providing incentives or discounts for favorable reviews. To some extent, most companies fish for reviews from friends and family and even post fake reviews to boost their ratings. This can get quite problematic in providing a true image of a business.
Check out: Finding a Superior Windows Company: Are Online Reviews Trustworthy?
Regardless of whether you end up getting double or triple pane windows, full-frame or retrofit installation, what is important is that you know exactly what you are spending your money on. A lot of shady window companies in Canada capitalize on a homeowner's lack of knowledge about windows and send them a lesser product, or a bad installation. Hopefully, this article was helpful in getting you on your way towards discerning which companies are worth your business and which are an absolute no-no.
To make your appointment process easier print out this checklist of what to look for in window companies: Window Company Checklist
Check out these window replacement articles for more:
Find Out The Cost of Replacement Windows
See our full line of replacement vinyl windows
Check out some questions to ask at your window quote appointment