Steel Doors in Calgary – Improve Your Home's Safety
Steel exterior doors provide aesthetics and safety in one package. Read the guide to learn about the steel front door designs we've created for our clients. Make sure we can provide the highest level of quality in your home.
1. Get a FREE QUOTE and we will bring SAMPLES to your home.
2. We will call you back during WORKING DAY
3. We guarantee Direct Price and Warranty from Manufacturer
or
You want your front door in Calgary to be aesthetically pleasing and stylish. But you also want it to be the ultimate in safety and durability. If you are looking for these features for your front door, our steel doors in Calgary will be your best bet.
Steel doors are much stronger than wood or fiberglass doors, so they make a great home entry and enhance security. Your new steel exterior door in Calgary can be custom-made to your individual sizes and specifications.
Read the guide and learn more about the features of steel doors and our residential solutions in Calgary, Alberta.
Interested in steel doors?
Or maybe you need our help with this?
Steel Exterior Doors by Configuration
Explore our range of high-quality steel doors available in a variety of configurations and pick up your perfect match:
Single Steel Doors
A steel single door is a standard and familiar type of door, used for both center and rear entrances. The single unit does not require major adaptations in your rough opening and is available in a variety of shapes and designs. Probably white, blue and black front doors are the most popular design options.
Double Steel Doors
Steel double doors are suitable for large rough openings as they are twice the size of standard single units. Exterior steel double doors create a larger doorway, perfect for high-traffic areas. Heavy-duty hinges allow providing reliability and smooth operability to double units.
Steel Doors With Sidelites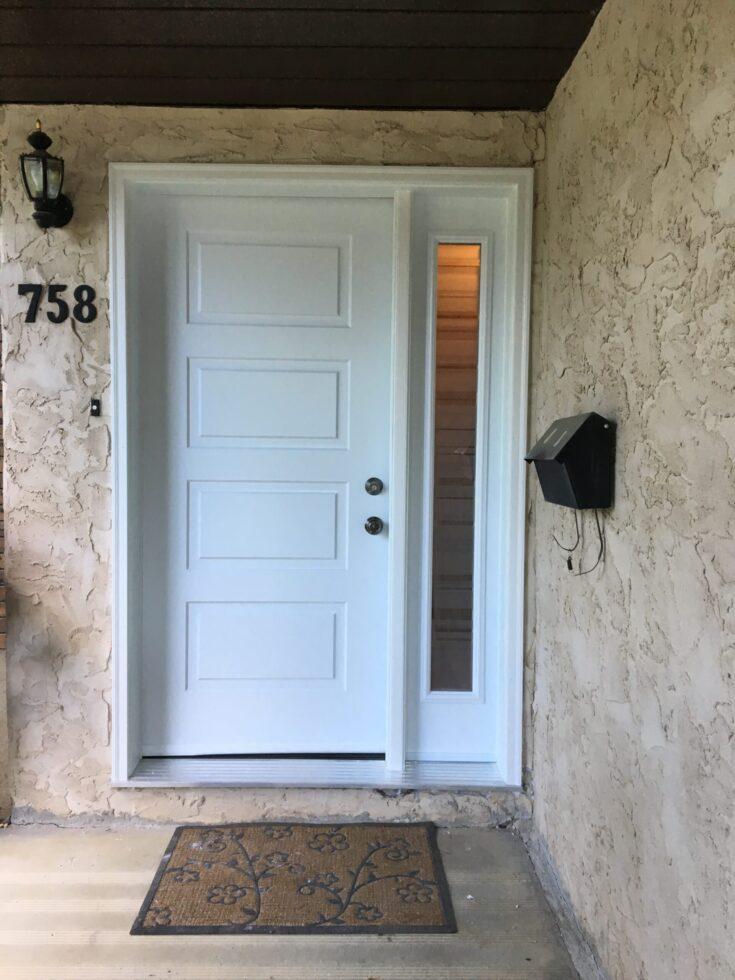 Equip your exterior doors with sidelites and get a stunning front entry. Sidelites are vertical glazed elements located on the sides of the door. They allow you to visually enlarge your central entrance and let more light in. Exterior steel doors with sidelights perfectly complement the style of any home.
Steel Doors With Transom
A transom above your door is a great way to add light to the inside without compromising security. A steel door frame with a transom gives your exterior a stylish and unique look.
Panel Steel Doors
Personalize your new steel front doors by choosing the number of panels. With the help of various elements such as rails, stiles, and infill panels, you can make the door look unique.
Here are some design ideas to consider:
| | | | | |
| --- | --- | --- | --- | --- |
| 2-panel steel door | 3-panel steel door | 4-panel steel door | 5-panel steel door | 6-panel steel door |
| | | | | |
Steel Doors With Glass
A steel front door with glass is a great way to liven up an exterior and enhance the curb appeal. Glass inserts come in a variety of configurations, shapes, sizes, and designs to meet your every architectural need.
We design our exterior steel doors with glass in order not to compromise your safety. The glass inserts are fully insulated, very strong, and break-resistant.
A steel entry door slab with glass will allow you to fill the hallway with light, making it even more comfortable, and allow you to rely less on artificial lighting.
Styles of Steel Exterior Doors: Modern vs. Traditional
Most homes already reflect a certain style – modern or more traditional. While there are no rules for sticking to this style when installing doors, and you can put a modern steel front door on a traditional house, it usually works best when the styles match.
The right door in the right style is the highlight of any exterior, whether that door is authentic and traditional or elegant and modern.
| | |
| --- | --- |
| Modern Steel Exterior Doors | Traditional Steel Exterior Doors |
| | |
| Modern steel doors tend to have a more sleek and clean design, exuding elegance. They tend to incorporate metal fittings, straight lines, flat profiles, oversized stiles, and bold accents. The modern style is distinguished by its simplicity, which is why it perfectly suits the design of steel doors. | Traditional steel doors usually include beautiful details, decorative fittings, coloured glazing, dark colours, and decorative frames. They embody rustic, classic, or Victorian elegance. A steel door in the traditional style perfectly preserves the feeling of vintage aesthetics and creates the impression of luxurious space. |
Custom Options & Features
Steel exterior doors can be 100% customized to your taste and design preferences. Customizations allow you to match the character and finishes of your home so that the door fits perfectly. You can customize everything from paint to glass inserts and hardware for a stunning, finished look.
Colour solutions
With the right finish, your front door can be the focal point of your home's exterior. Your entry door is the perfect chance to showcase your design skills and personality.
We offer a wide range of paints, including both standard colours and more unusual neutrals and bold colours to choose from. You have almost limitless possibilities to match the door finish with the exterior.
Our experts can help you select the best option to ensure your steel door will stand the test of time and add value to your home.
Privacy Glazing
If you like glass door inserts, consider upgrading them with custom privacy glass. Private glazing means using a special glass texture that distorts the view through it. Thus, you will protect your interior space from prying eyes while allowing natural light to enter through the glass inserts.
Choose among Delta, Frosted, Chinchilla, Pinhead, Acid Etched, Silvet options and improve your privacy.
Way Of Operation
You have the option to decide whether you want your new exterior door to open to the left or to the right, considering any obstructions and what feels most comfortable to you. There is no wrong choice – only your preferences.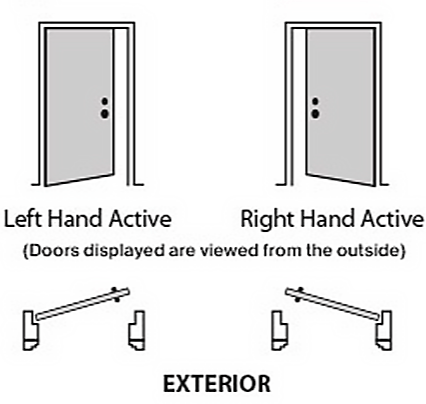 Hardware options
Custom hardware is one of the best ways to make your steel front door unique and as comfortable as possible. Choosing the right exterior door hardware is a vital but often overlooked step in making your door fit perfectly.
If you're not sure what to equip your door with, here are a few options to consider:
Pet door – a small opening at the bottom of the door allowing your pets to enter and leave the house without your help.
Peephole – a small hole in the door through which you can see what is happening outside.
Styled hinges – painting door hinges will allow you to fit the door perfectly into the exterior.
Smart locks – a way to increase your security with a sophisticated app-controlled lock system.
Steel Door Installation In Calgary
At Ecoline, we sell prehung steel doors, which come with all the necessary components and are ready to install. However, keep in mind that steel units are too heavy for a do-it-yourself exterior door installation. It is better to entrust your project to professionals.
Our in-house installers will ensure a smooth and hassle-free steel door installation in Calgary in accordance with all the building regulations. Turning to us, you can count on quick work execution and impeccable craftsmanship. After the installation is completed, our experts will take care to remove all construction debris and leave your house in perfect condition.
Get started with a free quote by sending us a request with your project details.
More recommendations from us:
How much does a metal exterior door cost in Calgary?
The cost of a steel entry door depends on its size and custom features. At Ecoline, prices for a single steel door start from $1280. Use our online cost estimator to find out the average price range for basic steel doors. You can also request a free quote from us, providing your project details.
Are steel doors better than aluminum?
Steel doors are a clear winner in terms of their strength and security. Unlike aluminum doors, they are nearly impossible to kick down or break in. The steel door will not crack or warp and will provide years of service without the need for complex maintenance.

Are steel doors cheaper than wooden doors?
Of all the options, a steel door requires the least initial investment. So steel doors tend to be more affordable than wooden doors, although there are low-quality wooden doors that are comparable in price. Keep in mind that the final cost will depend on the door size, configuration, and custom options.
Do steel doors warp in the sun?
Our high-quality steel doors are highly resistant to weather changes. They do not wrap and shrink under the influence of the sun, moisture, or temperature fluctuations.