Steel Doors in Winnipeg: All You Ever Need To Know About
Installing functional and stylish steel exterior doors will never fail to add security and appeal to your property. Discover our design options in Winnipeg to find a high-quality steel door for your home.
1. Get a FREE QUOTE and we will bring SAMPLES to your home.
2. We will call you back during WORKING DAY
3. We guarantee Direct Price and Warranty from Manufacturer
or
Modern homeowners are sophisticated and eager to make design statements with their exteriors. We at Ecoline know that you do not need ready-made solutions and are not interested in off-the-shelf products.
We are here to make your home's entrance a grand one with custom-designed steel doors. Stylish and efficient, they will enhance your home's curb appeal and provide security.
So if you are shopping for a new steel exterior door in Winnipeg, look no further than Ecoline.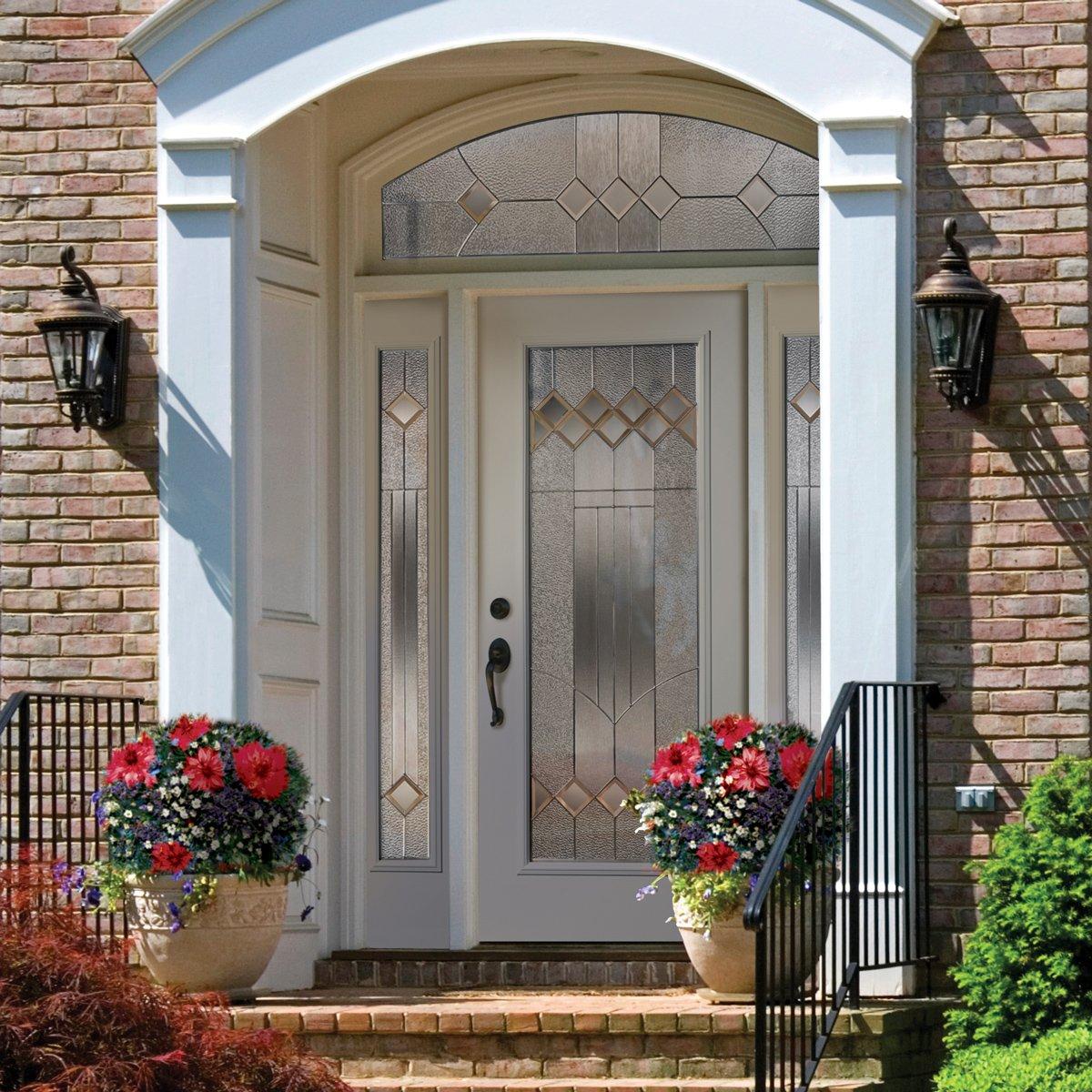 Interested in steel doors?
Or maybe you need our help with this?
Exterior Steel Doors Styles: Discover Your Options
Choosing a new exterior door is much easier when you know the design options. Discover available styles, custom features and options, and other decorative solutions to find your perfect match.
Front Door Types To Choose From
A single steel door is ideal for standard-sized doorways. Installing a single unit often does not require much additional carpentry work. With the right finish and design, it will make a perfect front door.
A double steel door is typically twice as large as a single unit and is suitable for large doorways. Its installation may require additional modifications, depending on the size of your rough opening. Double doors fit perfectly into the exterior of large cottages, emphasizing the entrance.
Steel Doors With Sidelights
If double doors don't fit your opening, but you want to highlight your entrance, consider adding sidelights. These are fixed glass elements located on the side of the door, letting in additional light. Exterior steel doors with sidelights are an easy way to liven up the home's look.
Consider adding a transom to your front door – a small window above the door. A steel door frame with a transom is another way to add aesthetics to the exterior and brighten up the space inside your home.
Panel Steel Doors
Multi-panel doors give your entrance a unique look, add appeal and enhance durability. You can personalize your new steel exterior doors by choosing the number of panels (from 2 to 6).
| | | | | |
| --- | --- | --- | --- | --- |
| 2-panel steel door | 3-panel steel door | 4-panel steel door | 5-panel steel door | 6-panel steel door |
| | | | | |
Steel Doors With Glass
Want to further upgrade the look of your entrance? Equip your new steel front door with glass inserts in various configurations. The combination of stainless frames, high-quality sills, and strong glass provides excellent performance.
Exterior steel doors with glass ultimately draw attention to your exterior design and improve the home's curb appeal.
Traditional Or Modern: Choose Your Door Style
Although modern steel front doors on traditional houses look quite natural and harmonious, many homeowners prefer to stick to a certain style in their home's design. It's a desire that we fully understand. The right door in the right design is the focal point of the exterior. You are welcome to choose between ornate and traditional or elegant and modern steel doors.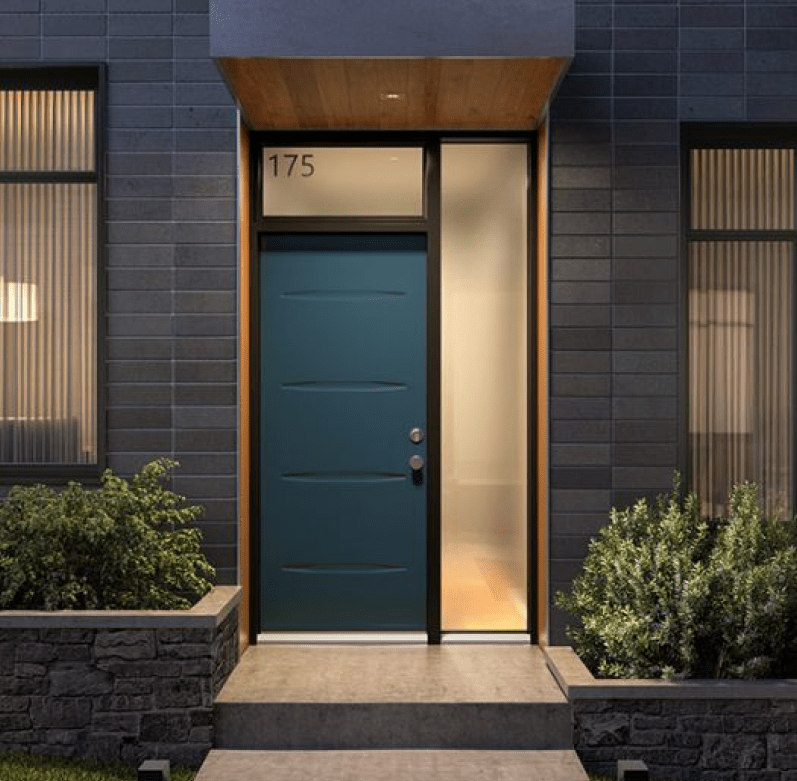 Modern steel door
Traditional steel door
Steel Front Door Sizes
There is no significant difference in the size of the entrance doors. This is good news for homeowners as you should have no problem choosing the right size door.
At Ecoline, you can order steel doors of the following sizes:
Custom Options & Features
The design and finish of your exterior door should not be an afterthought. The front door is the first thing that attracts the attention of your visitors, so it should have an attractive and inviting look.
With all these custom options, features, and design solutions for steel doors, you can make yours stand out and perfectly blend in.
Colour options
We offer a wide range of paints, from standard colours like White, Black, Commercial Brown, Antique Brown, and neutral tones like Sandalwood, Slate, and Canyon Clay to bolder Wedgewood Blue, Forest Green, Burgundy and many more.
You are welcome to customize your new door with literally any colour you like, and our experts can advise you on the most suitable option.
Privacy Glazing
Consider adding privacy glazing to your front door. Privacy glass is typically transparent but has a surface texture that distorts the view through the glass. This way, your glass inserts will let in daylight but won't let prying eyes in.
Choose among Delta Frosted, Chinchilla, Pinhead, Acid Etched, and Silvet options and enhance your privacy.
Way Of Operation
Another thing to choose is the way your steel door will operate. Right hand active or left hand active, open inward or outward – you decide.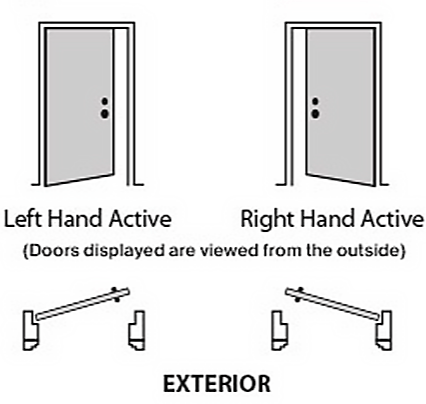 Hardware solutions
Make your steel door as functional and easy to use as possible with custom hardware. You are welcome to add:
Pet door
Peephole
Styled hinges
Smart locks
Steel Door Installation In Winnipeg
We at Ecoline are working directly with homeowners in Winnipeg and all surrounding areas, including Niverville, Dugald, Stonewall, Steinbach, St.Anne, Selkirk, Ile des Chenes, East St. Paul, La Salle, Lockport, West Saint Paul, Mitchell, Springfield, Portage la Prairie, Clandeboye, Cooks Creek, St.Clements, Narol, Petersfield.
Our in-house installers specialize in residential door replacements. They will ensure a smooth and hassle-free steel door installation. As part of our warranty, we will take care of your doors in case of any issues.
Our installers will remove all construction debris and leave your residence clean when the installation is completed.
More recommendations from us:
Are steel doors better than wood?
High-quality steel doors are more secure and stronger than wooden doors. They are also more weather-resistant, do not deform under the influence of temperature fluctuations and moisture and do not rot.
Are steel doors more expensive than fiberglass?
Steel doors tend to have a lower price than fiberglass and wood units since steel doors are less expensive to produce.
How much would a steel door cost?
The price for a steel door depends on its size and custom features. At Ecoline, prices for a single steel door start from $1280. Use our online cost estimator to determine the average cost range for basic steel doors. You can also request a free quote from us, providing your project details.