Believe it or not, but very few homeowners think the entirety of their window replacement through by the time they sign a contract with a window company. And one of the most overlooked parts of the replacement is figuring out what kind of window treatments, if any, are going to go on your new vinyl windows. It is likely you currently have curtains, blinds, or some kind of combination of both, but what do you envision will cover your windows once they are replaced?
Whether for privacy, to reduce direct sunlight, or simply for aesthetic purposes window treatments can help create the unique look of your home and add a comforting touch to any room. In today's blog we wanted to take a look at some options for window treatments, compare the advantages and disadvantages of each, and figure out which window treatments work best for which windows. But while window treatments should definitely be on your mind when buying new windows, they don't always get purchased at the same time as your window order. In fact, most window companies don't sell window treatments with their windows.
When to order your new blinds or curtains
The best time to get curtains or blinds is after the windows have been installed. While this may leave your windows uncovered for a short period of time, it will take all the guessing work out of getting the treatments to fit the new window. With replacement windows, the opening in new windows can be somewhat smaller than in the old ones, and you run the risk of your new blinds or curtains not fitting how you wanted.
Having the windows installed before buying something to go over them can also help you finalize the decision. Many people think they want curtains, for example, but once they see their new vinyl windows installed, they decide to get blinds instead.
Is it possible to keep existing blinds on new windows?
A common question that comes up when thinking about blinds is whether existing blinds or curtains can be kept behind and put on the new windows. In most cases, this is possible, as long as the size of the window is not significantly smaller than the old windows. Sometimes blinds can also be cut to meet the new window dimensions.
If you are interested in keeping your existing blinds, make sure to specify this at the time of signing the contract. The project consultant should be able to advise you on whether this is possible, and whether there will be any additional charge for refitting or cutting the blinds down.
Curtains and Drapes for Windows
Curtains
Curtains are usually made of lightweight fabrics and are attached to a rod on the outside of the window frame either with tabs or rings. They are a more decorative covering, as curtains alone are generally not the best for regulating light or privacy. Instead, they are good for adding style and colour to the room.
Drapes
Drapes are what you would look for in terms of another hung fabric if you want something that controls light better and offers more privacy. They are sewn with heavier fabric and generally hang all the way down to the floor.
Drapes are often lined. They are attached to a rod hung on the outside of the window frame and generally controlled with a chord. They can be pleated to offer a fuller look. They tend to take up more space in the room when drawn open, so if space is an issue drapes might not be the best choice for you.
Blinds For New Windows
Horizontal blinds
Horizontal blinds, or "Venetian blinds" as they are sometimes called, are usually used on narrow, taller windows. This type of blinds is ideal for casement and awning windows because it allows for easy access to the crank mechanism to allow the window to open. Horizontal blinds are most useful in rooms that require the most privacy. When they are closed there is no risk of them moving, and they provide a better barrier to light. Combined with drapes, these blinds can provide near zero light penetration into the room.
Horizontal blinds can be made from a variety of materials: wood, MDF, vinyl, and aluminum. Generally, horizontal blinds are installed in the jamb extensions of the window, so they sit inside the frame. They can be raised and lowered with lift cords, tilted to allow light in or out with wands, or can be controlled with cordless lift systems. The styles vary and include Persian or Slat, Venetian, Roman, and mini blinds.
Mini blinds
Mini blinds can often be installed into the sealed unit of a window or a patio door during the installation. This is a common option for homeowners with floor to ceiling garden doors. Keep in mind however that mini blinds reduce the efficiency and performance of the sealed unit they are installed in, as with the use of mini blinds there is less room for inert gases that make sealed units energy efficient.
Vertical blinds
Traditionally, vertical blinds have slightly wider slats and let in more light when they are open.
That's why these blinds are used on wide windows, and sliding patio doors, or in areas where you want to have the option to let in lots of natural light. They also allow easy access to the door and don't require a lot of adjusting for someone to pass through.
Vertical blinds are similar to horizontal blinds in operation, as they can be tilted to allow or block light to your preference, or they can be pulled off to the side by use of the pulley cords. Vertical blinds can be manufactured in a variety of materials including fabrics, vinyl, MDF, plastic, or real wood.
Shutters
Shutters are solid window coverings usually made of wood. They are made up of a vertical frame with horizontal rails and inside are louvers or slats that can be operable or fixed.
Shutters can be placed outside or inside of the house. In Canada, exterior shutters are mostly used for an aesthetic than for shade or privacy. In warmer climates, exterior shutters serve an additional purpose of protecting from high winds or hurricanes.
For interior shutters, they usually hinge on either side of a window opening and can be opened to allow for more light and air into a room.
Operable shutters have louvers or slats that can be rotated to control light, privacy, and airflow. Shutters that are not operable are often called traditional shutters and come in different styles like California or Plantation shutters. Since shutters do require more space to open the window, they might not be the best solution if you are short on space. However, if you are looking for a solution that allows for airflow and privacy, operable shutters could be a good addition to your new vinyl windows.
Shades
Roller Shades
Roller shades are a classic window treatment and come in a variety of fabrics and styles. They can be attached above the window frame or within the window jamb extension depending on the style you choose. They are operated either with a string pulley system or often by simply pulling the screen with your hand. They are economical and require little maintenance. You can often buy and install a roller shade yourself.
Cellular Shades
Cellular Shades are made up of two or more layers of fabric. They are beneficial for providing additional protection against the Sun and insulation against the cold and heat. They are available in horizontal and vertical applications depending on your needs. Cellular shades are lower maintenance as they are generally made up of fabric that repels dust and dirt, requiring a light wiping much less often than other window treatment options.
Roman Shades
Roman shades are commonly made with a looped style, giving them soft overlapping folds and creating a cascading effect. You can also get these shades in a flat style for a clean look. They are made in a variety of fabrics and can often be machine washed.
Combination Windows and Window Treatments: What's Better?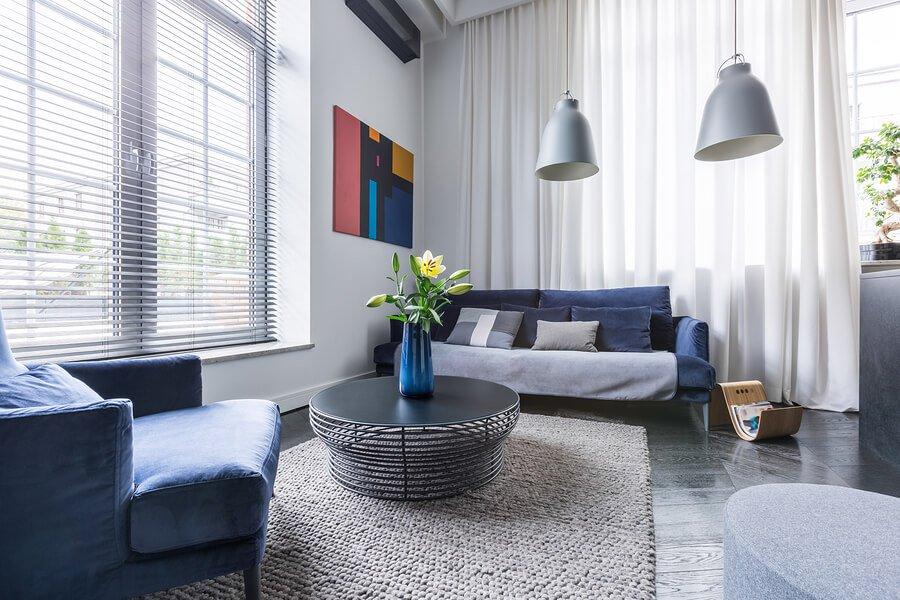 As we already mentioned, different window treatments work best with different windows and their surroundings. For example, vertical blinds and curtains are ideal for large wide windows, whereas horizontal blinds and roller shutters are perfect for windows that are longer in height than in with.
When designing homes, interior decorators often use the location of the window to determine which blinds are more suitable. On windows that face north or south, it is recommended to use horizontal blinds. On east or west-facing windows, it is preferred to use vertical blinds. These rules are dictated by the different angles at which the light hits your home throughout the day and allow for optimal adjustments to filtering the sunlight.
It is also important to consider how combination windows will affect the type of window treatment you put on them and vice-versa. For example, if you have a combination window with two equal-sized windows, putting curtains on that window may not be ideal as the middle frame will be in view when the curtains are open.
Consider the type of window finish you envision on your new windows when you are planning your replacement project. This is one area of a replacement where you have a lot of control over how the new window will look with the rest of the home. Remember, it is best to shop for window treatments after the new windows are installed, so that your new blinds or curtains can fit perfectly.
Check out these window replacement articles: