Your Ultimate Guide to Doors With Glass Insert In Edmonton
If you're looking for something really unique and aesthetically pleasing, exterior doors with glass inserts may be precisely what you have in mind. Discover all the design options and features available in Edmonton and upgrade your home's look with Ecoline.
1. Get a FREE QUOTE and we will bring SAMPLES to your home.
2. We will call you back during WORKING DAY
3. We guarantee Direct Price and Warranty from Manufacturer
or
Jul 11, 2022
Mar 15, 2023
Most homeowners are well aware that their entry door dramatically affects the look and feel of their home. The exterior door has one of the highest ROI rates in your house – 74.9% on average. If you want to add a "wow effect" to your front entrance, one of the easiest and most affordable ways to upgrade your home is to install a new door with a glass insert.
A front door with glass can ultimately add curb appeal to your home and improve its value. Ecoline is a good place to start. With a wide range of colours, materials, fittings, and design options of custom glass doors available in Edmonton, we can turn any of your architectural ideas into a reality.
Glass Doors In Edmonton: Choose Your Style
At Ecoline, we sell doors in various styles to match your unique specifications exactly. Homeowners in Edmonton have no shortage of glass door choices, from standard single entry door configurations to large double units with sidelites and transoms.
Due to its ubiquity, a single door with glass panels is a design that is almost classic in Edmonton homes. Generally, you don't need to consider any changes to your rough opening while installing such a door configuration. Simply choose the type of glass you want, the material, and additional custom features to get an exterior door with glass that meets all your specifications. We offer lots of great front door designs to match any exterior style.
A double front door with glass is an equally popular choice, providing a wide, welcoming entryway to a house. Most often coming in French, i.e., window-like configuration, a double door with glass is an excellent option if you want to brighten up your home and make your front entrance more eye-catching. Double units are a stylish and elegant addition to any home. Thanks to a wide range of design options and features, you can easily customize the door to suit all your architectural expectations.
Glass Entry Doors With Sidelites
If you are looking for a stylish and eye-catching front door with a glass insert, there's a pretty good chance to come across doors with sidelites. It looks really impressive. Glass sidelites can visually add size to your standard 36-inch exterior door. Since sidelites are a row of small, fixed glass panels, you can also use them as a reference when choosing your home's window design to maintain a sense of design unity.
Glass Entry Doors With Transom
If you're looking to add more light to your home, a front door with a glass window, typically known as a transom, is the very thing for you. Transoms are one of the easiest ways to brighten up your space inside. Due to its location above the door, such a glass window will not compromise your privacy, which is especially important in high-traffic Edmonton areas. Plus, you can cut your energy bills by keeping your home lit during the day.
To find out more about prices on doors with glass inserts, you can use our Door Replacement Cost Estimator. Keep in mind that these are only approximate prices. The final cost of your replacement door project will vary depending on the project's specifics. You can also get a free quote from us by sending a request with your details.
Interested in doors with glass inserts?
Or maybe you need our help with this?
Sliding Glass Vs. Hinged Doors With Glass Insert
If you're looking to add some glass to your exterior, then glass sliding doors and hinged doors with glass inserts are likely two options to consider. Both doors can make an entrance or exterior functional and aesthetically appealing. They also have several significant differences, making one option preferable to another in different cases. Here are a few questions to help you figure out which door type suits you best.
Where will a door be located in your home?
Sliding glass doors in Edmonton homes tend to be back doors leading to the garden or backyard. While hinged doors with glass inserts are typically used as entry doors, they can also be installed as back doors to increase the attractiveness of the exterior.
How cluttered is your space?
Sliding glass doors are more space-saving than hinged units. Hinged doors (especially French and double doors) pivoting inwards or outwards require some clearance to open – consider this during installation. Sliding doors open with a panel gliding to the side of the track. So they do not take up extra space in the room or outside the house. If maximizing the amount of usable space is your priority, sliding will suit you more. If the need to save space is not an issue of concern for you, feel free to choose a hinged front door design with glass.
Is privacy a concern for you?
Sliding doors have large glass panels that let in a lot of light and can visually expand the space. However, they leave less control over privacy than ordinary solid doors or doors with glass inserts. If you need more privacy, consider installing an exterior door with frosted glass inserts, the texture of which will keep prying eyes out. It will allow you to let in more daylight while providing proper control over safety.
Do your doors face the sun?
More sunlight inside is good, but this can be a problem during hot summer days, especially if your doors are on the sunny side. In this case, sliding glass doors that let in more sunlight may not be the best choice for maintaining a comfortable temperature during the day. You'll have to additionally take care of upgrading glass panels with a special coating. A hinged exterior door with glass inserts equipped with blinds would be a simpler and more affordable option in terms of energy efficiency.
How much daylight do you want to let in?
Sliding glass doors let in a huge amount of daylight, allowing you to rely less on artificial lighting. However, additional glass inserts, including sidelites and transoms, also do a good job of keeping your home brighter. In turn, a sliding door with transparent glass panels provides a clear, unobstructed view of the world outside, while hinged doors with glass inserts don't.
The solution is simple. If you want a sense of continuity from the interiors to the outdoor living spaces and to maximize your garden view, then sliding glass doors are the very thing you need. If you just want to let some extra light into the room, hinged doors with glass inserts may be a good go-to option.
Are you concerned about security?
Although it all depends on the locking systems, hinged doors are typically associated with more security compared to glass sliding units. If safety is your number one concern, consider replacing a sliding glass door with a French door. It will allow you to keep the same level of attractiveness and elegance of your exterior while giving you a sense of confidence.
Customize Your Door and Fittings
We get it – doors may seem a little boring. When you think about personalizing your home and making a design statement, a door is hardly the first thing that comes to mind. But you can use many custom design features to improve your entrance door with glass inserts, make it more attractive, and help it stand out from other ordinary, drab doors. Whether you're trying to fit into a particular design, let in some daylight, or simply upgrade curb appeal, we've put together some options to help you get the job done.
Choose Your Material
The appearance, reliability, and durability of your front door or windows in Edmonton or other locations largely depend on the material from which it is made. The material is a key factor in your door's quality and aesthetic appeal. At Ecoline, we offer a choice between fiberglass and steel front doors equipped with glass, each with its benefits.
| | |
| --- | --- |
| Fiberglass door with glass | Steel door with glass |
| Fiberglass is a very durable and long-lasting material, so you can expect your door to last for many years without the need for repair. Fiberglass doors are the most energy-efficient units on the market. Virtually maintenance-free, fiberglass provides an aesthetically pleasing exterior door look. Depending on design preferences, you are welcome to choose between Wood Grain and Fibreglass Smooth finishes. | Due to its natural strength, steel makes your front doors extremely solid, safe, and burglary-resistant. Steel doors are weather-resistant, low maintenance, and durable. Only slightly inferior to fiberglass doors in terms of energy efficiency, a metal door with glass will be a more cost-effective option. You can easily choose the perfect door for your home with a large selection of colours, finishes, and custom features. |
Choose Your Size
Your exterior door with glass should feature at least a 32-inch clear opening. If your doorway is wider than 24 inches, a minimum 36-inch clearance will be required. Such a size is wide enough for two people to pass simultaneously.
At Ecoline, you can order a glass door with a frame of any size.
Keep in mind that if you purchase a new door, DO NOT measure the existing one. You should always take measurements on the door frame, not the door itself. If you have difficulty finding the right size, our experienced fitter will help you get the job done properly.
Choose Your Style
A new front door with glass is one of the easiest ways to upgrade the look of your exterior. When dramatically a new entry door, there are several styling approaches to choose from.
Modern style is usually characterized by clear straight lines, limited decor, typically smooth surface of the door leaf, cold shades, and the use of metallic colours in the hardware.
Cottage style is the pinnacle of French vintage, shabby chic, and country motifs. It is traditionally distinguished by its asymmetrical design, an abundance of interesting exterior details, and angular elements. It's all about creating a natural vintage-like door design, making it as light and airy as possible.
Rustic-styled doors traditionally have design elements that you may expect to find on doors in the old English countryside. It is a highlight of rough, natural beauty in design. Such doors typically have a wood-like finish and can be equipped with decorative grills or classic patterns.
Born as a response to the luxury of Victorian and colonial styles, the Craftsman style is characterized by exceptional simplicity. Doors in the Craftsman style tend to feature traditional flat-panel constructions with clean lines and natural textures.
Vintage-styled exterior doors are associated with luxury, comfort, and sophistication. They can help create a unique original atmosphere of ancient architecture. Vintage-style doors should be impressive and massive, capable of complementing the exterior and even becoming the main design element.
Choose Your Colour
We offer a large selection of designs and colour options for our units to fit perfectly into your home style. If you don't want to go with the standard White or Black front door with glass, look to Commercial brown, Chestnut Brown, Sable, Slate Grey, Cream, Burgundy, Forest Green colours, and much more.
With our wide range of standard exterior colours, paint-to-order, and colour matching program, you can easily match your main door with glass to any design.
Choose Your Number Of Lites
You are welcome to select the number of lites – glass window panes – which you want to install on your door to increase the attractiveness and provide more light. Depending on your design preferences, you can choose from 2 to 6 lites for one door.
Choose Your Way Of Door Operation
Another thing to choose is the way your new glass door will operate. Decide between right-handed and left-handed as well as inward and outward turning configurations, or opt for a self-closing system for your door.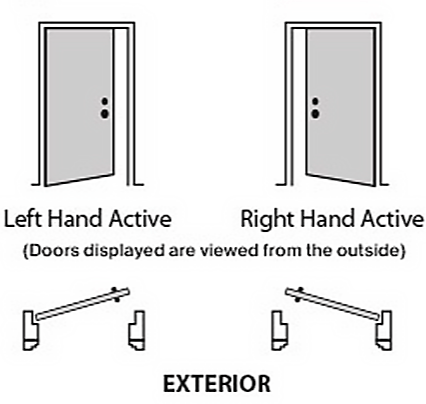 Customize Your Glass Insert
Each glass insert brings its own benefits, and there are many designs of custom glass inserts available to choose from. Express your unique style with a one-of-a-kind glass design for your entry door.
Choose Glass Type
Whether you want clear glass or panels with decorative elements, we at Ecoline have the perfect design for everyone. You are welcome to decide between:
Clear glass is a completely transparent panel, which provides a minimalist appearance and an unobstructed outside view. A door with clear glass inserts is perfect for letting in daylight to brighten up your space.
Private glass is commonly referred to as textured, obscure, or frosted glazing. The surface of the glass has a convex pattern that separates the light rays as they pass through the glass. It impairs visibility when looking through without reducing the amount of light coming in. Thus, a front door with a frosted glass insert allows you to keep your home bright and private.
Privacy glass can come in different tints and patterns to match your preference.
Decorative glass speaks for itself – these are glass panels with various decorative elements. Decorative glass can come in a wide variety of patterns and designs to enhance the aesthetics of your home and make your door stand out.
Choose Glass Styles
It can be difficult to decide which kind of glass to choose from the wide variety of different types or styles and different custom designs you can add to your unit. Ecoline offers more than just clear and frosted glass inserts for your front door. We offer plenty of stunning glass styles that you can select from to personalize your door.
Choose Glass Shape
Our door glass inserts are available in various shapes and sizes to perfectly complement your home's style. The most popular options include front doors with Oval, Rectangle (both vertically and horizontally oriented), and Arched glass shapes. Feel inspired to find the ideal design, whether you opt for a door with a large or small glass area.
Choose Glass Caming
Glass caming can dramatically change the entire look of your exterior door with a glass insert. "Caming" means metal bars connecting glass panels and bevels in a unique pattern. Our decorative caming options come in a wide range of finish colours to create your perfect design. Choose the Glass Caming finish that matches your door hardware and various exterior details to fully reflect your personal style.
Extra Custom Options & Features
Are you looking for the last piece of the puzzle to make your exterior door with glass inserts perfect? Ecoline offers a wide range of custom solutions to enhance your door's functionality, convenience, and aesthetic appeal. Discover all the options and features available to ensure Ecoline units are suitable for your door replacement project.
Choose Door Blinds
While glass inset doors are the ultimate eye-catcher, they often leave our home with less privacy than we want. If you are looking to increase your level of security, consider replacement door glass with built-in blinds. It is a modern and comfortable alternative to conventional curtains and drapes. A glass door with blinds inside is a convenient way to control the amount of light and privacy you desire for your home.
You are welcome to choose the colour, style, and material of door blinds to match your home design perfectly.
Choose Storm Doors
The right storm door with screen and glass contributes greatly to the comfort and protection of your home.
A storm door is an outer unit placed in front of the entry or back door primarily for weather protection or additional ventilation. A storm door is typically equipped with screen and glass panels that can be interchanged. In such cases, the glass panel is removed, and the screen is inserted when the weather is warm. The glass panel is then replaced when the cold comes. So in the summer, a storm door with glass and a screen in front of your main door will help keep your home cool by allowing the breeze to enter while keeping pesky insects away. In winter, it can help keep the warmth inside.
Choosing a storm door largely depends on your specific needs and the style of your home. With Ecoline, you will surely find the perfect fit.
Choose Your Hardware
Details matter. This is what makes your entry door not only stylish and attractive but also convenient and functional. We offer a wide range of custom hardware to make your new front door with glass inserts as user-friendly as possible. You can choose from:
– Peephole
– Pet door
– Custom-styled hinges
– Multi-point hardware options
– Smart locks paired with the mobile app
Stunning Front Door Ideas With Glass
Looking for a modern black front door with glass or a more traditional wood-like door featuring eye-catching caming designs? Whatever your design needs may be, you are sure to find it at Ecoline. Explore our ideas to get inspired, discover all available design options and make a statement with your new entry door with a glass insert.
From the initial design to qualified installation, Ecoline experts are here to assist. We will help you choose the right door type, discuss all the features and options, and ensure a smooth door replacement process. Get started with a free quote.
More recommendations from us:
FAQ
How much do glass entry doors cost?
The cost of glass entry doors depends on the size of the door, the size and shape of the glass insert, and on custom features. Use our online cost estimator to find out the average price range for basic entry doors with glass. You can also request a free quote from us, providing your project details.

When should you use French doors?
French doors are a good choice when you need quick and easy access to adjacent space, whether it's your backyard or patio. They also do an excellent job as entry doors. French doors are great for wide openings and, equipped with glass inserts, ultimately increase the curb appeal.

How big are the windows in the entry door?
Doors can come with 3/4, half and full glass options. The exact size of the glass inserts depends on the size of the door and your design preferences. The more light you want to let in, the larger the glass inserts should be. Our experts are ready to advise you on the appropriate size of door windows.