A Complete Guide To Steel Doors In Edmonton
Ecoline offers custom-designed steel doors that are timeless, extremely robust, and burglary-resistant. Explore our custom options to find the perfect combination for your new steel doors.
1. Get a FREE QUOTE and we will bring SAMPLES to your home.
2. We will call you back during WORKING DAY
3. We guarantee Direct Price and Warranty from Manufacturer
or
Jun 24, 2022
Mar 16, 2023
When building a new home or upgrading a current one, many design questions always come to mind. Door selection is a topic of debate that homeowners often get stuck on since safety and comfort directly depends on the quality of the doors.

Steel entry doors are something that deserves your attention if you're planning to renovate your Edmonton home. Stylish and efficient, they improve the appearance of your house, as well as provide a good level of security.

Being a leading steel door supplier in Edmonton, Ecoline provides a large selection of units in various styles, configurations, and colours. If you are in search of new doors, you need to be aware of the latest trends and designs. Check out this guide to learn more about steel door installation in Edmonton.
What Are Steel Doors?
The first thing to know about steel doors is that they aren't made of solid steel as you might think but rather contain a thermal break inside. This allows us to guarantee reliability and durability – our units don't include wood or parts that decompose when exposed to water or temperature variations. In addition, such materials better keep out unwanted heat and cold than wooden units.

To find out the average price range for basic steel entry doors, use our Door Replacement Cost Estimator. You can also request a free quote from us.
Interested in this topic?
Or maybe you need our help with this?
Why Choose Steel Doors For Your House in Edmonton?
Steel is a hard and strong material, providing superior durability and easy care. Being extra weather-resistant, it features a modern, clean look, requires little maintenance and enhances the attractiveness of the home – year after year.

Here are the top benefits of steel doors you can take advantage of:
Strength and durability: a quality steel door can have many years of service life, successfully protecting a house from environmental impacts.
Low exploitation costs: a well-installed, high-quality steel door requires little to no maintenance.
Good heat and sound insulation: steel units perfectly protect the room from noise, resist frost or heat, and maintain a pleasant microclimate in the house.
Exertional reliability: steel doors provide a high level of burglary resistance.
Elegant design: with beautiful finishes and a variety of colours and decor, your doors can be designed to meet your overall house style ideally.
Steel Exterior Doors by Configuration
Discover our range of high-quality steel doors available in various configurations and choose what suits your home best:
Single and Double Steel Doors
A single steel door configuration is the standard and most common type of door in Edmonton homes. Most of us have such entry steel doors or ones leading to the garden area. Typically, this unit does not require major modifications to your rough opening and comes in a variety of shapes and designs to perfectly complement the look of your home.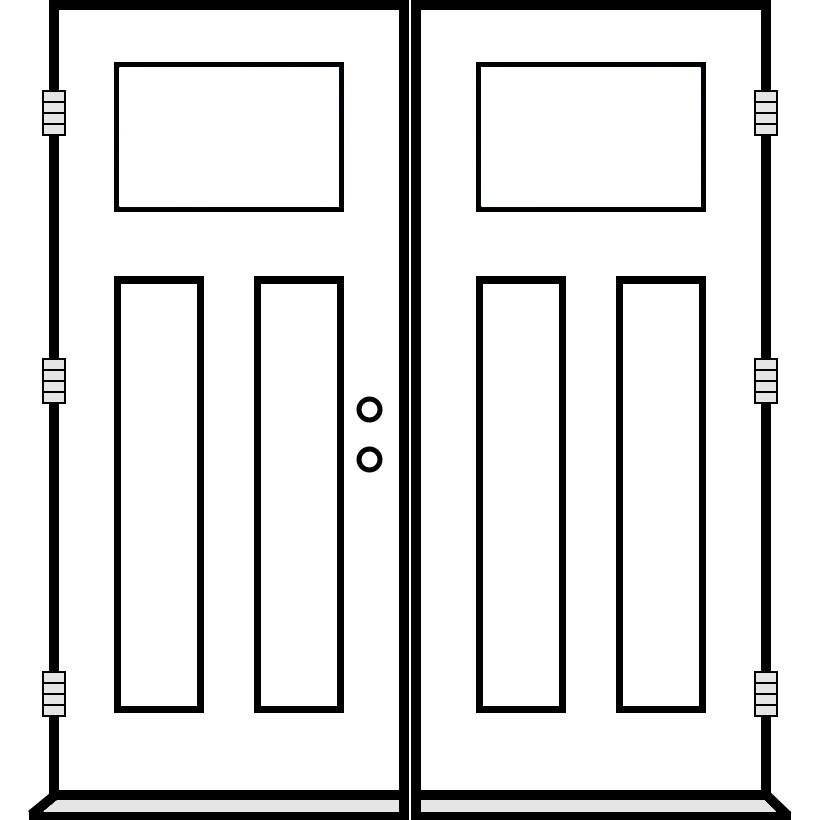 Steel double doors, resembling French doors, refer to two units paired together. They are suitable for wider openings and create a larger doorway. Stylish and elegant, exterior steel double doors highlight the unique architectural features of your home.
Steel Doors With Sidelight and Steel Doors With Transom
Looking for something eye-catching? Stunning exterior steel doors with sidelights can be the very thing. Sidelights are vertical glazed elements placed on the door sides. They are ideal for increasing the width of the door to fill a wide entrance. Fully insulated, our units with sidelights let in extra natural light while keeping your home safe.
A steel door frame with a transom is a good way to fill the house with light. Transoms are a kind of windows placed above your entry doors letting extra light in. Adding a transom allows you to provide a stylish and unique look to your exterior.
Panel Steel Doors
You can customize your new steel entry doors by choosing the number of panels. A steel panel door is a top choice among homeowners. The name speaks for itself – the door is made not from a single piece of steel. It consists of panels from composite materials and includes a range of elements (like rails, stiles, and infill panels) within a frame. Steel doors with panels will look stunning in any Edmonton home and are a great way to liven up the overall design.
Here are the most popular options to consider:
| | | | | |
| --- | --- | --- | --- | --- |
| 2-panel steel door | 3-panel steel door | 4-panel steel door | 5-panel steel door | 6-panel steel door |
| | | | | |
Steel Doors with Glass
Want to get a unique and more eye-catching look for your Edmonton home? We can equip exterior steel doors with a glass insert, which will additionally let some daylight in. Our exterior steel doors with glass are designed to allow as much light as possible through the viewing panel without sacrificing safety. In addition, stainless steel frames combined with high-quality sills and glass ensures outstanding performance.

An elegant steel front door with glass will ultimately improve your home's curb appeal.
Steel Exterior Doors by Style: Modern vs. Traditional
Consider your exterior door as part of a design statement, a key feature that not only allows you to get in and out but also needs to be attractive and stylish. The style of your door must be in harmony with the overall character of the house – you don't want your door to look out of place. You need the right unit for the specific setting. In Ecoline, you can choose between traditional entry doors and modern steel doors to suit any architectural need.
Style of entry doors
| | |
| --- | --- |
| Modern Steel Exterior Doors | Traditional Steel Exterior Doors |
| | |
| Modern steel doors feature straight lines, sleek appearance, flat profiles and bold colour schemes. Such units are typically equipped with clean metal angular fittings. Contemporary steel doors are quite flexible in terms of design. So you can easily pick up a unit that will perfectly complement your home in modern style. | Traditional steel doors are a perfect choice for cottage-style houses that retain a vintage aesthetic. Such units typically feature extravagant and decorative fittings, coloured glazing, dark colours, and ornate frames in order to highlight the classic appearance. If you're inspired by the Victorian style, traditional steel doors will do a great job of retaining the sentiment of vintage design. |
Are you a fan of eclectic style? Get the charming mix of traditional and modern styles in your home. A modern steel front door on a traditional house and vice versa will create a unique aesthetic for the already one-of-a-kind home.
Custom Options & Features
Your home should be more than just a house. It should be unique, cozy and aesthetically pleasing – and it all starts with the door. With a wide range of customization options, we can create the door of your dreams.
Colour options
The right colour for your door will ultimately boost your home's curb appeal. Our experts will help you opt for the best option to make sure your door will stand the test of time and improve the value of your residence.

Our most sought-after stock colours include Ice White, Black, Commercial Brown, Antique Brown, and Slate. But if you're looking for something more original and eye-catching, you can choose among Burgundy, Wedgewood Blue, Forest Green, Wind-swept Smoke, Sandalwood, Pebble and more.

Whether you're restoring a vintage-styled home or upgrading a contemporary building, Ecoline ensures you find the perfect colour for your project.
Privacy Glazing
Looking to add glass to your exterior steel door but worried about privacy? We can offer you a private glazing feature – using a special texture for glass inserts. Privacy glass obscures the view, keeping you away from prying eyes while letting in natural light perfectly.

Choose among Delta Frosted, Chinchilla, Pinhead, Acid Etched, Silvet options and increase your level of privacy.
Way Of Operation
One more thing to consider is the way your steel door operates. You can choose to have your door open outward or inward according to your design preferences as well as opt for right-handed and left-handed operation.

On top of that, you can equip your new units with a self-closing system for extra comfort.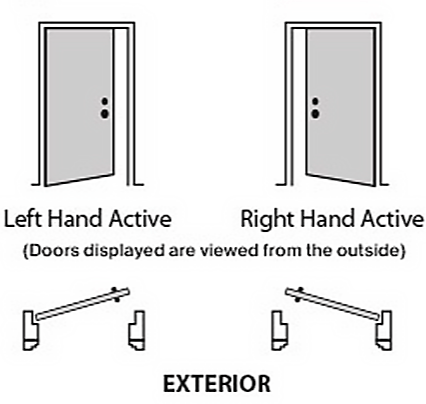 Hardware Solutions
The details matter. The door fittings stand out, enhance the look and make the door much more convenient to use. When it comes to choosing details and customizing the door, our wide range of hardware is what you need. We offer the highest quality hardware options, from elegant door handles to highly secure locks. Our equipment contributes to quality, safety and convenience, and enhances the attractiveness of your home.
Here are the options you can consider:
Customize your entry steel door with a peephole to look outside without having to open the door.
Have a pet? Take care of the comfort of your little friend and equip your front door with a special pet door.
You can choose a woodgrain texture to retain a kind of traditional feel or opt for modern-styled frames. All units are easy to paint and provide exceptional water resistance.
Customize your door with painted hinges that perfectly match the colour of the door and the overall exterior.
Maximize your security level with our smart locks. They can be paired with a mobile app, allowing keyless entry, remote access to the lock, and front door control through the smartphone.
Steel Door Installation In Edmonton
Steel door installation affects safety, sound and heat insulation. It's a complicated process, so it is better to entrust this task to professionals. Any mistake in the installation can degrade the properties of the door.

From the concept design to a quality replacement, we do it all here at Ecoline. This gives us better control and unrivalled quality than other steel door manufacturers in Edmonton.

All Ecoline installers have completed hundreds of successful installations and specialize in residential door installation. We carry out our installation work in accordance with all the building regulations, which ensures the reliable and trouble-free operation of units.

Once the installation is complete, our in-house installers will ensure that all construction debris and waste are removed and your home is left clean.
More recommendations from our:
How much do new steel doors cost?
At Ecoline, prices for a single steel door start from $1280. To find out the average price range for steel entry doors, use our online cost estimator. You can also request a free quote from us providing your project details.
Can a steel door be equipped with glass?
Yes, certainly. We can equip the steel door with glass inserts of your choice to allow more natural light inside. You are welcome to choose from a variety of glass options.
Where to buy steel front doors in Edmonton?
If you're looking for a reliable steel door provider in Edmonton, get in touch with the Ecoline team. We offer the design, manufacturing, and installing high-quality steel doors and will be pleased to discuss your project in more detail.
Is the steel door good for the main door?
Yes, absolutely. Steel is inherently strong and super-tough, so a steel front door provides increased safety and extra-durability. Steel doors won't warp like wood units. They're great at resisting the elements and can give you years of dependable service.