An Ultimate Guide to Egress Window Replacement In Edmonton
Egress windows are a must-have in the basement bedroom. Find out all the ins and outs of installing an egress window according to the Edmonton Building Code and explore the best egress solutions provided by Ecoline.
1. Get a FREE QUOTE and we will bring SAMPLES to your home.
2. We will call you back during WORKING DAY
3. We guarantee Direct Price and Warranty from Manufacturer
or
May 12, 2022
Nov 30, 2023
Egress Windows in Edmonton: Standards, Styles, And Installation
Safety comes first. Have you ever had to deal with a fire or other dangerous situations? In this case, you'll most likely be discouraged, and it can be challenging to think rationally. People run to the door, which often leads to accidents – the door may be blocked or the stairs may be broken.
To prevent such situations, the building code in Edmonton calls for the egress window installation in bedrooms and basements used as habitable places. Such a requirement might just save your life. Moreover, the Edmonton building code provides certain specifications for installing egress windows. The violations are subject to severe fines – and what's more important , you'll have to reconstruct windows installed with violations, which is even more expensive.
In this article, you'll find out what these windows look like, what size they should be, and how to install egress windows in Edmonton according to all regulations.
What Does An Egress Window Look Like?
So, egress windows are wide-opening models that provide an extra exit in the event of an emergency. As you can see, these are not some special type of windows – they can be just ordinary casement or sliding windows. The main thing is that they can be easily opened (without any kind of keys, tools, or great physical effort) and meet the size specification.
Ecoline, being the leading company providing egress windows in Edmonton, offers products that are designed to be both functional and stylish. Our egress windows will:
comply with all the local code requirements
be easy to operate and reliable
ensure plenty of daylight and good ventilation
add style and comfort to your home
Where Can You Install Egress Windows?
You don't need to put an egress window in every room. Although it is desirable to have at least one emergency exit option on each floor (if a building is 3 stories or less, of course), you don't have to install them in the attic or storage room, for example. Let's see where egress windows should be installed.
Egress windows for basement
According to Edmonton law, your basement (especially if used as a bedroom) must have an exit to the outside – an egress window or a door. So if your basement doesn't have a door opening outwards, consider installing a new egress window. You also may need to replace an existing one if it does not fit the standards, that is, it is not large enough for a person to get out through it.
Old buildings in Edmonton often have inappropriate (too small) windows in the basement. Therefore, if you own an old house, you'll most likely need to retrofit it in order to install an egress window. Such upgrades may include cutting through a wall or excavation to make your new basement egress window meet Edmonton building code requirements.
The basement is an additional area that you can rationally use – not only as a boiler room or storage. If you're looking to renovate your basement, you'll definitely appreciate the important benefits of egress windows – they will rid the premises of the "dungeon atmosphere" that most (even new) basements have. Daylight will make it a more comfortable place. In addition, by filling the basement with fresh air, you'll also improve the ventilation of the whole house.
Egress windows for bedroom
Need another bedroom or want to replace windows in an existing one? Then keep in mind that the local code stipulates that every sleeping area without a sprinkler system must have at least one escape route. It is essential for safety reasons. Your bedroom, just like your basement, must have a large window or a door opening to the outside to provide an escape in case a fire prevents the use of the usual exits from the house.
The most important requirements of the Canadian code for an egress window include its size and good opening ability. So there are practically no style restrictions – you can choose from double-hung to casement models, from wood to vinyl windows. A wide range of Ecoline's products will allow you to create a cozy atmosphere in the bedroom, coupled with energy efficiency and safety demands.
Keep in mind that you don't need to have egress windows in every bedroom if there is one appropriate exit window located on the same level.
Egress Window Calculator: Estimate Your Cost
The cost of egress window replacement varies depending on many factors. The final price is affected by the type of windows you choose, their size, the amount of installation work, the qualifications of specialists, and so on. Additional work, such as excavation for the basement window, digging, and installing a window well or stairs, will also increase the final cost.
Unlike many egress window manufacturers who provide standard, ready-made options, Ecoline pays special attention to its clients and what they are looking for – that's why we offer custom-shaped window manufacturing and installation.
To estimate the approximate cost of your project, you can use our egress window calculator (find it at the top of the page). Enter your specifications, such as window style, location, size, or glazing type, and get a free quote.
You can also request a quote by sending us a message. We'll consider all your wishes and specifics of your project and inform you of your best price or you can use our Egress Windows calculator:
Egress Window Permit in Edmonton
Modern building codes were created for a reason. They aim to ensure that your house is built according to present-day practices and standards, and therefore protected from emergencies such as fire, flood, earthquake, etc. Homeowners and contractors should check out the requirements and regulations of their provincial code before bringing in retrofits – the costs of subsequent renovations or changes to a building can be high.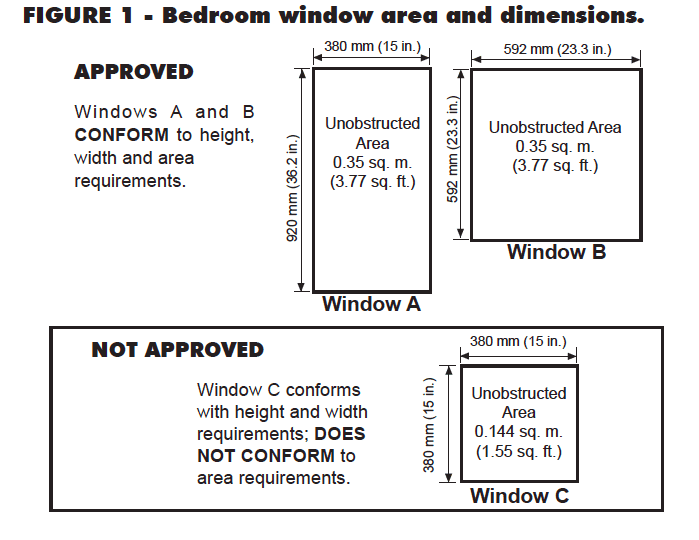 Remember when 4 years ago, there was a fire in the Edmonton City Centre? The crews were fighting the fire for a few hours and stores were closed until the next morning. Luckily, no one was injured that day – but the truth is, it's a very uncommon result when it comes to fires. People get injured or even worse almost every week in Canada due to events of a fire – and one of the main layers of security in such an event is an egress window.
You just open the window fully and get out while the firefighters get in, that's all. However, it's not that simple – the main problem with egress windows is that there are too many requirements and standards your construction should comply with. Moreover, egress window codes vary depending on the province. Alberta also has its own. Therefore, before you're going to install a new egress window, make sure to check out the Alberta code provisions. It's easy to get confused with all the requirements – but not with this guide. Let's make it as easy as ABC:
The most important egress window requirements:
In Alberta, the egress window size must be at least 0.35 m2 (3.77 ft2 or 543 in2). Please note that this does not apply to the entire size of the window, but only to the size of the opening. How to check: open the window, take away the screen if there is any. Now estimate the distance from top to bottom and then from one side to another. With these parameters, you can get the size of your opening using a convenient online tool (for example, Calculator Soup).
Opening dimension (width or height) must be at least 380 mm (15 in). Pay attention: a window opening that is 380mm by 380mm would not meet Edmonton code standards in egress window size.
You should be able to open a window easily without special tools or keys and without removing the sash. When you open a window completely, it shouldn't close on its own and shouldn't require additional support to stay open.
In case basement windows are partially or completely below ground level, you'll need a window well.
Window wells should protrude at least 760mm (30 in) from the window.
Your window well should have enough space for a person to get out both from the window and the well.
Window sills should preferably be no more than 1.5m (59 in) from the floor.
If your basement is protected by a sprinkler system, it doesn't require an egress window.
Often when replacing windows, you may need to cut the concrete to enlarge the window. This task may require a permit from your municipality. Therefore, be sure to check with the contractor whether the installation of your window demands any additional permits.
Interested in this topic?
Or maybe you need our help with this?
The Most Suitable Styles for Egress Windows
Strict standards for egress windows don't mean you don't have options to choose from. The good news is that egress is not a specific type of window, which means that most window models can be considered egress if their dimensions match the code. So you'll have another kind of challenge – to choose the style of the future window.
We cannot decide for you, but we can tell you about the most suitable options that you can install as a life-saving and aesthetically appealing addition to your home.
Casement Windows
Casement windows are units with side hinges, opening both outside and inside. This is the best choice for arranging an escape route especially if you don't have a lot of wall space. Thanks to its mechanism, you can open the sash to the full, maximizing the opening size in relation to the frame size. Casement egress windows are extremely easy to use, super energy efficient, and will easily fit into any home design.
Make sure you have enough space for the outward opening sash since it can create an obstacle to getting out, especially if the exit leads to a window well.
Pros:
allow space-saving installation
have a reliable crank-style mechanism
create an opening almost as big as the frame itself
Cons:
out-swinging may cause difficulty in escaping, therefore, require careful design planning
tend to be more expensive than other models
Sliding Windows
Sliding windows are made of two sashes that glide along the track opening a window. They are typically equipped with a thin frame and provide a large opening suitable well for an escape. This model tends to have a greater width than height, making it perfect for areas with limited vertical space.
Their advantage is that you don't have to worry about free space for the hinged sash. But compared to casement windows, they require more wall space because the sliding sash opens only half the width of the window.
Pros:
are easy and convenient to use
don't require clearance for the swing sash
are great for rooms with low ceilings
Cons:
have an opening much smaller than the frame
are not suitable for small spaces
Single and Double-hung Windows
Single-hung and double-hung windows are popular window models typical for cottage-style homes. Although these windows can be used as an emergency exit, they are not the best choice, and here's why.
Double-hung windows are made of two moving sashes, which slide up and down to open the top or bottom of the window. Single-hung windows have only one operable sash (lower one). Thus, even when you open the window to the full extent of its mechanism, more than half of its area is still covered by glass. To comply with the requirements of the building code, these windows must be very large. This makes them an unsuitable option for small basements.
Pros:
come at an affordable price
don't have hinges, so there is no need to leave space for a swing sash
Cons:
are not suitable for most basements
must be large to meet the code specifications for the window opening size
Hopper Windows
Hopper windows are window designs typically used in basements. Depending on your preferences, building features, and safety requirements, this model can be top- or bottom-hinged, allowing you to open the window up or down respectively.
However, windows with bottom hinges are not suitable for use as an emergency exit, because in this case the occupants will be forced to climb over the glass. Also, to be considered an egress window, this unit must strictly fit the size requirements of the code. If you already have an egress hopper window in your basement, make sure it is up to standard – you may need to replace it with a larger one.
Pros:
are convenient to use in basements
are the most cost-effective egress window option
Cons:
existing basement windows may need to be replaced
provide less ventilation compared to other models
The Right Approach to Egress Window Installation
Since the installation of egress windows requires careful work and specialized tools, it is not recommended to do it yourself. It is best to entrust your project to highly skilled experts, such as the Ecoline team. But if you want to save some money and have an idea about the conclusion of contracts, you can do some necessary preparatory work:
Contact the utilities to mark electrical, telephone, gas, and water lines in order not to damage them during construction work.
Determine the dimensions of the new window.
Select the appropriate window type.
Obtain a permit from the municipality
At the same time, it is not recommended to carry out such work as digging the ground for the window well and cutting out the wall without the help of professionals.
Egress Window Replacement: How We Do It At Ecoline
Step 1: Quote and Consultation.
Our specialist will visit your home and take all the necessary measurements. We'll discuss deadlines, your project's specifications, unique style, and installation details. Then we'll prepare a quote and a contract for signing.
Step 2: Manufacturing.
When we've discussed the installation process and signed a contract, we send your measurements to the factory, manufacture your custom windows, and set an installation date.
Step 3: Installation.
Our highly qualified installers perform a quality windows replacement in Edmonton and conduct a post-installation review to make sure you are completely satisfied with the result. We'll also leave you with a warranty package within a few weeks after installation.
More recommendations from our:
FAQ
Who installs egress windows near me?
If you're looking for a reliable window provider in Edmonton, get in touch with the Ecoline team. We offer design, manufacturing, and installing high-quality egress windows and will be pleased to discuss your project in more detail.
Do I need an egress window in my basement?
If you use your basement as a habitable place and you don't have a sprinkler system in it, you should equip it with a suitable egress window that meets specific requirements of the local building code.
Does an egress window have to be in the bedroom?
According to the Alberta building code, each bedroom that doesn't have an automatic sprinkler system should be provided with at least one egress window that is up to the code standards. You don't need to install an egress window in your bedroom unless you already have one on the same level.
How much does an egress window cost?
The cost of a window depends on its size, style, type of glazing, as well as additional work if needed. On average, basement egress windows will cost between $400 and $700 for small units and between $800 and $2,000 for large units.