Hung Windows In Edmonton: Discover All The Features And Benefits
Coupling distinctive styling with affordability, hung windows are designed to match different styles of home. Make a statement with Ecoline's high-end custom hung windows!
1. Get a FREE QUOTE and we will bring SAMPLES to your home.
2. We will call you back during WORKING DAY
3. We guarantee Direct Price and Warranty from Manufacturer
or
May 12, 2022
Mar 16, 2023
Looking for hung windows in Edmonton that excel in quality and performance? Want your traditional window to meet modern requirements for energy saving and building? Get it all with custom-made units at Ecoline!
Single and double-hung windows are extremely popular here in Edmonton. They belong to the classical architectural style and are often used in buildings that retain a vintage character: in colonial homes, farmhouses, or bungalow-style houses.
Want to highlight the unique style of your home in Edmonton but not sure what is the difference between double and single-hung windows? Want to find out which one is best for your project? You've come to the right place. We'll help you understand the difference between units, discover their features, and make your best choice!
Single-Hung vs. Double-Hung Windows: Choose Your Style
What is the difference between single and double-hung windows? The fundamental difference lies in their design, namely in the number of movable sashes.
A single-hung window provides ventilation through a movable lower sash, while the upper one remains fixed.
A double-hung window has two movable sashes that can slide up and down, providing ventilation both from above and below.
Their design features mean that these models may differ slightly in terms of energy efficiency, maintenance, etc. Let's summarize their main similarities and differences.
Similarities and differences
Single-hung windows
Double-hung windows
Operation
Very easy to use.

Have one operating sash moving up.
Very easy to use.

Have two operating sashes moving up and down.
Ventilation
Air only passes through the bottom sash, i.e. this model allows less ventilation.
Allow opening two sashes at the same time, passing air from both above and below. Thus, you get excellent ventilation as well as the effect of recirculation.
Energy Efficiency
More energy-efficient. Since they have only one moving part, single-hung windows are air-tight and more insulated.

Still have a higher rate of air leakage than casement windows.
Less energy-efficient compared to their single-hung counterparts due to their moving parts.
Security
Quite safe and reliable, but less secure for kids. Unlike two-hung windows, you cannot open the top sash to allow ventilation, which means you leave a potentially dangerous opening.
Quite safe and reliable.

However, they may be less secure if they are not closed properly. Gravity can lower the top flap slightly and prevent it from closing completely, so make sure you lock the window.
Maintenance
Cleaning is harder, especially on the upper floors. It is easy to clean the bottom sash from the inside, but it is difficult to wash the outside of the top sash as it doesn't tilt inwards.
Cleaning is easier as the sashes can tilt inward and you can easily wash them from inside the house.
Places to use
Often used in houses that retain a vintage aesthetic, but it's easy to find options that fit into the modern style.

Commonly used in kitchens and bedrooms and other areas where you don't need a lot of ventilation on the lower floors of the house.
More versatile in style and more popular. Modern double-hung windows come in a variety of options that are easily combined with any home design.

Commonly used in living rooms and bedrooms both on the lower and on the upper floors of the house.
Which Type To Choose?
When it comes to window replacement, both a double- and a single-hung window might be a good option for your home in Edmonton. Now that you know the main similarities and differences, as well as the distinctive features of each model, it will be easier for you to make a choice. Compare units in terms of ventilation efficiency, ease of cleaning, convenience, and other features to decide which is best for you and your home.
No matter what type of windows you choose, at Ecoline you'll get reliable, aesthetic, and energy-efficient units with a huge range of color and style options. Keep in mind that since double-hung windows are more popular window models, they tend to come in a wider range.
Key Benefits Of Double-Hung Windows
The popularity of double-hung windows among Canadian homeowners is not surprising. Their traditional appearance can fit into any style of home – but that's just one of the many other benefits modern double-hung windows can provide. They are distinguished by:
space saving
versatility
reliability
durability
affordable price
Double-hung windows are very sought-after. If you look at most houses in Edmonton, you'll notice that most of them are equipped with double-hung windows (slightly less often with single windows). But on the modern market, there is another popular and effective model – casement windows. Let's see what is the difference between casement and double-hung windows and what will better suit your home improvement project.
Casement Or Double Hung Windows: Side-By-Side Comparison
From stylish look to functionality – each unit brings a unique combination of benefits to satisfy the particular needs of your home. Both models cope well with the challenge of making the most of the view and letting fresh air and daylight in. But it's important to know their unique features in order to make the best choice. Let's compare them by the most essential features:
Space saving and functionality
Double-hung and casement windows are fundamentally different in how they work. While double windows open up and down, casement windows have a hinged sash that opens inward or outward like a door.
This provides a very important advantage of hung windows: when opened, the sash remains within the window frame. Therefore, objects on the windowsill and furniture standing next to the window do not interfere with it. This means that hung windows allow you to use the space of the room as efficiently and rationally as possible. In case your casement windows open inward, you need to ensure that objects and furniture inside the room will not create obstacles.
Casement windows cope better with the restriction of air intrusion into the house. They are sealed on all four sides, creating an airtight packing that is almost draught-free. When the window is closed, the sash is forced into the seals. This makes casement windows more energy-efficient.
The hung window design has potential air leakage points making these units less energy efficient. However, don't think that you'll forego energy efficiency if you opt for double-hung windows. The problem of air leakage can be solved with the help of good seals.
Both units provide excellent ventilation, but casement windows do a slightly better job. The hinged sash, swinging like a door, provides a very large opening and maximum fresh air. While hung models only allow half of the window to open, restricting airflow.
Even though the crank mechanism of casement windows is quite reliable, it is usually the first to fail. Therefore, you need to carefully monitor its condition and lubricate it if necessary.
Hung windows have fewer mechanical parts to break. However, these units have a specific problem of dropped sashes when they are not fixed in an upright position.
Casement windows can wear out much faster if you open them in rain or wind. Thus, the hinged sash is more susceptible to external influences. The hung window design reduces the impact of weather conditions.
Casement windows usually cost more than double-hung ones due to their complex mechanism. Homeowners may expect to pay almost twice as much for high-end casement units than for double-hung windows. If you have a limited budget for your project, consider the more affordable double- or single-hung windows.
As for aesthetics, the choice is purely subjective – it all depends on your expectations and the design of your home. Casement windows are supposed to give a more contemporary style, while double-hung windows bring a touch of something classic and traditional. You can try different style combinations since both models are pretty versatile.
How Much Do Hung Windows Cost?
Knowing the prices of new windows can help you plan your budget for future spending. How much does a window replacement cost on average? As with many other questions, the answer is: it depends. The cost largely depends on the type of window and its size, as well as factors such as labor, customization, and others. So calculating prices may be challenging.
To help you estimate the potential cost of your project, we provide the most common window types and their approximate prices valid in 2022.
| | |
| --- | --- |
| Window Type | Estimated replacement cost: |
| Casement | $694.00 – $1134.00 |
| Double-hung | $475.00 – $889.00 |
| Single-hung | $417.00 – $749.00 |
| Sliding | $607.00 – $1047.00 |
| Awning | $618.00 – $1058.00 |
| Picture | $587.00 – $1027.00 |
* Prices are per window of medium size. For a more accurate price, use our Cost Estimator or request a detailed quote for free.
As you can see, single- and double-hung windows are quite reasonably priced. So if you're on a budget, but still want to buy high-performance windows, consider installing such units.
Interested in this topic?
Or maybe you need our help with this?
Our Customization Options
Custom-made options can drive the cost up. Non-standard size and shape, as well as advanced glass coatings, can significantly increase the price, however, making your windows more unique and efficient. With the help of various features, you can overcome the disadvantages of double-hung windows, such as lower energy efficiency compared to casement windows.
What can you get at Ecoline?
Push-Down Screens
We can install a heavy-gauge fiberglass mesh with a lightweight aluminum frame. Such a screen is thin and durable at the same time as well as resistant to high humidity and solar radiation.
Window Grills
We can equip your window with special grills for aesthetic purposes. Window grills are decorative vertical and horizontal vinyl bars used to visually separate the glass area into panes. They will be a great addition to any home design, emphasizing the individual style.
Heavy-Duty Hardware
We provide window locks and latches made of stainless steel and available in a wide range of finishes to increase durability and ensure exclusive design.
LoE Glass Coatings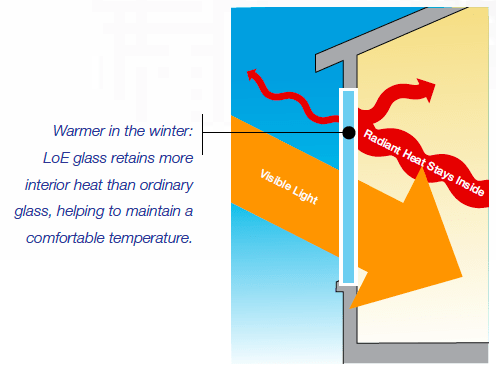 We can maximize the energy efficiency of your windows with LoE glass coatings. The LoE coating enhances thermal insulation, significantly reduces heat loss thus lowering heating costs, and also minimizes moisture condensation on glass surfaces.
Double- & Triple-Panes
We offer windows with double panes (i.e. with two glass sheets) and triple panes (i.e. with three glass sheets). This is another way to improve the energy efficiency of your home. The additional pane of glass filled with air or gas significantly lowers heat loss. Your home will keep warm in winter and cool in summer.
Argon & Krypton Gas
We use Krypton and Argon gases as fillers for double- and triple-panes windows to improve heat and sound insulation. Compared to air, argon and krypton have a higher density and viscosity, which leads to an increase in heat transfer resistance. A gas-filled window gets the highest possible thermal insulation effect.
Hung Window Installation
Although hung windows are relatively easy to install, you'd better not do it yourself, especially if you don't have special skills. If a window frame is not properly shaped it will not work as intended. The window will continue to close and open, but it will be difficult to do and the window will break down faster. Ultimately, it is easier and cheaper to turn to professionals. So you can be sure that your hung window is installed correctly the first time by an expert.
Proper installation is the key to the stylish appearance and good functionality of your home. We have an individual approach to each client and each window is custom-made, taking into account all the specifications of your project.
Decide between Single And Double-Hung windows and customize them as best fits your needs: choose glazing, colours, additional features – just everything that perfectly completes your home design.
Let Ecoline help you enhance your energy savings. Add value to your home by qualified installation of high-quality and budget-friendly hung windows.
Check out these window replacement articles:
FAQ
Are double-hung windows energy efficient?
Double-hung windows can provide good energy efficiency. The main thing is to make sure that the sashes fit tightly to the frame and do not allow air to leak. This, combined with good seals, will ensure that the double-hung windows are energy efficient.
Are casement windows better than double-hung?
The answer to the question which is better depends on your requirements and cost expectations. If maximum energy efficiency is your priority, casement windows are a better choice. If you want high performance at a more affordable price, choose double-hung windows.
Are double-hung or casement windows more expensive?
Due to their complex locking mechanism, casement windows tend to be more expensive than double-hung units. However, the price largely depends on other factors such as window size, installation labor, additional coatings, etc. To find out an approximate price for your window, request a free quote from our experts.
Are double-hung windows better than single?
Double-hung windows provide better ventilation and easier maintenance as well as are safer for children and are typically more versatile in options. In turn, single windows are more energy-efficient due to their design.
What is the best double-hung window?
The best double-hung window is the one that perfectly suits all your needs and performs well. If you're not sure what exactly you need for your project, for example, you cannot choose the type of glazing, you can always turn to the Ecoline expert team in Edmonton for advice.