In the age of online shopping, and the place Internet takes up in our everyday lives, it is no surprise that we use it to find a product or service we need. In the last few years, the trend is also catching on in the home renovation industry.
And it makes total sense. If you need repair or replacement work done around your house, chances are you want to get a few quotes from the mass of companies that are out there. Online reviews are a great way to narrow down the list and see what people out there are saying. Window replacement companies in Canada most often get reviewed on Homestars, Better Business Bureau (BBB), Yelp, and Google+, so there are a lot of ways you can find information on one you're interested in.
Find out what people are saying about us online:
Ecoline Windows on BBB
Ecoline Windows on Facebook
Ecoline Windows on Twitter
Ecoline Windows videos on YouTube
When looking for the right company, make sure to check both the good, and the negative reviews. This will not only help you see where a company falls short, but also how they address customers complaints, and more importantly what they do about them. By taking our reviews seriously we were able to not only build better relationships with our customers but also improve our business.
Because there can hardly be any good without the bad, we wanted to share and discuss one of our worst reviews, that nonetheless reflects common issues people have with Canadian window companies in general.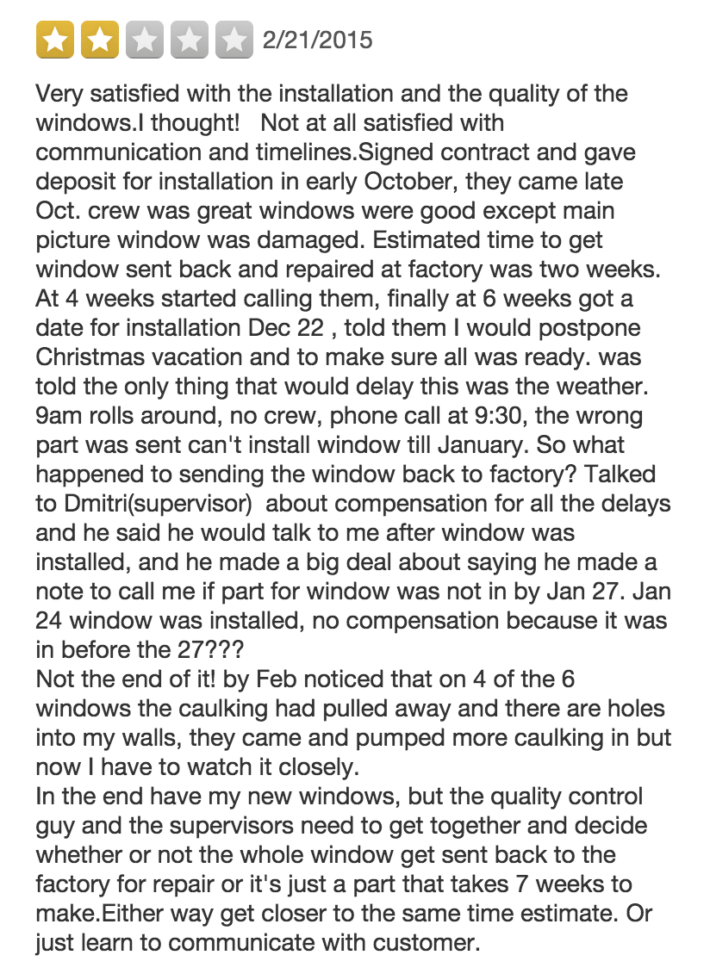 As you can see, even though the work was performed to standard and the customer was satisfied with the product, there were some post-installation issues that resulted in the negative review. We strive for all our clients to give Ecoline Windows 5 stars based not only on our product and installation but equally importantly, on our warranty service.
"Estimated time to get window sent back and repaired at factory was two weeks. At 4 weeks started calling them, finally at 6 weeks got a date for installation"
We didn't lie or withhold information when we told this customer the replacement part for their window would take about 2-4 weeks. And in 99% of situations they do. In this particular case, the replacement part didn't come in from the production line in the specified size and fell short fulfilling the originally promised timelines.
To ensure safe transportation, all windows are sealed and packaged until they arrive at your residence. This prevents our installers from detecting any issues until the day of the appointment, and the discrepancy in size wasn't noticed until then. Although we could technically install the replacement part, the final product wouldn't meet our quality control requirements. Therefore we chose to re-order the part again, to ensure the custom window is manufactured and installed correctly to avoid bigger problems in the future.
"Talked to the supervisor about compensation for all the delays and he said he would talk to me after window was installed, and he made a big deal about saying he made a note to call me if part for window was not in by Jan 27. Jan 24 window was installed. No compensation because it was in before the 27?"
Compensations are a tricky subject. Most customers feel entitled to receive a discount or some reimbursement if their project is running overestimated times or they are feeling like the company isn't fulfilling their promises. And rightfully so. While most companies try to avoid giving out a monetary discount by finding other solutions, sometimes it is the best solution when it comes to settling differences with customers. Situations like this made us reconsider and change our policy about giving a discount when we are at fault and there are no agreeable solutions between the two parties.
"By Feb noticed that on 4 of the 6 windows the caulking had pulled away and there are holes into my walls, they came and pumped more caulking in but now I have to watch it closely."
Caulking is the outermost seal that prevents rain or moisture from getting into the frames of your new windows. It is also one of the most finicky materials involved in the installation of windows. Outside elements, weather, and temperature affect how the caulking settles after it has been applied. Therefore it is common for it to bubble, or contract in places around your window, especially during winter installations. We gladly follow up with all clients that require additional caulking work, usually within two-three weeks to make sure the existing foam has fully settled before applying additional sealant.
An advantage of a full-service company is that caulking application is usually included in the warranty package, although often not covered after a couple of years, as it is something that isn't affected by the quality of workmanship or product. Be sure to find out whether caulking is covered down the road by your company's warranty. It isn't the end of the world if it's not – most homeowners can do the job themselves with a little patience and a YouTube tutorial, as the seal begins to deteriorate.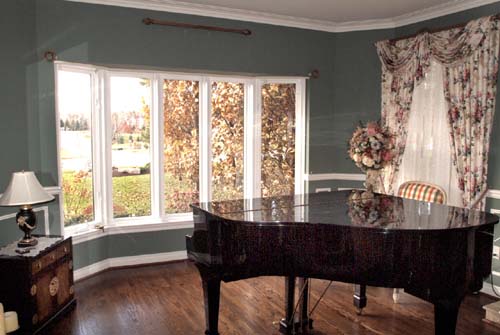 For most Canadian window companies, good reviews are easy and fast to come by. In that sense, they are all similar in the praises they sing. But good reviews aren't always a perfect representation of a company's work. Most companies today (ourselves included) post assisted reviews to websites like Homestars. Some companies (not us) even go as far as to offer discounts and incentives in return for favorable ratings. Even worse, other companies will purposely post negative reviews on their competitor's website.
But it's the genuine bad reviews that can help you learn a lot about how a company handles their interactions with clients. Though bad reviews don't always mean bad business practices. All companies make mistakes that get exposed and stay on the Internet forever, but it's the best ones that are proactive in fixing their shortcomings, and making things right for their clients.
Learn everything you need to know about replacement windows in Canada:
Find out how much a new window project should cost
See our full line of vinyl replacement windows
Find out why you can purchase with confidence when you pick Ecoline Windows