Fiberglass Exterior Doors In Calgary: Upgrade Your Entryway
Why choose our exterior fiberglass doors? They are weather-resistant, easy to care for and harder than ever to distinguish from natural wood. Let's take a more in-depth look at the benefits of the fiberglass entry doors in Calgary's homes.
1. Get a FREE QUOTE and we will bring SAMPLES to your home.
2. We will call you back during WORKING DAY
3. We guarantee Direct Price and Warranty from Manufacturer
or
Just a few decades ago, homeowners only had one option – a wooden door. Fortunately, today you have a wider choice of materials for the front door.
In addition to our steel door collection, we also offer stunning fiberglass doors. Once considered a cheap material used for low-quality doors, modern fibreglass has stood out as an effective solution for door replacement.
So if you're looking for new exterior doors in Calgary, our fiberglass door guide might be helpful.
Fibreglass Door Replacement In Calgary
Reliability, durability, and aesthetic appeal – all come together in the fiberglass doors we sell in Calgary. As Calgary residents ourselves, we know how important it is to have doors that suit the region's climate.
Our fiberglass doors are incredibly energy-efficient. They do not rust or rot when exposed to the elements. With Ecoline's proper installation, your new front door will never require adjustments or major repairs. As a part of quality assurance, we offer a 25-year product and labour warranty on all our doors.
Being a leading fiberglass door manufacturer in Calgary, we provide a wide range of designs and custom options. When you replace your front door with a new fiberglass one, you not only increase your home's value. It's also about the highest level of safety the industry has to offer.
Interested in the fiberglass doors?
Or maybe you need our help with this?
Features & Benefits Of Modern Fiberglass Doors
A fiberglass door is made of a rigid insulation core lined with fibre-reinforced polymer. The sealing of this durable material gives the door sufficient strength without losing the necessary flexibility and aesthetics. Fiberglass can be moulded into almost any shape, making it an excellent material for front doors.
Fiberglass doors are durable and reliable, capable of withstanding enormous loads without getting cracked, broken, shrunk, dented, or rotted. But you get more than that.
Here are the key benefits of modern fiberglass doors:
Aesthetically pleasing look
There are also plenty of finishes that you can customize for fiberglass doors to get the perfect look. Smooth and elegant, or textured to capture the aesthetics of natural wood – you're sure to find your ideal fit. Our modern fiberglass doors are great for standing out among Calgary homes.

If you are not satisfied with the traditional look of solid fibreglass doors, you are welcome to equip it with various glass options to enhance aesthetics and boost your curb appeal. The most popular glass styles are Winchester, Cachet, Arima, Kallima and Belmont. Each comes with a different design and privacy level to better fit your exterior.
Kalima will charm lovers of glass. Characterized by its handmade pieces of blended black and clear glass, the Kalima offers an exclusive look every time.
Arima is the perfect choice for classic style homes. This models first particularly well in entrances with symmetrical composition – a look that can be achieved with exterior light or with decorative objects.
Improving energy efficiency is always crucial for homeowners. Home's energy efficiency means your air conditioner and heat system work less to maintain the comfortable temperature inside.

Our fiberglass doors fit snugly to the frame and have excellent seals to prevent air leakage. Their rigid insulation core does not conduct heat.

Moreover, all our fibreglass doors meet NAFS standards, which is quite rare for manufacturers to have. This means that all parts, including our door slabs and door glasses, are of exceptional quality standards and have proven to be the best products in the industry.

All Ecoline doors meet and exceed the standards established to be recognized and approved as energy-efficient front doors by ENERGY STAR:
Minimum Energy Rating of 34 and higher, depending on the customization of your new door;
Maximum U-factor W/m2∙K of 1.22 or less;
So if you're looking for a way to keep your home safe from Calgary's summer heat and winter chills, as well as reduce your monthly energy bill, new fibreglass doors are your best bet.
The great news about fiberglass doors is that they last a very long time without needing major maintenance and repairs. Being durable and strong, this material is not subject to deformations, rotting, scratches, or dents. All our fiberglass entry doors come with exclusive Weathertech feature, full-length composite stiles, and composite top & bottom rails to prevent water infiltration on all sides.

The modern water-based paint ensures that the appearance of your door will keep its original look for many years to come. With Ecoline's fibreglass doors, issues like discolouration don't exist, which is a common issue when buying stock doors from unreliable companies. We also ensure a great warranty:
Factory applied light colour paint – 15 years;
Factory applied dark colour paint – 10 years;
All the care required for your front door to keep its look is the occasional cleaning from dust with water and soap.
An adequately installed fiberglass door offers the highest level of security. Knowing that your home is well protected is essential, especially if you live in a high-traffic area like Calgary. Our fiberglass doors will do an excellent job of keeping your home safe.
All Ecoline's front doors come with:
Heavy duty hinges that allow for maximum security and better sealing;
Hidden Adjustment Screws. They are to eliminate possible water infiltration while ensuring a cleaner look. Optional screw caps for sil crown adjustment screw and keeps the dirt out;
Multi-point hardware options. Ecoline offers a range of the best quality multi-point door levers and gripsets. You are welcome to choose among 9 styles and multiple colour finishes. It is ideal for homeowners looking to retain a traditional style on their entrance system, while for a more modern feel, we also offer 2 types of pull handles that come in 3 finishes and 3 heights;
We offer a range of the finest quality, multi-point door levers and gripsets available in a choice 8 styles and multiple colour finishes.
Due to their many benefits, fiberglass doors are the perfect exterior door option for any home in Calgary.
Fiberglass can be superior to other materials in many ways. Check our comparison of fiberglass doors to other common materials.
Compared to Wood
In Calgary, where our weather is highly unpredictable, fiberglass doors are a better choice than wood slabs. Under the influence of moisture and water, wood swells and rots over time. Fiberglass will never rot or wear out due to moisture or exposure to precipitation.
In terms of maintenance, fiberglass is much more unpretentious than natural wood. Since fiberglass doors contain an insulating core, they are much more energy efficient than wood units.
The best thing about fiberglass doors is that they can mimic the look of real wood. So if you want a traditional door but don't want to sacrifice the high functionality of artificial material, choose a fibreglass door with a grain-like coating. What's more, fiberglass doors are generally more affordable than natural wood products.
Compared to Steel
Steel and fiberglass are two giants of the door replacement industry, each providing multiple benefits.
Steel is more affordable, reasonably energy efficient, and durable (if you go with high-quality steel, of course), but it's still not as durable as a stable unit. The steel can scratch or rust, requiring you to renew the finish, but you will not have such issues with fiberglass. That's why fiberglass front doors are taking over.
Fiberglass Entry Door Styles Available In Calgary
Your door is the first thing visitors see in your home, so it should make an impression. Ideally, your front door reflects the character of your home. At Ecoline, we specialize in helping you design the perfect match for your exterior. Traditional. Contemporary. Painted in an unusual colour. Having glass inserts. Your fiberglass entry door will be exactly the way you want it to be.
Two Basic Fiberglass Door Designs
| | |
| --- | --- |
| | |
| Fibreglass Woodgrain | Fibreglass Smooth |
| | |
| Prefer the look of natural wood? Then go with a textured fibreglass wood grain coating. We can copy the look of real wood while retaining all the features and functionality of fiberglass. So no one will guess that your front door is made not of wood but artificial material. | Simple and elegant, smooth fiberglass design is an ideal blend for houses in different modern styles, including Scandinavian, loft, and industrial styles. The smooth surface of the door makes it easy to paint it in different colours, allowing you to express your personality. |
Common Fibreglass Doors Types
Fiberglass stands out for its flexibility and the ability to be formed into any shape. Therefore, fiberglass doors come in various sizes and configurations.
A single fiberglass front door is the most common configuration found in many Calgary homes. The standard size, suitable for most rough openings, makes them reasonably affordable. Available in a wide range of finishes and designs, a single door is easy to personalize to perfectly complement the exterior.
Double fibreglass doors – is an excellent choice for those who want to make a design statement with their exterior doors. Such units are suitable for large rough openings, creating a wider doorway and sure to grab attention. Just like single configurations, double entry doors come in a wide range of styles and finishes.
Fibreglass Doors with Sidelites
Sidelites are a great choice if you want to make your entrance look wider and more eye-catching but don't want to make a significant change to your rough opening to install a double door. Sidelites are vertical glass panels that line the sides of your entry door. They ultimately add light and appeal to your home.
Fibreglass Doors with Transom
Another way to enhance the look and provide light is to add a transom. A transom is a small fixed window located above the frame. In this way, the space inside the house will be brighter thanks to the additional daylight entering through the transom, and your privacy will not be compromised.
Fibreglass Entry Doors with Glass
Glass inserts look amazing in fiberglass doors. Entry doors with glass are a great opportunity to invite light into your home. As a result, the space inside seems brighter, larger, and more spacious.
We use insulated tempered glass with an optional upgrade to Low E. Therefore, entry doors with glass inserts will not compromise your safety and the energy efficiency of your home.
The design possibilities are endless with the wide range of glass options we can add to your door. Combine and match different components – design, caming, and glass textures to make your front door look as attractive as possible. Because no piece of glass is alike, each door is unique, giving a one-of-a-kind look.
Custom Options & Features
At Ecoline, we are experts in bringing life to your home with a stylish entrance door that fits perfectly. We have a wide variety of custom designs and options to match any exterior design. You will not find a single off-the-shelf unit here. Use the customization options and features to the fullest and get a unique fiberglass door which draws attention.
Stain Options
Ecoline's wide range of stain options ensures your fiberglass front door perfectly blends in with your exterior design.
Choose among Espresso, Antique Brown, Tavern, Dark Chestnut, Stage Mahogany, Cherry, Walnut, Oak coating options to get the authentic look of natural wood for your fiberglass door.
You can also go with more classic finishes like White, Cream, etc. If you want black entry doors – you can!
We offer you to design your new fiberglass door in literally any finish option you like, and our experts can advise you on the most suitable colour.
Number of Panels
Customize your door by choosing the number of panels (from 2 to 6).
A multi-panel door is not made from a single piece of material but consists of panels. This makes the door more beautiful and its construction more reliable.
| | | | | |
| --- | --- | --- | --- | --- |
| 2-panel steel door | 3-panel steel door | 4-panel steel door | 5-panel steel door | 6-panel steel door |
| | | | | |
Privacy Glazing
Consider the privacy glass feature if you want to equip your front doors with glass inserts or sidelights. We can add a textured look to the glass, which will provide you with the desired level of security.
Choose among Delta Frosted, Chinchilla, Pinhead, Acid Etched, Silvet options for glass inserts in your exterior door and enjoy the home's comfort.
Way of Operation
You are welcome to choose the way your door will operate. You can opt for an in-swing or out-swing unit as well as select right-hand or left-hand operation.
We also offer to equip your new fiberglass doors with a self-closing system for greater convenience.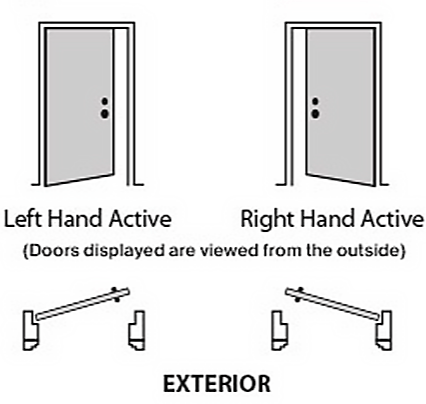 Hardware Solutions
The choice of hardware is something not to be taken lightly. Comfortable handles, secure locks, and additional features – this is what makes your fiberglass door as convenient as possible to use. At Ecoline, we offer you to consider:
Peephole
Pet door
Custom styled hinges
Multi-point hardware options
Smart locks paired with the mobile app
Even if installing fiberglass exterior doors is a little expensive initially, it will help you cut costs down the road. Exceptionally durable and energy efficient, they will last up to 30 years or more without the need for repairs.
Let us help you get the exterior door of your dreams. Get started with a free quote.
More recommendations from us:
How much do fiberglass doors cost?
Fiberglass door prices vary depending on the door size, installation work, and custom features. At Ecoline, the price for a single fiberglass door ranges from $1470 to $1750. You can use our online door cost estimator to determine the approximate cost of your project. You can also request a free quote from us, providing your details.
Is a fiberglass door cheaper than other doors?
Fiberglass doors tend to be more affordable than doors made of natural wood but more expensive than steel doors. Keep in mind that the final door cost depends on a combination of factors. Use our calculator to find out the approximate cost of a new fiberglass door.
Which door is better, wood or fiberglass?
Fiberglass doors are more energy efficient, durable, and easy to maintain than wood doors. Unlike wood doors, fiberglass units are not prone to warping, rotting, or being affected by the elements.
Do fiberglass doors crack?
Cheap fiberglass doors can crack over time and need to be replaced. But we at Ecoline sell fiberglass doors made of high-quality material, resistant to damage and cracks and extremely durable.