How do you know if your windows need replacing?
A lot of times when our project managers speak to homeowners, it becomes clear that they're not sure whether to replace old windows or repair. It is true, most window problems usually have a temporary fix that can extend their life. 
If your windows look like they have water damage on or around the frame, and there are significant drafts, or if the window frame is coming apart, it is probably best to start thinking about replacing. With some exceptions, in Calgary windows should usually get replaced every 20-25 years.
A good starting point in learning about Calgary windows replacement is the guide on Improving Window Energy Efficiency from Natural Resources Canada. This guide is great for helping you recognize problems with your existing windows, the solutions available to you on the market, as well as some answers to the most common questions homeowners have at the outset of their replacement. If you read nothing else, try to at least look at this guide before your window quote appointment.
If you really want to get into the knowledge and become an expert on replacement windows and doors, as well as window installation Calgary, check out the much bigger and more comprehensive Consumer's Guide To Buying Energy-Efficient Windows and Doors Calgary (click on 'continue to publication' button to access the guide). This guide is 50 pages long, but is conveniently structured into chapters for easy reading.
To better understand the current state of your existing window we compiled a list of some basic things you can do in order to assess its condition.
Number of window panes


If the windows are single pane then it would be a good idea to replace them. By installing new

double or triple pane energy efficient windows

, you are probably looking at cutting the heat loss through the windows by half.

Window glass


If the window glass is broken, loose, or has moisture in between the panes it will be a good idea to contact the original manufacturer in order to replace the glass, that should address the problem.

Window material


If your windows are made of vinyl there might be a good chance that they do not need replacing. A lifetime of vinyl windows is at least 20 years.

Air leakages


Check for air leaks around your windows. Light an incense stick, candle or a lighter and walk around the window frame. If the window does not have too many air leaks and is in a good reasonable condition consider new caulking and weatherstripping.

Window hardware


Check for ease of operation, loose or faulty hardware. Sometimes it's just a matter of replacing these parts and you can postpone a major window replacement. If they are in a very bad condition and your window frame or sash is damaged, consider replacing your old window.

Condensation


If you have excessive

condensation

on the room side of the window, first of all, you should try to reduce the amount of moisture in your home. 
If there's condensation between the panes it means that your sealed unit is broken and you're not getting any energy efficiency benefits because the gas escaped. 
In this case, contact the manufacturer to see if your warranty is still valid and get a quote for a new sealed unit. Don't forget to compare the cost of the new sealed unit with a brand new energy-efficient window. If the price range is about the same we definitely recommend you to go with a brand new window. It will give you a 25-year warranty.
Get the right installation for your replacement
You now know that to get quality products (windows and doors) you should shop for products that are Energy Star rated and NAFS tested. But how do you make sure that the installation quality matches that of the windows? After all, no matter how good the new window is, it will still leak and cause damage to the wall structure if not installed correctly. So is there a governing body that certifies competent installation?
New construction windows in Canada, have to be installed in accordance with the National Building Code. But when it comes to replacement windows there is a lot more room for interpretation in the code..
Replacement windows and doors most often have to be installed in accordance with CSA's Window, Door, and Skylight Installation Standard. You can purchase the publication yourself, but it is also available in parts online. 
What's more important is that the company you decide to go with is actually familiar with the standard and utilizes it. Often if the company's windows are officially NAFS tested, the company also takes it upon themselves to abide by the installation method standards and perform a " start to finish" windows installation (sliding patio door/entry doors installation)
Window Installation Service
Full Frame and Insert Replacements don't just look different, the installation process varies significantly between the two types.
With modern full-frame replacements, the window is usually installed with a vinyl brickmould that sits flush against the wall and the frame of your window.
Insert installations do not address the issue in the wall structure. Rotten or deteriorating wood (pictured) may be left behind after the installation.
Retrofit installations are ideal for homes where the frames haven't begun to deteriorate and aren't showing signs of moisture damage or rotting. This is often the case with old windows built from quality old-growth wood. Even then, aluminum capping used with retrofit windows is quite dated and a less than ideal solution for the longevity of your new, quality windows. Capping can still allow moisture in, and the wooden frame underneath it is not allowed to breathe properly, making it susceptible to mold.
There are Canadian window replacement companies that provide excellent service and specialize only in full frame installations, and ones that do both kinds. Although we prefer full frame replacement because it is more thorough and there are fewer problems with it down the road, there are still instances when we recommend insert installation to our prospective clients.
Unlike other companies, we want to make sure our clients know exactly the kind of installation they are paying for, and exactly what they are getting. Whether we recommend a full-frame replacement or a retrofit, we will never try to pass a lesser installation for a full-frame.
Window Styles: Crank vs. Slider
Just like there are two main types of window installations, there are also two main types of windows based on how they function: crank and slider.
Crank Windows (Casement and Awning)
Casement windows are great for use in any room, and can often be manufactured in a combination with a fixed window for bigger openings.
Crank vinyl windows are the most efficient option. In these windows, the operable sash opens away from the window frame on an angle. They also utilize a mechanism to "crank" the window with a handle. The mechanism significantly reduces the amount of force required to open and close the window. 
But what truly makes crank windows the best choice, are the compression seals these windows rely on for efficiency. When a crank window is closed, the compression seal evenly fills the gap between the sash and frame making the unit airtight and preventing heat loss.
Slider Windows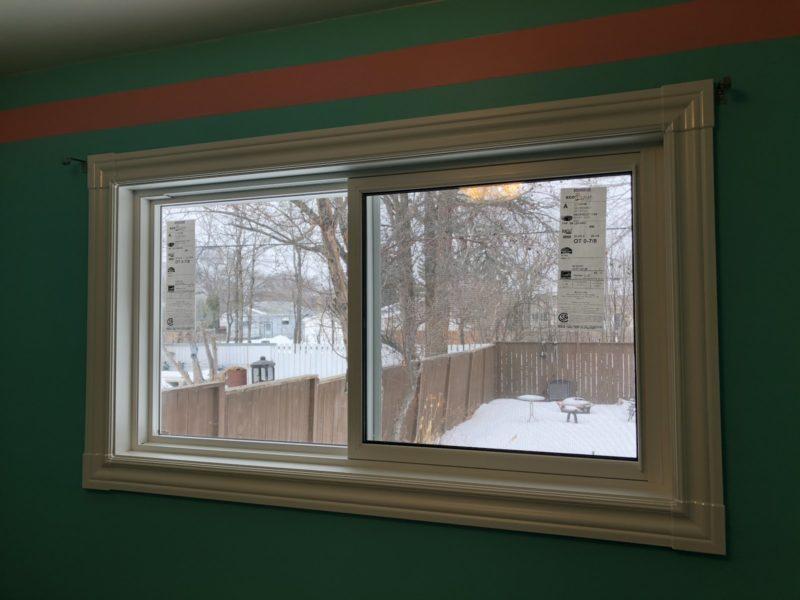 Traditional design, modern look.
Slider windows are not as efficient as crank windows because they don't rely on compression seals for efficiency. Because in sliding windows the sash moves inside the frame, the weather proofing material has to be more malleable. 
Most slider windows rely on bristled weatherstripping to prevent heat from escaping through the window. Weatherstripping is not as efficient as compression seals, and as a result slider windows don't match the performance levels of cranks.
While slider windows don't initially match the performance levels of casements or awnings, it is possible to improve the window's performance with additional efficiency features like Low-E coatings, additional glass panes, or ETI foam inside the window frame.
Picture Windows
Picture windows are excellent for letting in natural light and offer improved efficiency when compared to operable windows.
Although operable windows are ideal for home replacements because they combine functionality and efficiency, you don't always have to get crank or slider windows. 
Picture windows are an inoperable window style. Windows that don't open are more efficient than operable ones and can be used in a combination with casements and sliders or on their own. 
These windows are also good to consider if there are multiple windows in a room. That way some of your windows can be operable for ventilation, and some fixed to provide views and efficiency.
Window Warranty
So you figured out what type of installation is best for you. Maybe even got some ideas for window styles that fit your budget. 
How do you ensure that the replacement you're undertaking will last as long as possible. Unfortunately, too many homeowners leave this question after reading the words "lifetime warranty." But very few actually know what it means.
When it comes to windows, the term "lifetime" doesn't refer to your lifetime, or even the lifetime of the home. It refers to the expected lifetime of a product. Because the expected lifetime of vinyl windows is around 25 years, most "lifetime" warranties will cover your window for close to that period.
Another thing to keep in mind, even though the window is covered under warranty, not all the window components are covered for the same periods of time. It is important to know how long the window company will cover the vinyl extrusions, insulated glass units, and labour problems associated with the window installation. For example, Ecoline Windows covers vinyl extrusions for 25 years, insulated glass units for 25 years, and offers a 5 year warranty on labour.