Are retrofit window replacements worth it?

The answer really depends on the condition of your house, your existing windows, and the health of the wooden framing surrounding them. Remember, a retrofit window replacement is only suitable if there is no moisture damage or rotting wood in your frames. Because a retrofit installation doesn't remove frame components from the existing windows it may continue accumulating.
Another downside to these kinds of installation is that the exterior brickmould doesn't get replaced, and the window edges are covered with aluminum capping on the outside. Capping is a much less efficient alternative to new vinyl brickmoulds as it can simply trap in the moisture from the existing frame and cause it to continue deteriorating.
But if your old wood window frames are good as new and haven't been damaged by leaks, you can consider getting insert windows. Although it is less thorough, this kind of replacement on average can cost 15-20% less than a full-frame window replacement.
Today we'll look at two Calgary companies that specialize in retrofit windows. Both Meridian and Canadian Choice buy their windows from a supplier rather than manufacture their own windows.
Meridian Windows and Doors
Homestars: 9
BBB: A+
About
Meridian Windows and Doors services Alberta and Ontario markets. The company is family owned and operated.
Product
Meridian carries all standard styles and types of replacement windows. They specialize in insert installations, with an aluminum cladding finish. Generally, quality windows for insert installations come with a nail flange on the sides to fit the frame. Beware of companies that simply fill the gap between the retrofit window and existing brickmoulds with foam, as the foam on its own is not weatherproof and is not meant to support the window.
Certifications
Energy Star Rated
Warranty
Meridian has clear information about their warranty policy on their websites. The vinyl window components and workmanship are covered for up to twenty-five years. The insulating glass units are covered against seal breaks for fifteen years.
As with most Calgary window companies, the online complaints and negative reviews about Meridian are generally about the lack of service or fulfillment of warranty. As with other companies, unsatisfied clients complained that their calls haven't been returned, or that the company didn't take any initiative to resolve issues. There are also complaints about Meridian consistently cold-calling the same people and offering their windows through telemarketing.
Another thing worth mentioning is the pristine state of the company's Homestars page. Like clockwork, all the reviews posted in the last half a year are 10/10 or 8/10. Great reviews are excellent for attracting potential clients, but we know that many window companies in Western Canada offer incentives for positive Homestars reviews.
Meridian's score on Homestars actually improved since we last reviewed them, but there are some recent complaints on the page about lack of clean up after the installation is done.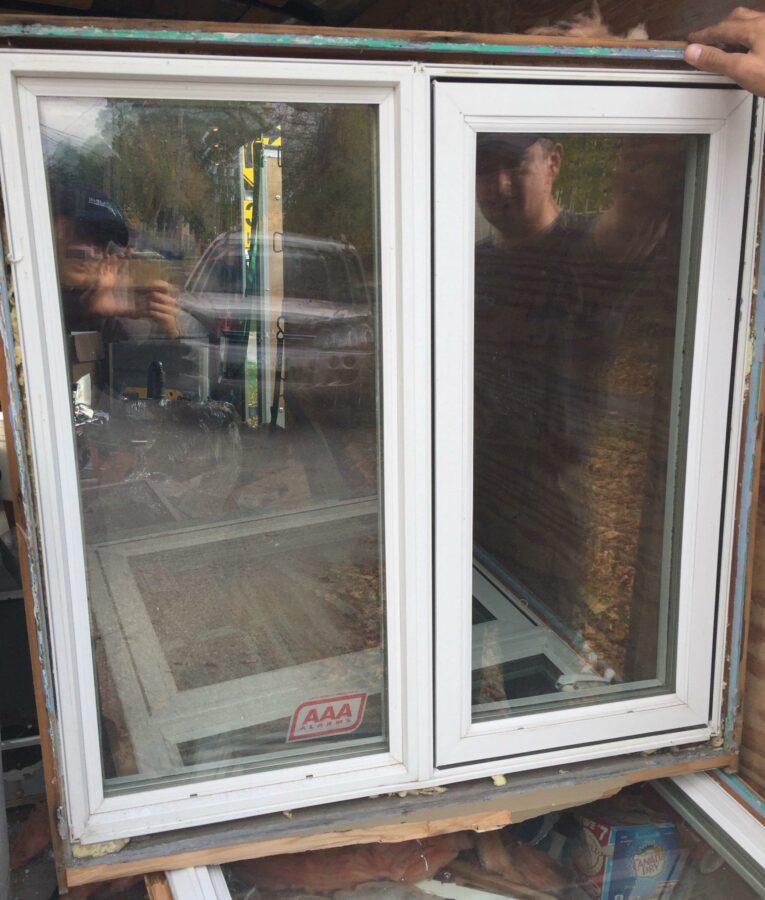 This is something that shouldn't ever happen. A retrofit vinyl window is being replaced just five years after it was installed, because of moisture damage in the wooden frame.
Canadian Choice
Homestars: 9.5
BBB: A
About
Canadian Choice Windows and Doors specializes in window replacement for residential homes. The company operates in Southern Ontario, Alberta, and Manitoba. As with a lot of western Canada companies, their windows and doors are manufactured in Ontario.
Product
The company carries all standard window styles, as well as shaped windows in a vinyl option. They also have choices for entry and patio doors if you are looking to do a replacement in the whole house.
Certifications
Energy Star Rated
WindowWise certified
Warranty
Canadian Choice also offers a lifetime warranty on their vinyl parts. The warranty section of their website explicitly states that it is for the lifetime of the products, so at least you know exactly what you're getting. Usually the lifetime of new vinyl windows in Canada is measured at 20 to 25 years.
Canadian Choice doesn't seem to offer anything different that other companies don't have in terms of product or installation. Where our research into the company lead, is to the discovery of all the negative feedback unhappy customers scattered all over the Internet. Though the company doesn't have a BBB page for the Winnipeg area specifically, there are several reports from other cities.
As with most companies, Canadian Choice customers that left negative feedback were dissatisfied with the communication process and wait times when it came to getting service for issues with product or installation.
Although there are overall some very positive reviews on the company's Homestars page, there also quite a few negative experience stories about the quality of the windows and the installations.
Conclusion
Consider these companies only if you have firmly decided to go the retrofit installation route. Both of these companies re-sell windows and they both have negative reviews about poor after-installation service.
Basing it off online reviews alone, Meridian seems like the better company between the two. While both have complaints about post-installation service, Canadian Choice also has numerous bad ratings about their product and work quality.
Check out these window company reviews:
What are The Best Calgary Windows and Doors Companies
All Weather Windows vs. Ply Gem
Supreme Windows and Doors vs. All Star Home
Andersen Windows vs. Ply Gem
Lux Windows vs. Jeld-Wen Windows and Doors
Cossins Windows and Doors vs. Greg Martineau Projects
Meridian Windows and Doors vs. Weather Pro
Cossins Windows vs. Lux Windows
Lux Windows vs Gienow Windows
Lux Windows vs. Supreme Windows