High-Quality Fiberglass Entry Doors – Get Your Best Offer In Edmonton
Strong, durable, and stylish, Ecoline's fibreglass doors offer aesthetics and security in one package. With a wide selection of custom designs, the possibilities are nearly endless when it comes to finding the perfect exterior door for your home.
1. Get a FREE QUOTE and we will bring SAMPLES to your home.
2. We will call you back during WORKING DAY
3. We guarantee Direct Price and Warranty from Manufacturer
or
Jul 11, 2022
Mar 16, 2023
The journey to a house begins at its door. It is a door that makes the initial impression and sets the style for the whole exterior. While its stylish look is crucial, it's not the only thing to keep in mind. Your front door should be exceptional in quality, craftsmanship, and security to perform its functions properly.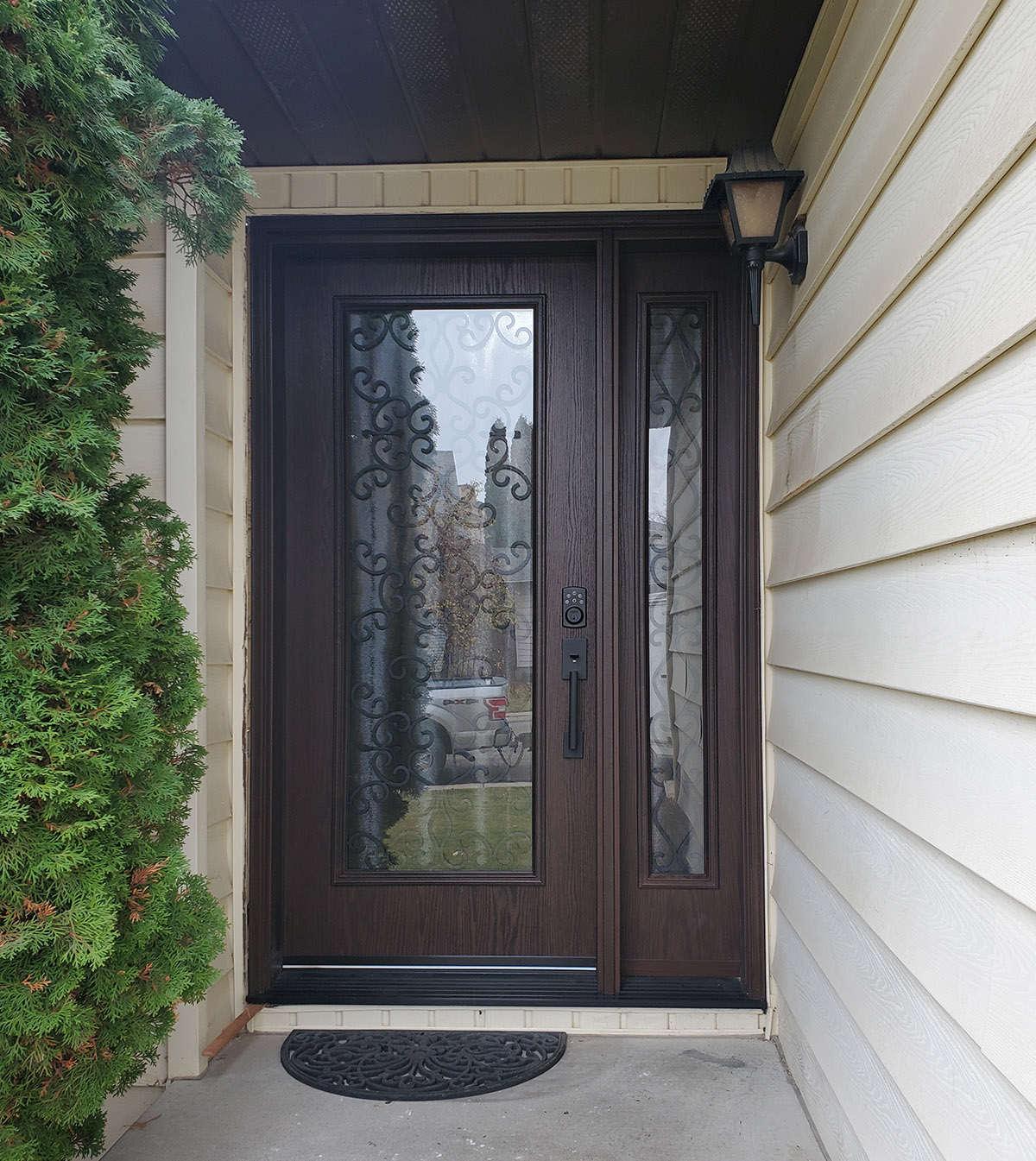 Therefore, Edmonton homeowners, who want functionality and reliability, choose fiberglass exterior doors. Combining distinctive style with efficiency, they provide relied-upon strength, stronger durability and an incredible sense of security. That makes fiberglass entry doors a perfect solution for homes in high-traffic Edmonton areas where an enhanced level of security is desired.

What are the types of fibreglass doors? Are they better than their wooden counterparts? How can you customize the new unit? Check out this guide and learn everything about fiberglass door installation in Edmonton.
What Are Fiberglass Doors?
Fibreglass doors consist of a core of rigid insulation lined with a fibre-reinforced polymer and often coated with artificial grain to give the appearance of wood. This material is light, strong, durable, and can be moulded into complex shapes. All this makes fibreglass doors a great alternative to wooden units and a perfect go-to option for your home.
Interested in this topic?
Or maybe you need our help with this?
A Complete Guide To Fiberglass Door Types and Styles
The right door can be the finishing touch to a carefully crafted home design. Therefore, picking the ideal door is something that shouldn't be taken lightly. We'll walk you through all of our fibreglass door types and options available in Edmonton.
Exterior Fiberglass Doors by Design
| | |
| --- | --- |
| | |
| Fibreglass Woodgrain | Fibreglass Smooth |
| | |
| Do you like the look of natural wood but want the strength of fibreglass? Then the textured fibreglass wood grain pattern is your best choice. We can reproduce the exact look of natural wood doors while maintaining all the advantages of fibreglass. This is where traditional aesthetics meet simplicity and functionality. | Fibreglass smooth design is one of our newest and the most attractive design options. Simple and elegant, it fits perfectly into any home in contemporary style, contributing to its aesthetic appeal. The fibreglass smooth design lets you customize the doors in a huge number of ways, bringing uniqueness and creativity. |
Exterior Fibreglass Doors by Configuration

Due to the combination of low weight and strength, fibreglass doors come in various sizes and configurations. Here are the most popular types of front fibreglass doors among Edmonton homeowners:

The single front door is the standard and most sought-after configuration that can be found almost anywhere. Their small size and simple operation make them pretty affordable. Single fibreglass doors take up less space, making them the ideal match for houses with smaller entries.
However, their simple design doesn't make them less aesthetically pleasing. A single entry fibreglass door can greatly decorate your exterior. We offer you a wide range of custom options and features to make your door unique and enhance your home's curb appeal.
Double fibreglass doors are less common among Edmonton homeowners – and that's what makes them so appealing. Double units really stand out, especially if you're a proud owner of a large house. They can help accentuate its architectural features.
Double fibreglass front doors are the perfect addition to a large entrance since they take up a lot of space. Just like single configurations, double units are available in a wide range of styles and custom features.
Fibreglass Doors with Sidelites
If you're in search of something really unique, modern fibreglass doors with sidelites may be exactly what you have in mind. Sidelites are vertical panels (often with inserted pieces of glass) that line the sides of your front door. Coming with glass, aside from being the ultimate aesthetic addition to the door, they let in an extra amount of daylight, brightening up your room.
Fibreglass Doors with Transom
Another way to improve the curb appeal is a fibreglass exterior door with a transom. Transoms are glass sections located above the door, making it visually higher and letting in extra light. If you want to make the space inside brighter without compromising privacy, fibreglass doors with transoms are your best choice.
With virtually endless customization and style options, you can make your fibreglass exterior door truly eye-catching.
Fibreglass Entry Doors with Glass

Combine the strength of fiberglass and the elegance of glass in your entry door. Fibreglass exterior doors with glass inserts are a great way to let natural light in, making the room seem brighter, bigger and more spacious. The amount of glass used varies depending on the design. Decide how much light you want to bring into your home with different options of glazing on your door.

Ecoline's Fibreglass Door Collection

Choosing the right exterior door with so many options available can be both exciting and challenging. To make things easier you can get inspired by our collection of the most aesthetically pleasing fibreglass exterior door models.
Discover the almost endless opportunities to transform your entrance.

Let your front door make a statement for your home. Choose from stunning glazing options to add light or a solid door to maintain privacy. Opt for a traditional or contemporary look. Select your custom colour to perfectly complement the overall design. With a door that can be customized to suit your design needs, while providing long-term durability and extreme strength… Well, you can't go wrong with Ecoline units!
Key Benefits Of Fibreglass Exterior Doors

Fibreglass exterior doors provide homeowners with many benefits. If you are unsure if fibreglass doors are right for you, learn more about what makes them such a good go-to option.
Having spent the time and money in choosing the right front door, you don't want to face rust, rot, or warping in just a few years. In this case, you'll be happy to benefit from the durability of fibreglass doors. They withstand adverse conditions, including low temperatures, harsh sunlight and heavy rain, without cracking or deforming. Fibreglass units don't shrink, swell or get dented, and this means that your door will not jam and let drafts in. Thus, a new fibreglass exterior door will provide you with many years of trouble-free service.

Fibreglass doors do not need special care, except for occasional wiping and general cleaning to keep them in good condition. The fibreglass may need repainting from time to time, but it will never look shabby.

When choosing doors for better energy efficiency, fibreglass is an excellent choice. They consist of a solid polyurethane core, which is one of the most energy-efficient materials. In addition, the doors have an excellent insulating ability, which will reduce the heat transfer between the outside and the inside. This is an important consideration for homeowners looking to save on their monthly energy bills.

When properly installed, fibreglass doors provide exceptional security. All our units come with heavy-duty hinges that are extremely difficult to break open from the outside, making your entry doors burglary-resistant. Durable material and additional security features such as smart locks will make your door super secure and keep your home well protected.

Fibreglass doors come in a wide range of styles, colours and finishes to match any home exterior. You can opt for various configurations and customize them to your liking to perfectly complement your home design.
Fibreglass Vs. Steel Vs. Wood Entry Doors: What's Better?

Choosing the right front door affects not only the appearance of your home but also its security. If you're thinking about replacing your front door, you've likely come up with three main options: wood, steel, and fibreglass. Each of them has its own advantages and disadvantages. So choosing the right material can be pretty challenging. Wood, steel or fibreglass entry door – what's better for your residence? When you appreciate all the ins and outs, you'll find out why fibreglass exterior doors are the best choice.

Fibreglass Vs Wood Doors

· Appearance

Fibreglass and wood are both very aesthetically pleasing exterior door materials. Wood gives an elegant and classic look that is unlikely to ever go out of date. With fibreglass, you can choose the appearance you want – both woodgrain and smooth finishes are available. If you admire the texture of natural wood but want low maintenance and durability, choose a woodgrain fibreglass design. A smooth finish, reminiscent of a steel door, is more suitable for a modern style.
Verdict: Fibreglass offers a wider range of looks – from traditional wood-like textures to modern smooth finish, painted in all sorts of colours.

· Maintenance

The fact is that wooden exterior doors require a lot of maintenance. Such units usually need periodic renovation of the finishing coating, including repainting. In addition, mould can appear on wooden doors due to moisture absorption. In turn, fibreglass needs very little maintenance without the need for regular repairs and painting. All they require is timely cleaning with soap and water.
Verdict: Wood will require more attention if you want it to look good, while fibreglass is virtually maintenance-free.

· Durability

Although wooden doors are quite durable, they are prone to weathering, scratches, dents, and damage from prolonged exposure to natural elements. Fibreglass is much better resistant to harsh weather conditions; it does not warp or rot from fluctuations in temperature and humidity. Therefore, fibreglass doors usually last longer than wood units and often carry a long warranty.

Verdict: In terms of durability, fibreglass exterior doors significantly outperform their wooden counterparts.

· Security

A wooden front door is not as secure as steel or fibreglass because wood is a less strong material, simple as that. A rotted wooden door will be less secure and much less effective in burglary protection. Properly installed, a fibreglass front door provides more security than most wooden doors. Since composite door frames are not affected by rotting, they ensure a stronger fixation of the screws on the frames for even more security.

Verdict: Fibreglass exterior doors will be more secure in the long run.

· Energy efficiency

In terms of energy efficiency, fibreglass entry doors are a clear winner. They tend to be better insulated than wood units and retain heat better thanks to their foam core which helps insulate them. However, wooden doors are a better choice in terms of eco-friendliness since wood is a renewable natural resource.

Verdict: fibreglass does a better job of energy efficiency, so fibreglass front doors will better balance comfort and energy savings.
Fibreglass vs Steel Doors

Both steel and fibreglass doors can improve the attractiveness of the exterior. Unlike steel doors, which can only be painted, fibreglass units can be painted or stained. Stained fibreglass doors replicate the specific texture of natural wood doors extremely closely and can look like units made from real oak, cherry, etc. Still, thanks to a huge number of different custom design options and various fittings, both materials can be harmoniously fitted into both traditional and modern house looks.

· Appearance

Verdict: Both materials look aesthetically appealing, but fibreglass entry doors have more design options and imitate the texture of wood better than steel units.

· Maintenance

Both types of doors require low maintenance unless you want to change the coating colour. Fibreglass doors are easy to clean with soapy water and a cloth. You can also use a water hose for cleaning because fibreglass is resistant to pressure denting. Moreover, fibreglass is more scratch-resistant. Steel doors are also easy to clean with a wet cloth. However, they cannot be pressure washed, since it speeds up rust formation.

Verdict: Both steel and fibreglass entry doors are very easy to maintain and clean. However, you need to make sure that rust does not appear on the steel doors.

· Durability

The more durable your exterior door is, the more money you will save in the future. Steel is a stronger and more durable material than wood. A steel door will serve you for years without the risk of deformation. On the other hand, steel is more prone to damage like dents or scratches than fibreglass. Fibreglass is less exposed to damage and external influences than both wood and steel; it also resists rust. This makes fibreglass doors the most durable option compared to wood and steel.

Verdict: Both types of doors are pretty long-lasting. However, fibreglass doors are less susceptible to scratches and rust, so they will last longer.

· Security

One of the biggest concerns homeowners face when choosing a front door is security. Due to the fact that steel is a very heavy and durable material, such a door is almost impossible to break down. Fibreglass is a lightweight material. This makes it a little bit more exposed to dents and manipulations. Still keep in mind that safety largely depends on the quality of the installation and your choice of hardware, in particular locks.

Verdict: Both fibreglass and steel doors are very reliable and secure options when properly installed.

· Energy efficiency

Energy-efficient front doors help save on heating in winter and air conditioning in summer. Steel doors are more energy-efficient than wood units, but this material is a good conductor of temperature, which means it can be affected by weather fluctuations. If your steel door is not of the highest quality, it will not save energy well. Fibreglass does a great job when it comes to energy efficiency. Well-made and properly installed, they provide good insulation and help keep a constant temperature inside.

Verdict: Although steel doors are energy efficient, fibreglass doors are superior in this regard.

Wrapping up: in terms of energy efficiency, durability, and maintenance, fibreglass doors are hard to beat. They are not susceptible to external influences and rotting like wood doors and are not prone to scratches and rust like steel doors. In addition, they provide superior safety and reliability. With a wide range of customization options, you can make your new fibreglass doors to have both a wood-like appearance and a smooth steel-like finish.
Custom Options & Features

Looking for a 5-panel fibreglass exterior door that has the natural look of wood to fit in with your traditional design, while still being equipped with the latest locks? Everything is possible at Ecoline. You can fully customize your front doors with exterior colours, hardware finishes, a number of panels, as well as glass options.

Stain Options

Ecoline's wide range of stain options ensures your fibreglass entry door blends in with your home's exterior.

Our Espresso, Antique Brown, Tavern, Dark Chestnut, Stage Mahogany, Cherry, Walnut, and Oak colours provide the look of real wood while maintaining the strength and quality of fibreglass. You can also go with more neutral shades like White, Black, Creamy, Red, etc.

You're welcome to customize your new door with literally any colour you like, and our experts can advise you on the most suitable option.
Number of Panels

A multi-panel door is a great way to make your entry unique. Such a unit is not made from a single piece of material but consists of panels. This makes the door aesthetically appealing and its structure more rigid.

You can customize the design of your fibreglass entry door by selecting the number of panels (from 2 to 6).
| | | | | |
| --- | --- | --- | --- | --- |
| 2-panel steel door | 3-panel steel door | 4-panel steel door | 5-panel steel door | 6-panel steel door |
| | | | | |
Way of Operation

Will your door open inward or outward, be right-handed or left-handed? You decide! We will craft a door that will operate in the most convenient way for you.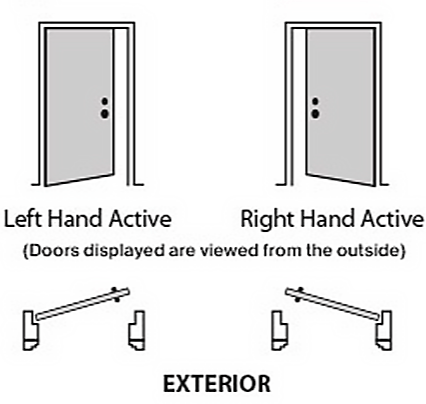 Privacy Glazing

Want to add more light without compromising safety? Our private glass is just what you need. This feature adds a textured look to the glass while providing the desired level of privacy.

Select among Delta Frosted, Chinchilla, Pinhead, Acid Etched, and Silvet options for glass inserts in your front door and no longer worry about security.
Hardware Solutions

Details matter. This is what can make your front door as convenient and secure as possible. We offer a wide range of custom hardware to make your fibreglass door unique and easy to use. Here you can opt for:
Peephole
Pet door
Custom-styled hinges
Multi-point hardware options
Smart locks paired with the mobile app
How Much Do Fibreglass Front Doors Cost?

Fibreglass door prices vary significantly depending on the details of the project. To calculate the cost of installing a new door you need to take into account the following things:

a door size
configuration type
the presence of transoms, sidelites, and glass inserts
finishing features
custom hardware
At Ecoline, the price for a single fiberglass door ranges from $1470 to $1740.
To find out an approximate cost of a new fibreglass door, you can use our online door cost estimator or request a free quote from us. We are ready to discuss your project in as much detail as possible.
Even if installing fibreglass doors is expensive in the beginning, it will help you cut costs down the road. Our units are extremely durable, they can last many years without the need for major maintenance and repair.
Installing Fibreglass Doors in Edmonton

Fibreglass doors can ultimately enhance the look and feel of your house. But if you want your front door to work as efficiently as possible, you must make sure it is properly installed. Correct installation according to all requirements is the key to both the aesthetic appearance and functionality.

Every detail counts for the proper fibreglass door replacement. DIY installation quite often leads to a whole range of problems and consequently to additional costs. That's why it's better to entrust the task to professionals. From initial design to problem-free installation, our experts are here to assist you. Let the Ecoline team help you get started with a free quote.
More recommendations from our:
FAQ
How much does a fibreglass door cost?
The final cost of a new fibreglass door depends on several factors: its type, its size, glazing inserts, custom features, etc. To find out the approximate price, use our online cost estimator. You can also request a free quote from us providing your project details.
Are fibreglass doors worth it?
Yes, absolutely. A fibreglass door is a great choice if you're looking for a durable front door that provides an attractive look with little to no maintenance. In addition, fibreglass is a very versatile and flexible material, meaning that your door can be customized in different styles, designs, sizes, colours, and finishes.
Are fibreglass doors safe?
When properly installed, fibreglass doors provide a good level of security. Composite door frames have great screw holding force, while the combination of glass fibres and plastic creates a crushproof barrier that is difficult to break.
Are fibreglass doors energy-efficient?
Fibreglass doors are extremely energy-efficient. Fibreglass is a poor heat conductor on its own and all units are made with a thick layer of insulating foam. Given this, fibreglass outperforms other door materials in terms of energy efficiency.