Understanding the options and choices when it comes to your custom windows can go a long way in helping you make the best choice for your home.
In order to understand how different window parts come together in your replacement project, you may want to get a refresher on some window industry terminology.
While different window manufacturers come out with different products, basic window components like brickmoulds, jamb extensions, casings, and even frame profile sizes have to line up just right in order for your installation to result in the highest energy efficiency. Let's take a closer look at how all of these components play together.
Looking for information on egress windows? Check out these articles:
What Size Should Egress Windows Be?
Egress Casement Windows: It's All In The Hinge
Window Profile
One of the more visible options when it comes to installing new windows, or combining them with existing used windows, is the profile (or the width) of the frame.
Slider hung, and end-vent windows generally have a low profile frame. Casement and awning window generally has a high, or wider, frame. Fixed picture windows can be manufactured in both high and low profile options.
This is especially important to consider when you're looking to put in new windows beside existing ones. Make sure to take the window frame profile into consideration, as it is the number one factor ensuring the closest match.
Deciding to go high or low can also influence how much light a certain room receives. A higher profile frame means a lower surface area for the glazing and ultimately less light. Consider the table below.
These calculations were made for the same style fixed picture window. As you can see, the difference between the glass surface area can be fairly significant in smaller windows. Take this into consideration, as well as the existing window types in your home, when looking for new windows.
Casing
Another more obvious aesthetic feature of your windows and doors is the casing or the trim around them. While different manufacturers can carry different sizes, vinyl casings for standard window sizes are usually 2 5/8In or 3 3/8In. Casing for round shaped windows is usually 2 and 5/8 inches. The size of the casing used also depends on the size of the brickmould used for your replacement.
Brickmould
A brickmould is a strip of material, on the exterior, used to close the gap between the wall and the frame of the window. It also acts as a seal against water and air infiltration. For standard Canada windows and doors replacements, the brickmould size is usually made to match the brickmould on the existing windows. Most often 1-inch brickmoulds are used for replacement, but can vary from 3/4 of an inch to an inch and 7/8th. In special cases, bigger plank brickmould can be used.
Jamb Extensions
A jamb extension is a piece of material that covers the exposed part of the rough opening while connecting the casing to the frame of the window. The size of the jamb extension depends on the width of your custom window. These widths are different for different manufacturers, and several standard sizes of jamb extensions exist. Our windows, for example, are made 3 and 1/4 inches thick. For houses with 2×4 wall construction, the installation usually requires 1 and 3/8-inch jamb. Houses with 2×6 wall construction use 3 and 3/8-inch jambs. Be mindful of the outside finish on your house. Siding, for example, may require longer jamb extensions. The manufacturer also offers jambs in 2 and 3/8 inches and 4 and 5/8 to match individual finishes on different houses.
Understanding how different parts come together to make an energy-efficient window can go a long way in helping you determine the type of windows you would like to see in your home. It can also go a long way in preparing you for your consultation appointment and ensuring you ask the right questions.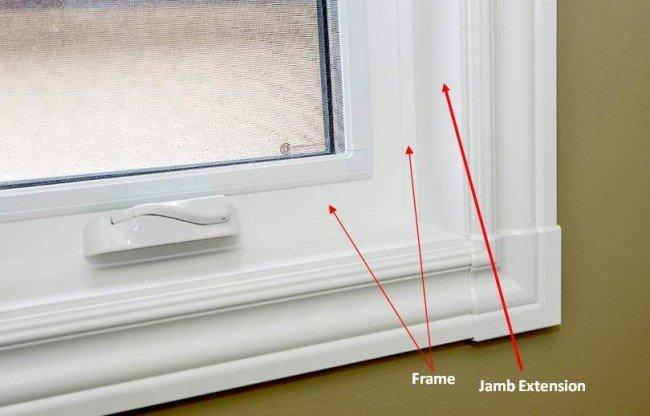 All these factors contribute to limitations when it comes to maximum window sizes companies can manufacture. The chart below demonstrates the maximum standard window sizes for common window types that our production line makes.
Minimum and Maximum Window Sizes in Canada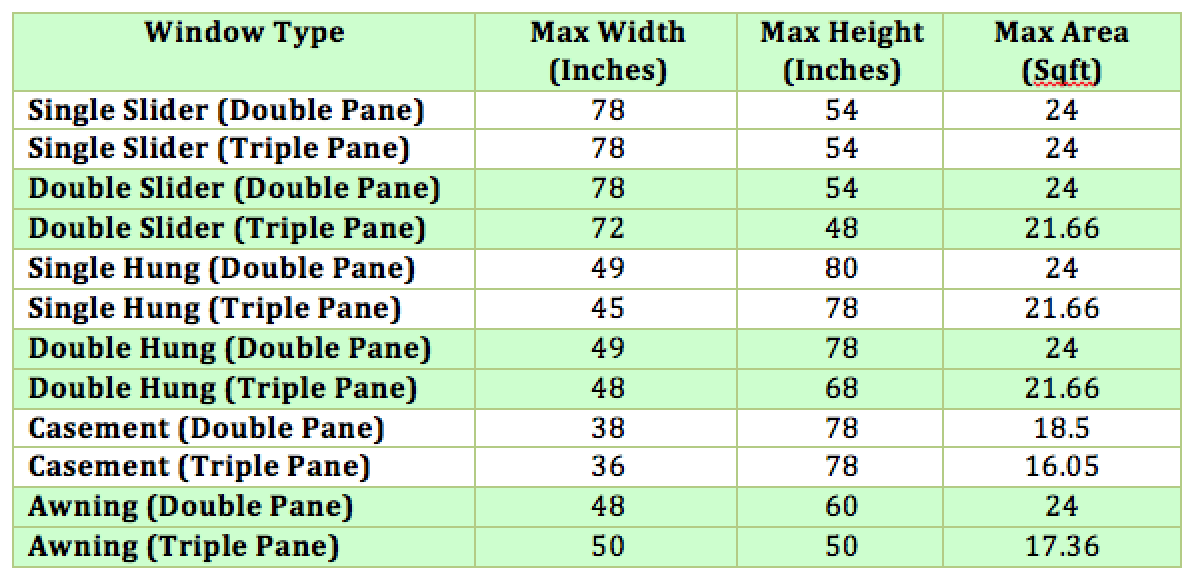 Keep in mind that both maximums can't be used at the same time. What is more important is that the maximum square footage is maintained within the parameter. Find out what you should be aware of if you're looking for oversized windows for your replacement project.
Check out:
Find Out The Cost of Replacement Windows
How To Compare Replacement Windows
One Thing You MUST Know Before Scheduling A Window Replacement Quote