What You Should Know About Bow and Bay Window Prices
1. Get a FREE QUOTE and we will bring SAMPLES to your home.
2. We will call you back during WORKING DAY
3. We guarantee Direct Price and Warranty from Manufacturer
or
Bow and bay window replacements can be some of the more complicated and challenging projects. This applies both to the work required, and providing an accurate price or quote for the project. In today's post, we'll discuss some of the problems associated with bow/bay windows, show you some pictures of completed work, and discuss risks associated with these projects.
Bay windows generally involve either an addition of a structure (build-bay) or fixing and replacing parts in the existing bay. In older homes, the structure surrounding the window is often rotten or water damaged, and these issues cannot always be foreseen at the time of measurement.
Vinyl bow windows are a series of four or more adjoining window units, with five being the most common. Although bow windows don't require the additional wall structure to be built, because these windows take up a fairly large area, there is always concern about the state of the wall structure surrounding the windows.
How much is bow window replacement project?
A 6 Panel Bow Window replacement project costs on average $3,900 – $4,700.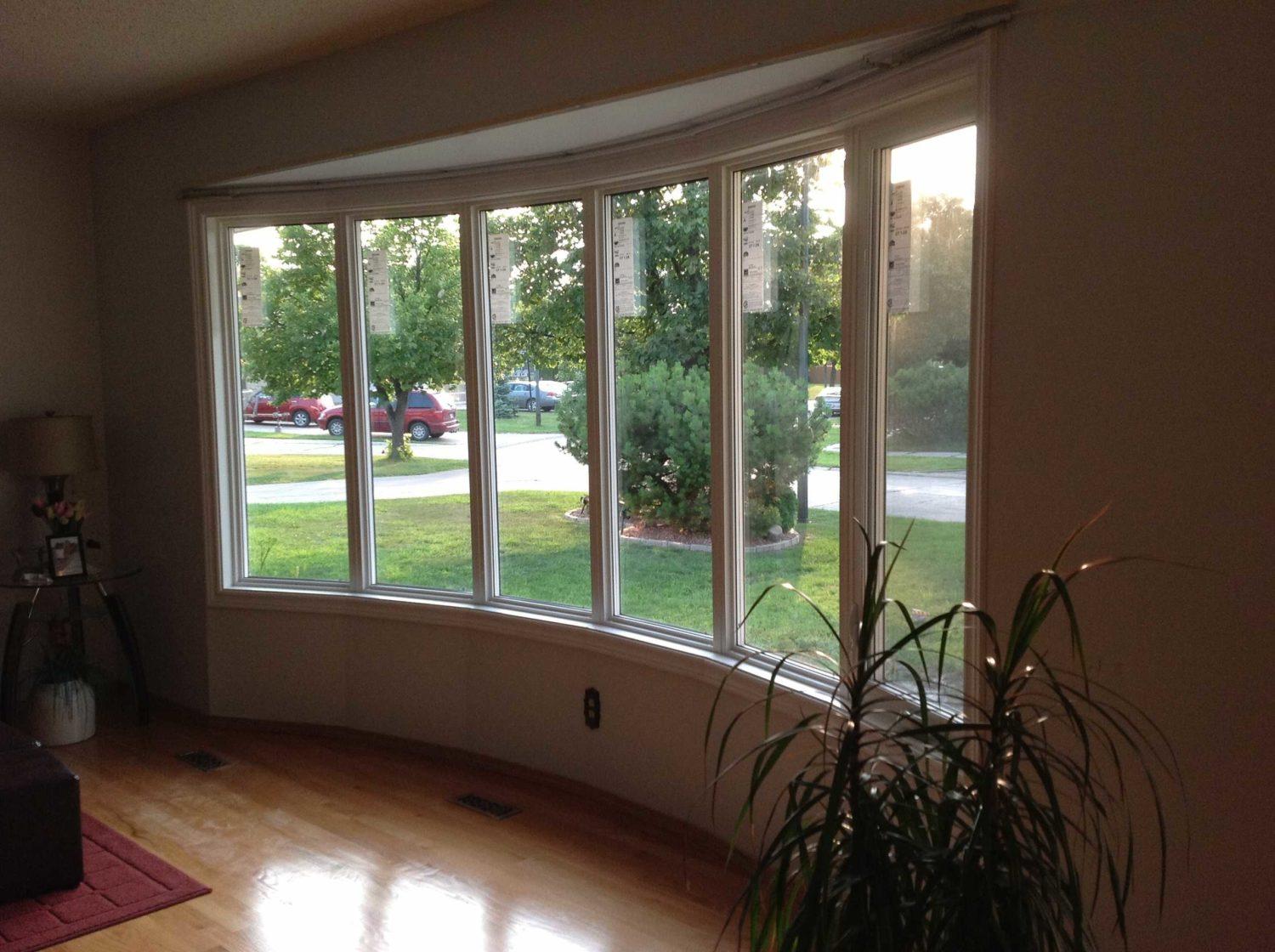 A 5 panel Bow window installation ranges between $3,300 – $3,900 on average.
What should you know about bay windows?
Vinyl bay windows consist of three adjoining window units.
The price for the Bay Windows such as shown below will usually range between $2,600 to $3,500.
Popular window style: kitchen bay windows
Kitchen bay windows usually already exist in some homes. It is not as complicated a project as a massive front bay window, but it still requires some skill and knowledge to ensure your windows are installed without leaks or drafts.
A small kitchen bay window can range in price between $1,900 – $3,635.
Bay and Bow Windows: The Hidden Risk
If you are considering a bay or bow window replacement make sure to check out this useful post: Bay Windows: Beware The Hidden Costs
One of the big "no-no's" we always mention when it comes to discussing window replacements are hidden costs. And generally, that is true. When a window company provides you with a quote, all the work and materials should be accounted for, so that the amount of the contract is the amount you pay in the end.
Except…
The one real exception to this case are bay and bow windows. As we mentioned above, these windows take a considerably large area in the wall structure. Because the condition of the wall affects the condition and performance of the windows, there are more chances for things to be wrong in bigger openings.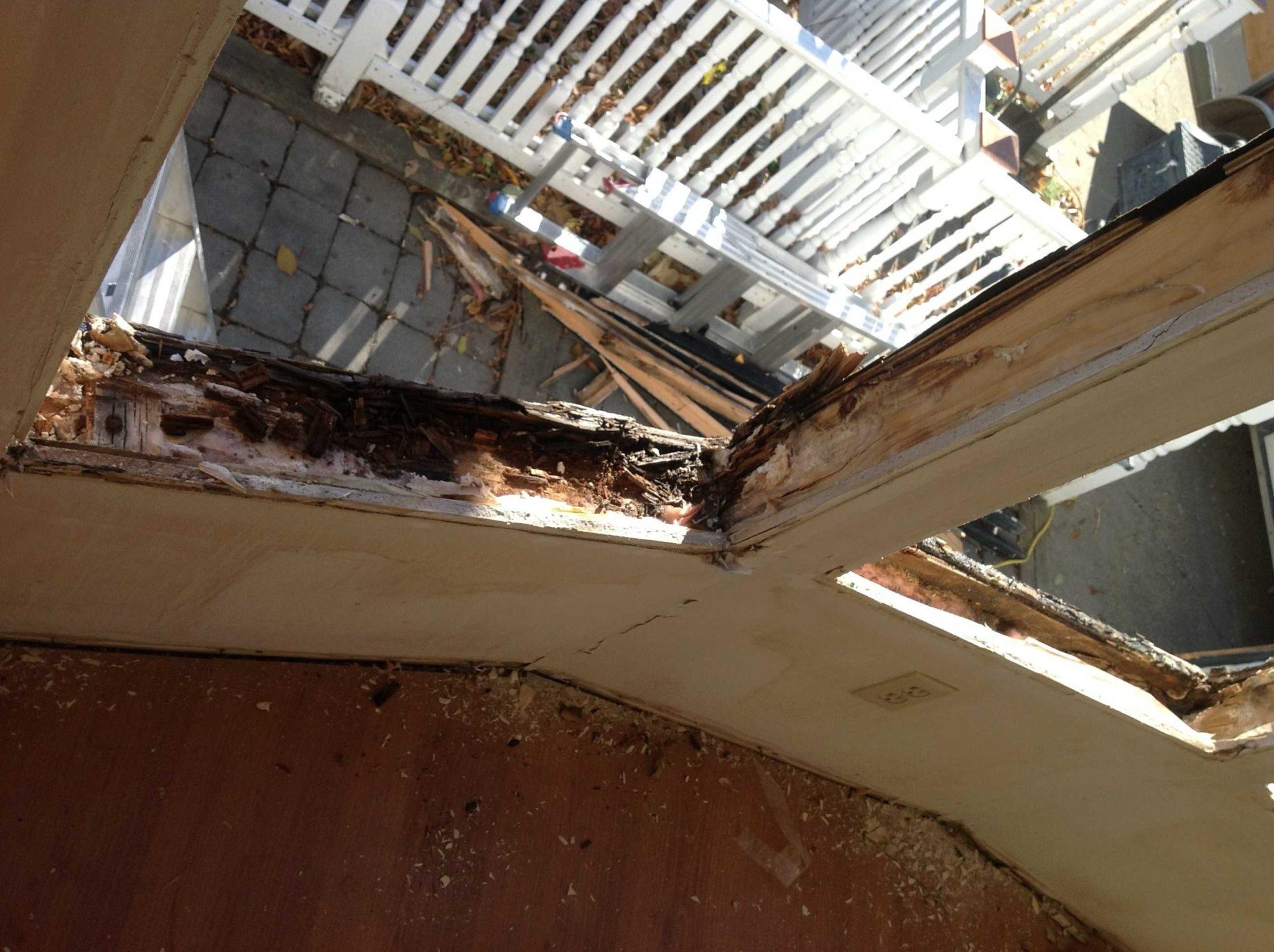 It is often difficult to tell if the there is moisture damage in the frame until the window is out. These walls look fine, but it's a mess on the inside.
Consider the picture above. While the wall looks acceptable on the outside, it is completely rotten on the inside. Unfortunately, something like this is impossible to tell during the measurement process, and can only be recognized once the window is out. Because the wall still has to be fixed in order to install the new window, additional work was required in this case.
This is why we often give bay and bow window quotes with caution. If there are changes to the price of your bay window installation, be sure to discuss with your project consultant what these changes are based on, and what additional work is being done to reflect the increase in cost.
Check out these window replacement articles:
Find out how we price our replacement windows
INFOGRAPHIC: how the window replacement process works
Learn about what makes us a good fit for your project