Despite the ups and downs in the economy, affordable housing continues to be in high demand in Western Canada, especially when it comes to rental properties.
As a landlord, you may be living separately or together with your tenants, but you are still responsible for ensuring that the dwelling occupied by your tenants is in proper working condition.
Common Window Replacement Questions For Every Landlord
When it comes to replacing or upgrading windows in a rental property, there are several questions that come up over and over again:
Do landlords have to replace windows?
Every tenant has a right to live in safe conditions. Every landlord must make sure that none of the house windows posses any threat to the tenant's health caused by damaged windows, broken window glass (window panes), rotting elements or mold. Yes, the landlord must fix or replace windows to provide livable and safe conditions.
Who pays for a damaged window, landlord or tenant?
If the damage of house windows is caused by wear and tear then it's the landlord's responsibility to replace broken windows and make sure it's safe. If the damage caused by tenant's negligence then it's tenant's responsibility to cover the cost of window replacement or repair.
Does landlord have to fix drafty windows?
The tenant's responsibility is to take good care of the rental property by keeping it clean and free of damage caused by tenants. The landlord's responsibility is to keep the property safe and sound to provide with livable conditions.
Who's in charge of arranging the window replacement project?
Depending on their relationship with the tenant, property owners want to have different levels of involvement in the project. Unfortunately, most often than not they are simply too busy and want to leave as much of the process up to the tenant. This is far from ideal. Though it may not be convenient, as a property owner you should treat the replacement as you would if it were your own house. Because you are ultimately paying for the windows and your name is on the contract it is absolutely crucial that as the owner you are present for the initial quote, contract signing, and the installation of the windows.
You can generally leave the scheduling of the measurement and installation up to the tenant, but make sure you are there for all the appointments that require decisions to be made or sign off on the satisfaction with the job. This way you will not only know what you are paying for but will also have an upper hand if the window company tries to cut corners behind your back.
Because you are signing the contract, make sure that everything you agreed on verbally is put in writing, and the type of windows, hardware, and installation is detailed in the agreement.
Which windows are the best value for the money?
Depending on the condition of the windows in your rental property you may have to decide between a full-frame or a retrofit installation. The two types of window installations are very different and don't cost the same. Old wooden windows, for example, can often be retrofitted if the frame isn't rotting. With worn out aluminum windows, it is almost always better to replace the whole unit.
Most landlords want to spend as little as possible on replacing or upgrading the windows. The general thinking is that tenants don't care about how good the windows are and won't go out of their way to treat them properly anyway. Some landlords also don't care about efficiency as much because the tenant is paying their own utility bills. But there are ways you can maximize the performance and efficiency of the windows you get without sacrificing your own money on an improvement that probably won't result in a rent increase.
When it comes to picking the actual type of windows you also have a choice. Slider or hung windows are generally worse performing (i.e. cheaper) than casements or awnings. Another question a lot of landlords may have is whether triple-pane windows are really worth it? Regardless of the number of the panes, the windows you end up getting should meet the minimum Energy Star requirements for your area.
You can see the Canadian Energy Star zones here.
Because modern windows feature a lot of options for add-ons it is still possible to make double-pane windows meet climate zone criteria. Inert gas fills such as Argon or Krypton can be used in most windows and significantly improve heat loss. Low Emissivity coatings on the glass are another great add-on that helps keep warm air inside in the winter and deflects heat in the summer. These upgrades can sometimes cost way less than an extra pane of glass, but provide comparable energy ratings when used together.
What are the fire code rules for windows in Canada?
It is important to know – especially for landlords with basement apartments – that every room that is used as a bedroom MUST have fire-code or egress windows.
Below are the minimum size requirements for egress windows in Canada: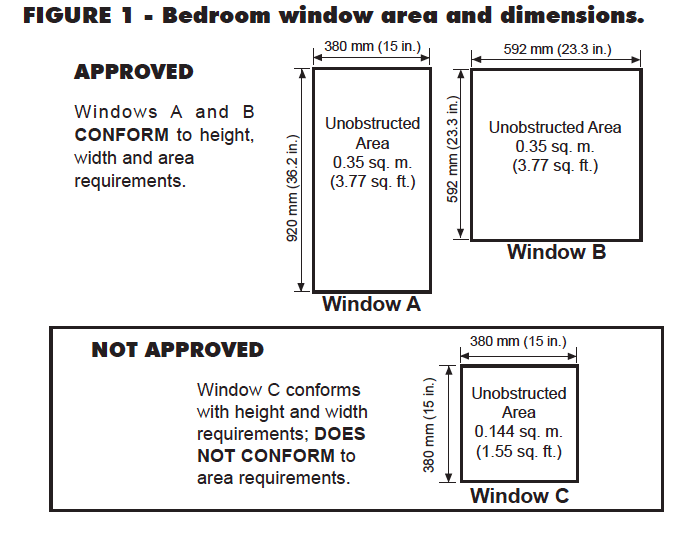 As you can see, all egress windows must adhere to minimum height, width, and surface area requirements. It is often possible to cut into the wall to expand the opening in order to meet the fire code. However, not a lot of replacement companies do their own cut-outs, therefore you may have to be responsible for arranging the cutting work and planning for it to be done before the installation. Cut out work that is done to the sides of the existing windows also requires a permit in most municipalities. Window companies are generally not responsible for obtaining building permits meaning you are responsible for doing that as the property owner.
Is it better to buy windows in bulk?
As a property owner, you may consider changing your windows in bulk. Although in previous posts we discussed the pros of trying a company for just a few windows first, landlords who buy in bulk get one major advantage. The more windows you buy, the more likely you are to get a discount on the order. This can be especially beneficial if you own multiple rental properties and are considering doing the replacement in more than one location at once.
Can replacement windows be claimed on the tax return?
As with any renovation that can be considered an improvement or an upgrade to the existing condition of the home, replacing windows in a rental property can be claimed as a "capital expense." Keep in mind that under the Capital Cost Allowance (CCA) rule you can only claim a portion of the expenses in the first year, and for a number of years after.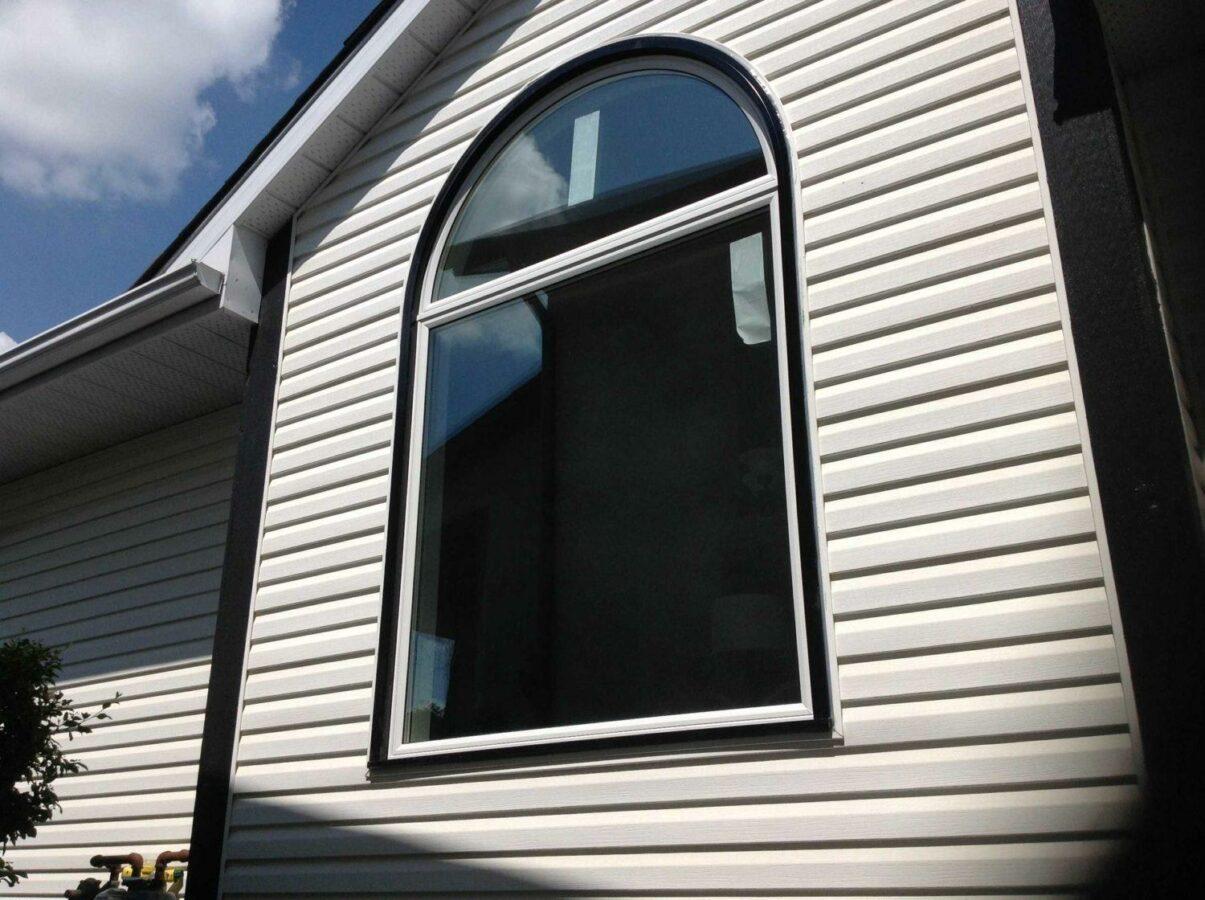 And as a final thought, remember the importance of proper window installation.
There is much talk online by landlords and property owners about saving on the replacement costs by installing the windows themselves. And it's true, someone with a bit of experience and a knack for handy work can figure out how to do an installation. But no matter how good or efficient your windows are, they may be worth very little if they are not installed properly. Good installers know the ins and outs of the job and can do the best possible job to create a good seal around your new windows. Most companies also offer extensive labour warranties, meaning going with a professional installer is just one less thing for you to worry about in the event something goes wrong or needs repair.
Getting quality windows that are properly installed will not only mean you don't have to get another replacement for years to come but will also be able to save on costs associated with heating or cooling your rental property.
Check out:
Learn The Cost Of Window Replacement
How To Compare Replacement Windows
One Thing You MUST Know Before Scheduling A Window Replacement Quote