Casement Windows in Winnipeg – Why Worth Choosing?
Our stylish and high-performance casement windows featuring comfortable crank handles for easy opening and ventilation are offered in a variety of configurations. Increase energy efficiency with our units – get the best window replacement deal in Winnipeg.
1. Get a FREE QUOTE and we will bring SAMPLES to your home.
2. We will call you back during WORKING DAY
3. We guarantee Direct Price and Warranty from Manufacturer
or
Jun 24, 2022
Nov 27, 2022
Things would be a lot easier with aesthetically appealing exterior casement windows. Easily operated, they offer excellent ventilation while minimizing energy loss. Casement windows are a good match for any home in Winnipeg, whether it's designed in a traditional or more contemporary style.
Ecoline aims to provide you with the most elegant yet most energy-efficient windows in today's market, so you can be sure of the best view of the world outside. Let's dwell a bit on the key benefits and features of casement windows. From our guide, you'll find out why new casement windows are your best choice.
Common Casement Windows Styles
Standard Casement Window
A standard casement window is a unit that opens outward by being hinged to its frame on the side. This model looks like a picture window since the casement unit doesn't have any rail in contrast to sliding of hung ones. The crank mechanism and the turnable handle ensure that such windows are as user-friendly as possible. This window is a great option for hard-to-get-at places since you can open and close it with one hand.
Casement Fixed Window
A fixed casement window is a unit without opening sashes. Fixed casement windows are rarely used alone, as they don't provide ventilation at all. More often they are combined with opening units. This design will last much longer – after all, the fewer mechanical parts a window has, the lower the likelihood is that its components will fail. The combination of fixed and opening casement windows is an excellent source of daylight and fresh air.
Egress Casement Window
An egress casement window is a unit that will provide you with an escape route in case of an emergency. This model opens easily and quickly and does not create obstacles to exiting outside. The egress casement window is usually small, making it an ideal choice for basements and rooms with limited space.
Benefits of Ecoline's Casement Windows
Delivering classic lines and effective performance, casement windows are attracting more and more Canadian homeowners. If you're looking for high-end casement windows for sale in Winnipeg, look no further than Ecoline. We are proud to provide products of the highest quality that meet our customers' needs and requirements. Here are the top advantages our casement windows may offer you:
Exceptional energy efficiency
Casement windows provide the best energy efficiency among opening models. These units have outstanding airtight seals to prevent air leakage.
The convenient hand-crank mechanism makes casement windows super easy to close and open. These units are perfect for hard-to-get places since their operation doesn't take much effort.
Casement window design allows units to be fully opened and they effortlessly fill any room or space with fresh air.
Locks on casement windows ensure increased security. Their operation mechanism does not allow them to be opened from the outside.
Extremely low maintenance
On average, casement windows will last you 20-25 years if properly installed. On top of that, they're super easy to clean – in most cases, you just need to wipe them to get rid of dust.
How Much Does Casement Window Replacement Cost?
Casement windows tend to be well-priced due to their reliability and exceptional functionality. The top factors to consider when budgeting for window replacement are the size and the type of glazing.
At Ecoline, the average price for a small double-glazed casement window ranges from $565.00 to $920.00.
Large casement windows will obviously have a higher price since they have a huge glazing area. Triple glazed units are also more expensive to manufacture due to additional glass pane and increased weight.
However, keep in mind that energy-efficient casement windows can help save on utility bills. Therefore, their installation is extremely beneficial for homeowners.
You can find out the approximate cost of your project with the help of our online price estimator. Enter your parameters such as casement windows sizes and type of glazing and get a price range. You can also request a free quote. Our team will do their best to respond as quickly as possible.
Request a free quote in Winniprg
Or maybe you need our help?
Casement Window Types You Can Get At Ecoline
Design solutions are virtually endless with combinations of single, double, and triple casement windows having one, two, or three sections respectively. Each with its own benefits, these units allow you to create an appealing look and highlight the unique character of your exterior.
A single casement window is a perfect replacement option for small rooms where good air circulation is still required – such as a bathroom or basement bedroom.
Double casement windows can help you make the most of your space, visually expanding the room and getting rid of the feeling of clutter. These units are perfect for a bedroom or a larger kitchen.
If you want to maximize the space with natural light and thus save on electricity, choose triple casement windows. Installed in the living room, they will provide you with a wonderful view of the world outside.
Once you decide on the right type of casement windows for your home, you'll have a lot of colours and details to choose from.
Make Your Casement Windows Unique
You can order your one-of-a-kind unique custom window due to the large variety of Ecoline options for customization. By choosing custom shapes and sizes, you can style casement windows that fit perfectly into your house, acting as a key emphasis of the exterior or complementing the surrounding elements.
Window Frame Colours
Standard white frames do not suit you? Looking for something more eye-catching? Ecoline's units come in a wide range of colours to perfectly complements your home in any style.
Choose elegant and light shades like cream, almond, cashmere, pearl, ivory sandalwood, and sandstone to highlight the minimalist aesthetics.
Black, midnight surf, commercial brown, windswept smoke, and other dark shades may become a key design element that attracts a lot of attention. They are perfect for high-tech or loft-style houses.
Bolder and more unusual colour choices such as forest green, Venetian red, and maize will become a bright accent and funk up any home design.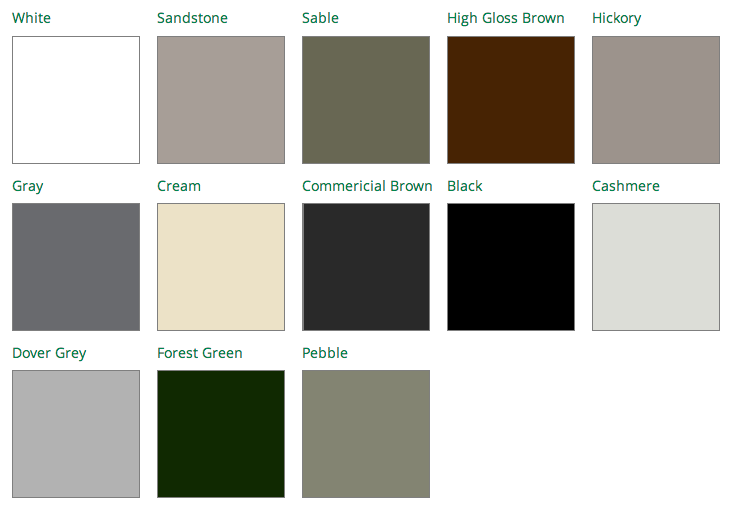 The choice is yours!
Privacy Glass Options
If you want your window to let in light but are looking for a way to hide the view outside, consider textured and colour glass options. Besides clear glass, we offer several unique glass designs including Bronze Tint, Grey Tint, Rain, Glue Chip, Frosted, Silvet, and Acid Etched to provide some privacy where you need it. Casement windows fitted with textured glass are perfect for bathrooms, bedrooms on the ground floor, or any other room where you want to limit the view inside.
To ensure privacy, you can also opt for mini blinds. Available now in multiple colors, our custom blinds will hide your space from excessive sunlight and prying eyes.
Custom Window Shape
One of the best ways to showcase the original style and character of any home is to install windows that differ from the standard models. Modern window technologies allow us to produce a wide range of shapes.
Original and compelling units will add aesthetic appeal to the house, muting or emphasizing the geometry of the lines.
The most sought-after custom shapes include Extended part round, Circle, Octagon, Half-round, Triangle, Pentagon, etc.
Keep in mind that the installation of such a window requires special skills. Therefore, it's better to entrust such a project to specialists having experience in working with similar structures.
Type of Glazing
Double-glazed windows are considered standard for Canadian homes. Double glazing means that the unit is made of two layers of glass. As a rule, this is enough to keep the house warm, quiet, and secure. But if energy efficiency is your top priority, consider triple glazing for your windows.
As the name suggests, triple-glazed windows consist of three layers of glass. Such units are superior to double pane casement windows in terms of reliability, energy efficiency, and sound insulation.

Multi-pane windows can be filled with a special gas (typically argon or krypton) which serves as an insulating layer. This technology reduces heat transfer through the window glass.

On top of that, Ecoline offers to add low emissivity (LoE) coating – an extremely thing transparent coating that keeps your home warm or cool by reflecting inside temperature.
Window features that increase the energy efficiency of your home will help you significantly save on heating bills in the future.
Interested in this topic?
Or maybe you need our help with this?
Casement Vs Other Window Types: Learn The Difference
Casement windows are exceptionally energy-efficient, second only to a fixed picture window. But do they outperform different types of windows in other ways? Let's compare the most popular models and see what makes the window casement such a good choice.
Awning Vs Casement Window
Both styles use a crank mechanism and both provide good opening and excellent airflow. So what is the difference between awning and casement windows? It lies in the way they are hinged: awning windows are top-hinged while casement windows are side-hinged. The way they are opened provides each with some advantages.
Awning windows:
Casement windows:
Pros
Pros

are great for rainy weather, keeping moisture out
tend to be quite reasonable-priced
highly placed, provide more privacy

are available in different sizes
are easier to clean
are more energy-efficient
are a great option for egress windows

Cons
Cons

can be challenging to clean
have a maximum size smaller than other styles
provide an imperfect escape route

tend to be more expensive
are undesirable to open in rainy weather
Sliding Windows Vs Casement
The answer to the question of which is better: casement or sliding windows comes to their structural design. Casement windows are equipped with outward-opened sashes while sliding windows have sashes that slide sideways to open.
Sliding windows:
Casement windows:
Pros
Pros

are easy to operate
require less maintenance since having no crank
don't need outside space for opening

take up less wall space
are more energy-efficient
open to the full so provide excellent ventilation

Cons
Cons

provide less ventilation since the sash opens only half of the entire window
take up more wall space
without good sealing, are less energy-efficient

tend to be more expensive
require space outside to open
have the crank that may need timely service
Double Hung Windows vs Casement
Double-hung windows opening by lifting the sashes go up against the casement units in the modern market. Both models have many style options, provide outstanding air circulation and offer a stylish look but differ in their functionality.
Double-hung windows:
Casement windows:
Pros
Pros

are easy to clean thanks to tilting sashes
don't require exterior space
tend to be a more budget-friendly solution

are more energy-efficient
provide an unobstructed view
more secure against burglary
provide better ventilation

Cons
Cons

are less energy-efficient
less secure against burglary
have a divider between the sashes which obstructs a clear view

are more challenging to clean on the upper floors
tend to be more expensive
are less safe for kids due to the full opening
Tilt Vs Casement Windows
Tilt windows are very different from the casement ones in their design. They consist of one fixed and two operation sashes, which swing inward when opened. As a rule, such units take up a lot of wall space and are only suitable for large openings.
Tilt windows:
Casement windows:
Pros
Pros

provide a lot of daylight
allow ventilation in rainy weather
are perfect for bigger openings

have a more reliable mechanism
are suitable for smaller openings
are more energy-efficient

Cons
Cons

are less energy-efficient
require a lot of wall space

are less safe for kids due to the full opening
are better not to open in rainy weather
Picture vs Casement Windows
Picture windows are non-opening models and this is their main difference from the casement units. Since they don't provide ventilation, picture windows are rarely used alone – more often homeowners combine them with opening units.
Picture windows:
Casement windows:
Pros
Pros

have a large glass area letting out plenty of light
are more affordable
are more secure

can be used independently
provide excellent ventilation
are easier to clean

Cons
Cons

do not allow ventilation
are difficult to clean from the outside
need to be used in combination with opening models

tend to be more expensive
are more susceptible to external influences
less secure due to opening
More recommendations from our:
FAQ
How do casement windows open?
Casement windows are hinged on the side and open outward like a door with a simple turn of the handle. When the sash is open, the tensioner holds it securely in place. When the window is closed, the latch inside draws the sash tightly against the frame seal.
How long do casement windows last?
Casement windows may have a lifespan of roughly 20-25 years if they are properly installed and regularly maintained. This makes them a worthwhile investment in your home.
Where to buy windows in Winnipeg?
Ecoline provides premium quality, energy- and cost-efficient casement windows in Winnipeg. You can contact us by phone or email, as well as request a free quote by providing the details of your project.