High-End Casement Windows – Get Your Best Offer in Calgary
No obstructing rails, easy-to-open handles, and narrow frames make our casement windows a perfect option for any home. Discover all the choices available in Calgary and get inspired.
1. Get a FREE QUOTE and we will bring SAMPLES to your home.
2. We will call you back during WORKING DAY
3. We guarantee Direct Price and Warranty from Manufacturer
or
Jun 24, 2022
Nov 27, 2022
It's raining cats and dogs, and the wind is shrilling but you don't notice it. All you feel is the warmth and comfort of your home. Think of a window that is extremely easy to operate and at the same time reliable and safe. Think of a window that you don't need to renovate regularly to prolong its service life. Think of a window that will improve indoor comfort and help you save on heating bills.
All this is possible with new casement windows.
Quality is guaranteed if you choose our high-performance units. With strong, lightweight frames and a diverse range of glazing variants, energy-efficient casement windows are a great way to keep your home warm and safe for years to come. Being the leading casement window manufacturer in Calgary, we want to provide local homeowners with the best selection of premium windows.
Find out if this type of window is a good fit for your window replacement project in your home by reading this blog post.
How Do Casement Windows Work?
Casement windows, also known as crank windows, are units hinged on the sides, opening like a door. A folding handle provides a smooth operation by turning the window support arm outward.
With a casement window, Calgary homeowners can forget about regular window repair and replacement. A reliable mechanism makes these units virtually maintenance-free.
The Key Benefits of Casement Windows
Casement windows are the most popular style in Calgary homes due to their functionality, aesthetic appeal, and many other useful features. Here are some of their undeniable benefits that you might not know about.
Due to its design, a casement window is the most energy-efficient window style. Strong seals on each frame side help to keep the sash very close to the frame and provide excellent tightness without any gap. Thus, the likelihood of air leakage is minimized. During the colder months, windows will keep your home warmer and help save on heating.
No other window provides such good ventilation as vinyl casement windows do. Since this model opens completely, it allows a large amount of fresh air to enter the house. The entire area of the sash opened acts like a sail that catches the wind and forwards it to your house.
Such units provide an excellent level of security – when they are closed, no one can open them from the outside. The sash fits so tightly to the frame that the window is impossible to break even with tools like a crowbar. The only possible way for a housebreaker to get in is to fracture a pane of glass – but this entails a lot of noise, so it's highly unlikely.
Thanks to their minimal frames and large glass area, casement windows provide a stunning unobstructed view of the world outside. This model is a great choice for homeowners who want to enjoy their backyard or garden from the window.
Casement windows are extremely versatile. They can be used in almost any room, alone or together with other windows – for example, you can go with a combination of units like casement merged with a picture window. . This allows you to create a unique and most eye-catching design that perfectly complements your home.
These units are easy to match with any house architectural style and other types of windows. You're free to create any window combination, including large and elegant bay and bow windows. Stunning exterior casement windows will give your home a major appeal boost.
How Much Does Casement Window Replacement Cost?
Consider the factors that affect the price:
Energy-efficient packages
Custom window fittings
Installation labour
The window size
At Ecoline, the average price for a small double-glazed casement window ranges from $565.00 to $920.00.
Casement windows sizes in various house types are different, so you can calculate the cost of a window after measurement. Energy efficiency features such as triple glazing, LoE coating, etc. will drive the cost up.
You can use our online price estimator to find out an approximate price or contact us and request a free quote.
Styles Of Casement Windows Worth Considering
Casement window models are distinguished with their versatility and functionality, so they will work well virtually in any window opening. They fit perfectly into narrow openings where the window mustn't take up extra space. They also are a perfect choice if you're going to install a large window, which is hard to open without the crank mechanism. Here are some casement window styles which we recommend you take note of:
Enhance the security of your property with a refined and elegant egress casement window. If you're planning to renovate your basement, you need to make sure you have a door or window of the right size that you can use as an emergency exit. An outward-opening egress casement window will do an excellent job as an escape route in the event of an emergency.
Where to use: in basement bedrooms without a system of automatic sprinklers.
Fixed casement windows are units that can't be opened. They have the same look and design as a regular casement window when closed, but don't provide ventilation. Such windows tend to have purely decorative purposes – they are perfect to be paired with opening versions.
Where to use: in places where you need additional daylight, in combination with opening windows.
Casement Window Types: Know Your Options
Casement windows are available in multiple configurations and different sizes. Do you need one small window or do you want a combination of large windows that fill the entire wall? Casement units fit the bill in both cases. Let's take a look at the common casement window types. You can opt for:
Single casement windows Double casement windows Triple casement windows
The single window is the simplest casement design, consisting of a single small or medium-sized opening unit with a side hinge. Such a model is a great way to provide excellent ventilation and add enough sunlight without taking up much space on the wall.
A single casement window is a great replacement option for rooms with limited space such as a bathroom, kitchen, or small bedroom, and also for an egress window in the basement.
This type is made of two sashes within one opening, hinged on the sides and meeting in the middle. There is a wide range of double casement window styling options. They require more maintenance than single windows due to their more complex design.
Place double casement windows in the bedroom, living room, or large kitchen for aesthetic appeal and a great outside view.
Triple windows are made from three openings within one design – most often, one fixed unit in the middle and two opening casement units on the sides. They aim to provide even more light and ventilation. Since they consist of three windows, they take up a lot of wall space and are therefore most suitable for large spaces.
Choose triple windows for living rooms and dining rooms where you need plenty of daylight and good air circulation.
Comparison Of Different Window Styles
You might think that all windows are made pretty much the same, give or take, and the choice of window type is a matter of individual preferences and design features. However, the truth is that casement windows show distinct benefits over other types of windows in many ways. Let's compare the most popular models:
Awning vs Casement Windows
What's in common?
Both units belong to crank windows because they operate with a crank mechanism. These two window styles operate easily with the turn of a convenient folding handle.
What's the difference?
Casement windows have hinges on the side, opening outward. They are inserted into openings with a height greater than a width.
Awning windows have hinges at the top and are inserted into openings with a width greater than the height. They tend to be relatively small, otherwise, the sash will be too big and heavy to open easily.
The design gives awning windows an additional advantage – one can open them even in rainy weather and not be afraid of moisture getting inside. But when it comes to energy efficiency, maintenance and safety, casement windows are much ahead.
What to choose:
Choose awning windows for rooms where you need constant ventilation even if it's raining outside, such as bathrooms or kitchens. In other cases, casement windows will be a more efficient choice.
Double-Hung vs Casement windows
What's in common?
These are two very sought-after models among Canadian homeowners. Both units stand out for their high performance, durability, and excellent ventilation ability.
What's the difference?
Double-hung windows consist of two sashes that can be opened and tilted inward for cleaning. Because of these differences in design, casement windows are more energy-efficient – they tend to be better sealed. In turn, double-hung windows are usually more affordable.
What to choose:
If your home is styled more traditionally, a double-hung window will fit in perfectly. Casement windows go better with contemporary home styles. Also, think about proper positioning:
If the window is located over a piece of furniture, a sink, or a countertop, it can be quite difficult to constantly raise and lower the double-hung window sash – so casement windows would be a better option.
Picture vs Casement windows
What's in common?
These units may look exactly the same when they are closed. They are an excellent light source and provide an impeccable view from the window.
What's the difference?
A picture window is a stationary unit with a large glazing area. While casement windows are used for ventilation, picture windows do not open, which means they do not let fresh air in and serve more as a source of daylight.
What to choose:
If you want to provide a scenic view of the outside and increase the amount of sunlight entering the room, pairing a picture window with a casement window is highly recommended.
Casement vs Sliding windows
What's in common?
Both units are characterized by exceptional ventilation, convenient operation, and low maintenance. Both go great with contemporary house designs.
What's the difference?
Sliding windows are units with sashes that slide side to side rather than opening outwards. They are installed in openings that are wider than higher, while casement windows are usually installed in narrower openings. Sliding windows are used on large walls, as they tend to have a huge glass area.
Casement windows are more space-saving. In terms of ventilation and energy efficiency, casement windows do a lot better because they open fully and are perfectly sealed.
What to choose:
If you want to get the maximum possible performance at a more affordable price, choose sliding models. If energy efficiency is your priority, opt for casement windows.
Interested in this topic?
Or maybe you need our help with this?
Customize Your Casement Windows
Quality aesthetics are guaranteed when you choose high-end casement windows at Ecoline. Combining elegance and reliability, our units offer one-of-a-kind beauty and durability with a large variety of customization options. Choose your…
Colour
With a wide range of colour options, Ecoline gives you endless possibilities for matching a new casement window to any home décor both inside and outside.

The most popular colours include White, Commercial Brown, Black, Sable, Slate Grey, Chestnut Brown, Cream, and more. If you can't find the right colour among the thirteen standard options, you can always ask us to mix the colour you need and we'll do our best.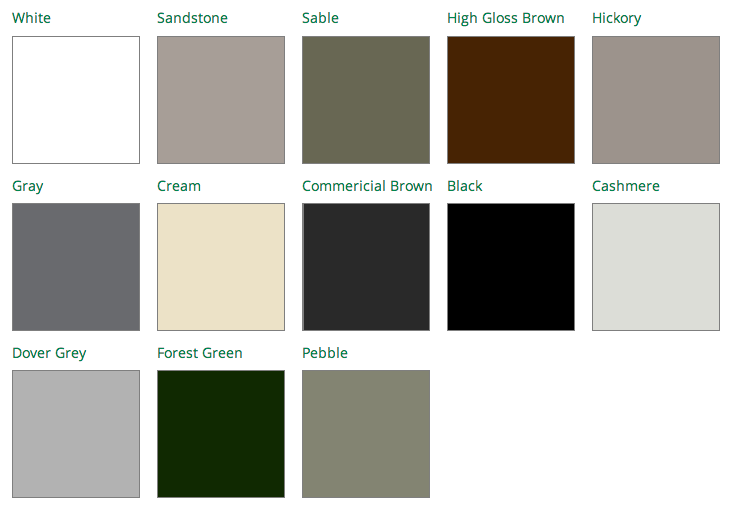 Type of glazing
Double-pane windows (having two layers of glass) are the standard for Canadian homes today. But if you want to maximize the energy efficiency of your window, consider installing a triple-pane window (having three layers of glass).
We can also add an LoE coating that reflects the sun's rays away from the house and increases comfort in your home. This technology prevents heat leakage, which reduces heating costs.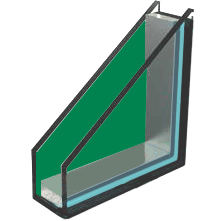 Shape
If you want to emphasize the unique style of your home and are looking for something unusual for window replacement, custom window options hit the spot.
Custom windows are units that differ from standard window counterparts in their capabilities, options, and appearance. A custom window is created individually for your project based on measurements made on your rough opening.
More recommendations from our:
FAQ
Are casement windows more expensive than regular windows?
Yes, casement windows tend to be more expensive than other types of windows. Their price is high mainly due to their complex and extremely safe operating mechanism as well as a high level of energy efficiency. You can use our online cost estimator to get an approximate price for casement windows
Can casement windows have screens?
Yes, casement windows can be fitted with screens. At Ecoline, we use push-down screens with heavy-gauge fiberglass mesh, which are highly durable.
Can casement windows be opened from outside?
No, casement windows can only be opened from the inside. Such units provide an excellent level of security. If you're looking for burglar-proof windows, casement units will be your best choice.
Can you replace a window without replacing the frame?
Yes, when retrofitting, new windows are inserted into existing frames. It is possible to replace a window without replacing a frame provided that it is in good condition. If your frame is old and not in the best condition, it's worth considering a full-frame replacement.