The question of egress windows comes up almost on all residential window replacements in Calgary. And for good reason.
That's because The Public Health Act states:
For buildings of 3 stories or less and except where a bedroom door provides access directly to the exterior, or the suite is sprinklered, each bedroom shall have at least one outside window which may be opened from the inside without the use of tools or special knowledge.
In simpler terms, any room where you anticipate people to live or sleep should have at least one window that an adult can get through with ease in the event of an emergency.
What is the minimum size for fire code windows?
Windows referred to above shall provide unobstructed openings with areas not less than 0.35 m2 (3.8ft2), with no dimension less than 380 mm (15 in.). The unobstructed opening must be measured between the window components (sashes, jambs, sills, opening mechanisms, etc.)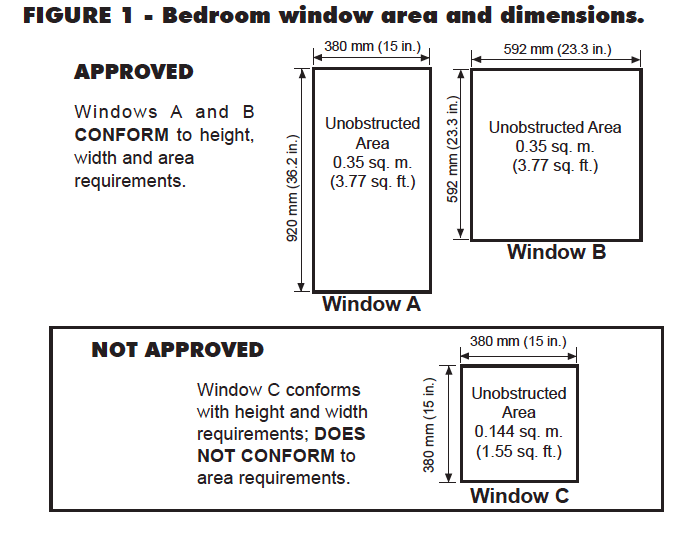 (ii) If the window referred above is provided with security bars, the security bars shall be installed so they may be opened from the inside without the use of any tools or special knowledge.
It is recommended that the sill of windows intended for use as emergency exits is not higher than 1.5m above the floor. Windows in basement bedrooms should have improved access, for example, by installing built-in furniture below the window.
What you need to know about basement egress windows
Basement bedroom windows should comply to the same rules as above ground bedroom windows with the following addition when the window opens into a window well: Where a window required for a bedroom opens into a window well, a clearance of at least 760 mm (30 in.) must be provided in front of the window. Where the sash swings toward the window well, the operation of the sash must not reduce the clearance in a manner that would restrict escape in an emergency.
In many cases when basement windows are converted into bedroom basement windows, concrete cutting might be required in order to enlarge the existing window opening. In such cases many window replacement companies recommend hiring a company that will enlarge the window opening based on the proper window size that will be given by the window replacement company. This work usually requires a permit from your municipality, so make sure to clarify with your company whether your window installation requires any additional approvals. As the homeowner, you are usually required to obtain and secure cut-out permit. After the opening is enlarged, the new window will be installed.
If you are planning to convert basement windows into bedroom basement windows in the future make sure to inform the window product consultant about your intentions at the time of appointment.
Check out these window replacement articles:
Calgary Windows and Doors: How To Compare Replacement Windows?
Window Prices In Calgary: What You Should Know
Windows Calgary: Does Local Make A Difference?