Egress windows and doors in Calgary
Want to know the legal window size for basement installation? Find out all necessary requirements to follow your Calgary building code.
1. Get a FREE QUOTE and we will bring SAMPLES to your home.
2. We will call you back during WORKING DAY
3. We guarantee Direct Price and Warranty from Manufacturer
or
Jan 29, 2021
Dec 13, 2022
Egress windows are basically used as emergency exits in case of fire or other when other hazardous situations occur. Even though these windows are not a new concept, the standards and regulations associated with their installation, usage or location are quite complicated and should be strictly followed when installing.
At Ecoline, we always strive to educate our clients to decide whether an egress is necessary. If it is a rental property and the room is supposed to be used as a bedroom, then egress is definitely required. If there is no such window, regulations will prohibit a basement bedroom. So let's take a close look at what the regulations are now and what else you should know about egress windows in Calgary.
What is the minimum size for fire code windows in Calgary and Alberta?
If you live in Calgary, then size your egress window must have a minimum area of 3.77 ft2 (0.35m2) and a minimum dimension of 380 mm. It is highly recommended that the sill of windows (intended for use as emergency exits) is not higher than 1.5m above the floor. When it comes to windows in basement bedrooms, they should have better access. For instance, built-in-furniture below the window may be installed.
Egress Window permit in Calgary:
The Calgary city has strict laws on what is allowed and what is not allowed, and they require you to get a Calgary egress window permit if you want to install a new window to your property, and it must all be in line with the Alberta Building Code.
If you want to get a better idea of egress windows guidelines to follow, in order to apply for the permit, take a look here, you can also scroll through other home renovation permits to apply for.
You can either submit online or offline, but your application details will meet the Alberta Land-use bylaw. The By-law states that "One side setback must be clear of all projections (cantilevers and bay windows). A window well can only project to a maximum of 0.8 m into a side setback. Window wells must not project into the 3.0 m side setback required on a lane less property. A 3.0 m side setback from the back of the walk is required for a corner property. A development permit may be required if the above rules are not met."
It would be best if you had drawings of what you plan to install at hand; in this case: your egress window.
Steps to applying:
Navigate here to fill the home improvement application form.
It would help if you had drawings for the proposed home improvement and egress installation at hand. If your window that you are installing faces a side property line. Bear in mind, however, that the Egress windows should not be up to 1.2m from the said property line
Applying: You are to submit the form after filling it, and this will require you to go to the Planning Services center, but an easier way is to submit it online here, thereby saving yourself the stress of interacting with people, especially as Covid19 continues its rampage.
Depending on your application results, You should schedule an inspection of your property after you have installed the Egress windows and any other minor renovation you might want to do later.
How To Install New Egress Windows In Calgary
Installing new egress windows doesn't have to get complicated or anything.
You will need some tools to achieve this; some tools you will need are Shims, Moisture barrier (plastic), galvanized screws, deck screws, tarp, and other necessary tools.
It is subdivided into cutting and installation.
Cutting
This is the first part of installing Egress windows. First, measure out the length that your egress window should have; make sure to leave drawing marks for the next part of the job. The next part of the job includes making the same drawing line on the other side of the wall, thereby making it 2-dimensional.
Dig a well outside of the place you are situating the Egress window, then get down to cutting
Selecting a concrete saw, use it and drill through the mark you made but use it only to drill half the distance on the other side of the wall, then move over to the other side to complete the cutting.
If you followed these instructions, then you should have an egress sized cut space in your wall or basement in your Calgary home where you can proceed to install your egress window.
Installation
Clear out the remaining rough edges around the hole you just drilled; you can use a brick chisel to do this.
Then, use concrete to stuff up the places where there are holes or empty bottom blocks.
Put your window frame in the space you drilled and use deck screws, ceiling plates, or joists to fit it to the wall. If you have any exterior caulk, then apply it to create a waterproof region to your egress window.
Now you can finally install the window. Egress windows typically come with a voluminous instruction manual that will guide you on installing them very well. That's it.
Window Wells in Calgary
A window well is usually a U-shaped metal or plastic product designed to fit around the doors of your basement; they sit between your window and the ground, and their functions include keeping soil moisture out and serving as emergency exits just like window egresses. In case your basement windows are not currently equipped with window wells, you are supposed to have them built-in. This is a requirement by the NBCC (National Building Code of Canada). The process requires either equipping a window well where is it absent or widening your current window well in order to follow the size requirements, which go as follows:
A clearance distance of at least 22 must be present between the window and the window well.
An affixed permanent ladder or step must be present with windows with wells with a depth of 44 or bigger to get an uncomplicated and safe escape route in case of any emergency.
A 6′′ of drainage rock needed as well. 6′′ of clear space from the bottom of the window to the drainage rock and a need to core down to the footing and install a drainage pipe. In addition, some homes that are at lower risk for flooding or were built a long time ago may not have a Weeping Tile installed. If a home is experiencing basement seepage, the lot owner should confirm that Positive Lot Drainage is provided and maintained and that roof drainage best management practices are applied. If basement seepage problems persist, a Weeping Tile system may be a tool to improve foundation drainage which can be pursued following consultation with a Building Envelope specialist.
Pricing:
Depending on the type of window well you are buying or installing, the prices can range a bit. However, the typical price range is $30-$80 depending on window well brand and materials. To get a better idea as for the current prices give a look at your local shops like this.
Installation
Excavating: At this point, you excavate a hole large enough to size the well you bought after taking measurements.
Creating a Drain Hole: You can use augurs to develop a bore to size your window well; after doing that, you can use a perforated tube to divert water from the well to your house' drainage system.
Installing the window well: While installing the well, you must make sure that some part of it is well above the ground; 3 or 4′′ is just fine. Make marks on the already existing hole on your house's foundation and drill 2′′ holes on them. This is where you are going to screw the window well.
Finishing up: Using nuts and anchor sleeves, screw the window well into holes as mentioned above to secure it, then fill the outer edges with gravel and then put a cover over the window well.
What you need to know about basement egress windows
Getting new windows in the basement
To get new windows in your basement, your new windows must meet strict requirements. They must provide unobstructed openings with areas being at least 3.77 ft² with minimum dimensions of 15′′. Also, its security bars, if any, must be easy to use and easily operable from inside.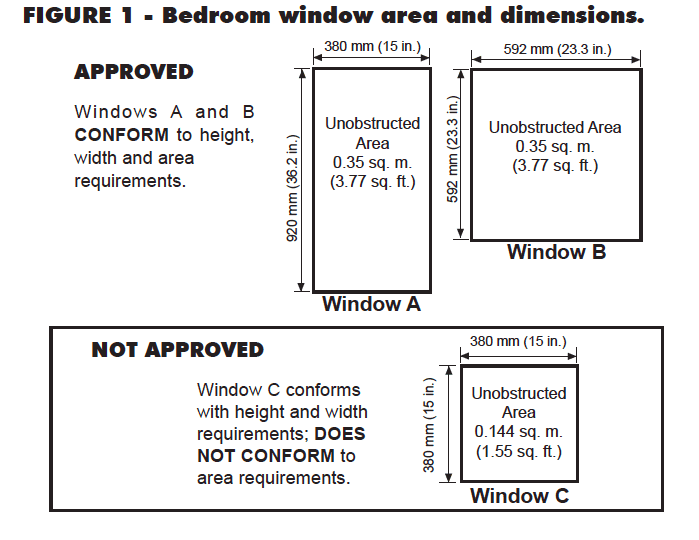 Converting basement windows into bedroom basement windows:
When planning to do this, it is advisable to consult the building-codes office in your municipality as they may have strict requirements about the type of window you can install or convert.
Interested in this topic?
Or maybe you need our help with this?
Egress Doors in Calgary
An egress door is the close cousin of the egress door as they both serve the same function. They are used as means of escape from buildings. An advantage of the egress door is that many people consider it safer and easier to use than egress windows.
Codes and Permits:
Each door's required capacity shall be sufficient for the Occupant with an exact minimum width of 32′′.
The maximum width of a swinging door shall be 48′′.
The height of door openings will be from 80′′ and above.
Sizes
Egress Doors sizes should be at least 36′′ wide and 80′′ tall, but this is not set in stone; There can be little variations from these sizes.
Installation
Preparation: if you have any old door occupying the place, you need to remove it and clean the surface of rust or other debris that might have accumulated. Also, check the wall surface for defects.
Drilling holes: Measure up where you intend to install your anchor bolts to hold your egress door. It is advised using a standard drill that you feel comfortable with for this activity.
Installation: Secure the door frame using the anchor bolts, then match the door hinges to the already drilled holes and use a hammer to put them in the right places.
Finishing up: If you are using a metal egress door, it is advised painting it to keep the rust away.