Do you remember how exciting it was when you bought your home?
Whether you bought an existing property or had a home built, what was the one defining feature that made it feel like it was yours?
Was it when you signed the paperwork? When you handed over the cheque? How about when the moving truck pulled into the driveway?
No?
Only when you finally got to add your own unique, personal touches did it finally feel like home, right?
Well, now that you've painted the rooms in your favourite colours and hung a few family pictures on the walls, it's time to really dig deep and let your personality shine through.
Here are some unusual remodeling ideas that you may have never considered but will make your home unique and stand out from all the others:
Crazy Kitchen Components
Vertical Herb Garden—for the chef in the house, why not bring the natural, healthy ingredients right where they'll be used—inside? Indoor herb gardens not only produce fresh herbs all year long (no need to buy them during the winter months), they also purify the air and provide beautiful greenery in your kitchen.

Pop-up and Hidden Electrical Plugs—with today's beautiful solid surface countertops and specialty backsplashes, electrical outlets end up being a huge distraction and eyesore. Some clever innovators have provided an alternative with pop-up and hidden electrical outlets. When not in use, waterproof power outlets stay hidden out of sight for a streamlined look. When needed, a light touch on the cover exposes a pop-up outlet with power and charging USB outlets. A spill-proof gasket keeps liquids out and a selection of stainless steel, off-white, black and brass finishes will help you match any decor. They're also available in floor pop-up styles to keep your natural hardwood floors looking natural.

Dual/Double Drawer Dishwasher—what could be more convenient for kitchen clean-up than your dishwasher? A dual one. If you've got a small family or everyone is on a separate dining schedule, it probably takes days before you have a full load to run the machine. Double drawer models have plenty of space for glasses, plates, bowls and flatware and can be run separately. This saves time and money as unloading is faster and you'll never have to run a half-full dishwasher again.

End Cabinet Storage—sometimes the best way to organize your kitchen is to make sure every item has a permanent home. Instead of cramming all your cleaning supplies under the sink or stashing the broom and dustpan in the coat closet, add an end cabinet or stacked cabinets with shelve and hooks next to your refrigerator. From the front, it looks like an ordinary trim piece. From the side, cabinet doors swing open to reveal neatly arranged tools and supplies. What a great way to efficiently use every space in your kitchen.

Bathroom Bravado
Doorless Walk-in Shower—tired of cleaning soap residue off shower doors? Do you ever feel claustrophobic once those shower doors close? It's time to open things up by creating a doorless walk-in shower in your home. This trending bathroom design reshapes the way our showers look and how we use them. Your shower makeover should include a rain showerhead or strategically placed showerhead and a high curb to keep water from escaping into the room. With no doors to darken the space, choosing a light-coloured ceramic tile will reflect ambient light and coordinate with the adjoining bathroom decor.

Slide-away Step—do your little ones struggle to reach the bathroom sink to brush their teeth or help themselves to a drink of water? Give them a little boost with a slide-away step under the vanity. Hidden into the toe-kick, the step easily slides out to gain some extra height and slides away when not in use. Ingenious!
Under-Stair Storage
Often, the space under your staircase is wasted. Here are a few clever uses for this area that will help make your home unique and add something special:
Cozy Powder Room—you may have thought you didn't have enough room to include a first-floor powder room. Surprise, now you do. Keep components and colours light and bright to make the room feel bigger. Install a wall-mount sink, a decorative mirror, some pretty light fixtures and a practical commode. Don't be afraid to add some elegant details like trim molding, wainscoting and some decorative wallpaper to bring the room to life.

Built-in Bookcase—perhaps your home could use a place to store your book collection instead. Create staggered shelving or cubbies to fit varying books heights as well as knick knacks and keepsakes. To enhance reading habits in your children you can also adapt the space into a cozy reading nook.

Hidden Kitchen Pantry—wouldn't you love to have a place to store all those extra canned goods, kitchen supplies and paper products? Create cabinets under the basement stairs to hide away excess stock. Now you can take advantage of those special deals and buy-one/get-one coupons to save money.

Entertainment Center—we've all got a variety of components scattered around the house to keep us entertained. Now you can combine yours all in one streamlined location under a staircase. Build-in your flat-screen TV, surround sound, speakers and gaming system, add a few shelves and drawers and you've got yourself the ultimate entertainment center. It's time to call your friends.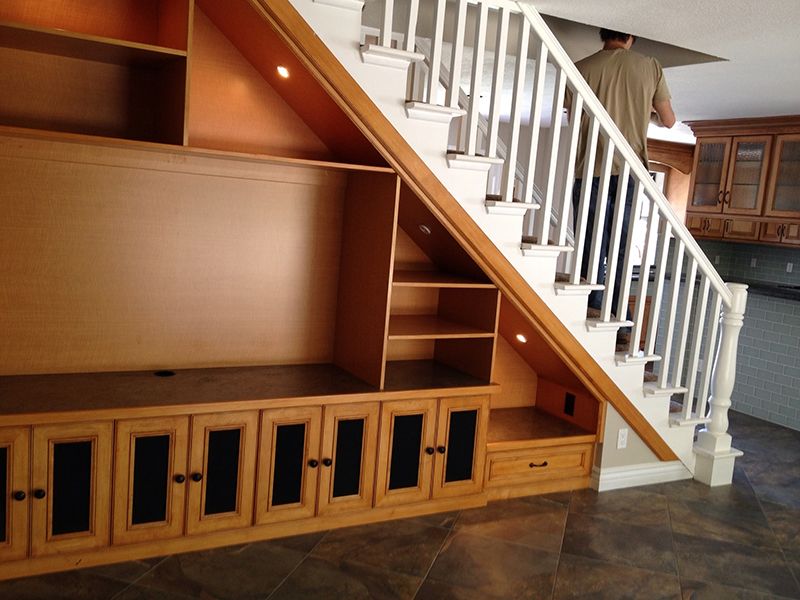 Pet Cubby—don't forget your four-legged friend could use a cozy place to call home too. Remodel the space under your staircase into a pet cubby that includes a comfortable bed and place for all his favourite toys. Just wait until the other pets in the neighbourhood hear about this!

Spiral Staircase Ingenuity
Staircase Slide—who said you have to stop having fun once you grow up? Add a built-in slide that runs alongside of your traditional straight or spiral staircase for a quick alternative to getting to the lower level or just making you feel like a kid again.

Family Room Fun
Table Fire Pit—enjoy using your fire pit all year long. This interesting concept combines the beauty of an indoor fireplace with the ambiance of a backyard fire pit. There are many unique styles available in vented and non-vented to match your own personal taste.

Sunken Conversation Space—some may call it retro, but most call it trendy to create a sunken living room area. This unique concept was originally popular in the 60s and 70s because of its intimate setting for entertaining and family gatherings. It still creates a cozy spot today and only needs your imagination to make it the right fit for you.

Bedroom Brilliance
Kids Bunkroom—who doesn't have fond memories of sleeping over at a friend's house, finding out he had bunk beds and calling "dibs" get the top bunk? Instead of settling for a boring set of store-bought beds, why not create your own bunkroom? You can even use single and double beds for the ultimate slumber parties.

Backyard Bonanza
Outdoor living at its finest—these unusual ideas for your backyard enjoyment will guarantee every party from now on will be held at your house.
Backyard Beach-Themed Fire Pit—this ingenious idea creates the ultimate gathering place with sand, a built-in bonfire and a comfortable place to sit. Turn on the music and pull out the marshmallows to start making memories.

Deck Bar Rail—no need for juggling plates on your lap anymore when you build in this attractive bar rail into your deck. Use a couple of high-grade planks, stain it to match your deck and pull up a couple of bar stools. Your friends will definitely be back.

Backyard Cinema—just like the home version of a drive-in theatre, set up a digital projector, supersized screen and a bunch of comfy cushions. Everything is portable so it can be stored away for rainy days. But for now, you better get the popcorn started.

Window Tech
Solar Shutters—what will they think of next? The louvers in these plantation shutters include miniature photovoltaic panels that collects energy from the sun, feeds it to an inverter and sends power to your electrical system through a standard wall outlet. They're surprisingly efficient and can generate enough power to run your television, computer and small appliances.
Staycation Extravagance
Indoor Hot Tub—relieve tension and relax your body in your very own indoor hot tub. Create an intimate spot for two or for the ultimate in luxury, add a massage table and steam room. After a week's "staycation" in your own home, your coworkers will never suspect you didn't spend the time on a tropical island.
Outdoor Indulgence
Heated Driveway—installing a radiant heat system under your driveway won't make winter go any faster, but it sure will save your back from the strain of shovelling. Now that's a luxury every neighbour will envy.

It's time to capture that excitement of owning your own home again. Incorporate some of these unusual remodeling ideas or come up with a few of your own to make a statement, add value or just have fun.