Alberta Energy Efficiency Rebate Program HAS ENDED
1. Get a FREE QUOTE and we will bring SAMPLES to your home.
2. We will call you back during WORKING DAY
3. We guarantee Direct Price and Warranty from Manufacturer
or
IMPORTANT Rebate Eligibility Update by Energy Efficiency Alberta:
Alberta's government has ended the energy efficiency rebate program and not accepting new applicants. Stay tuned for updates.
Home upgrade projects already in progress will be honoured, provided eligibility requirements are met.
Rebate Eligibility
All rebate applications will be honoured for program participants who made a documented project commitment dated on or before October 24, 2019 (e.g. a deposit made by the participant to the contractor or a project quote) to complete an eligible upgrade with a program registered contractor.
Types of documentation that will be accepted as valid proof of participant commitment can be found here.
Rebate Application Submission Deadline
Program registered contractors must submit a complete rebate application on behalf of the program participant by January 24, 2020. All work must be completed prior to the submission of an application.
For more details on program closure and eligibility criteria please visit our Frequently Asked Questions or updated program terms and conditions.
The long-awaited Alberta energy efficiency rebates program for home renovations is finally here. Environment Minister Shannon Phillips announced that the program will devote $24-million in rebates to homeowners looking to make their homes more efficient. The rebates are created because of revenue generated by Alberta government's carbon tax. Phillips cited the growing popularity of energy-efficiency initiatives in the province and said the move is "a win-win for the economy and the environment." As of April 28, homeowners can search the agency's website for companies that are on the list of certified contractors. Only companies that are on the participant list can sign up for the window replacement rebate. We'll go over what you should know if you are just thinking about starting a home renovation project, or are already in the midst of one.
What is Energy Efficiency Alberta?
So how are these government grants for home improvements becoming available to Alberta homeowners? This has to do in part with the creation of "Energy Efficiency Alberta." Energy Efficiency Alberta is a new government agency that is dedicated to helping the province save energy by raising awareness amongst consumers; promoting, designing and delivering programs related to efficiency, conservation, and development of an energy efficiency services industry in the province.
The agency's new CEO Monica Curtis is set on bringing change to how Albertans use, conserve, and save on energy:
"Energy Efficiency Alberta has been established to provide Alberta households and businesses with opportunities to save energy. I am truly delighted to have the opportunity to return home to Alberta to lead these important initiatives to reduce costs, lower our carbon footprint and foster development of an energy-efficiency services industry."
You can read the full mandate and find out more information about the agency on Energy Efficiency Alberta's website.
What is the Energy Efficiency Alberta Home Improvement Rebate?
The Residential Retail Products program is one of the several very first programs launched by the agency. It offers homeowner incentives when you purchase or upgrade to energy-efficient appliances and other energy-saving products through participating retailers and contractors. Currently, the program offers a rebate on replacing and upgrading insulation around the home, new energy-efficient windows, and tankless water heaters.
You can watch the announcement video for energy rebates in Alberta:
Alberta Energy Efficiency Rebate Program Includes:
(click the rebate for quick navigation)
Learn more about the Home Improvement Rebate here.
How To Qualify For The Residential Retail Products Rebate?
As of April 28, 2017 homeowners can get a rebate of up to $1500 on a window replacement when you upgrade to windows with the following:
ENERGYSTAR® rated
Triple-pane
Argon gas fill
Low-E
Ecoline Windows is an Energy Efficiency Alberta participating contractor.
Only companies on the Energy Efficiency Alberta participating contractor list are eligible to do window replacements that are submitted for rebates.
We submit the initial application for you
After the installation is complete, we will submit the final invoice to Energy Efficiency Alberta and they will mail you a rebate cheque in 6-8 weeks.
In order to qualify for the rebate, there are several eligibility requirements:
You have to be the residence owner or legal tenant.
The home has to be a detached structure, semi, side-by-side duplex, side-by-side townhome, or a mobile home on permanent foundation with year-round water supply. Condos and multi-residential buildings do not qualify for the rebate.
The residence has to have its own gas and/or electricity meter.
The homeowner must pay own utility bills, not paid by the condo corporation.
What doesn't qualify for the rebate?
Homes under construction, unoccupied homes, summer homes or cottages.
Multi-residential buildings, high-rises, apartments, condominiums.
Unheated spaces: garages, sunrooms, outbuildings, covered porches.
New construction homes, or new additions to existing buildings.
Projects already in progress.
Homes of dealers or distributors.
Homes where utility bills are in the name of the condo corp.
But let's delve into what is already known about the upcoming rebate program:
Rebates On Replacement Windows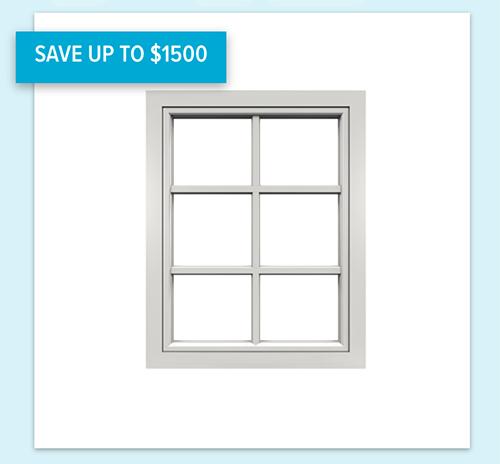 Energy Efficiency Alberta is offering rebates of up to $1500 for installation of new, energy-efficient windows. The chart below demonstrates the minimum rebates based on the window size, material, and the number of glass panes.
Apply For Alberta Windows Replacement Rebate Now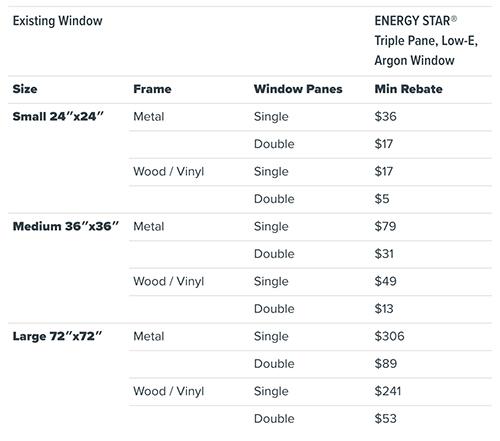 These numbers represent the minimum rebate per window based on the size. Existing single pane windows have the highest rebate values.
As you can see, the biggest rebates are offered to homeowners with single-pane windows, whether they are wood/vinyl or aluminum. This makes sense as single-pane windows are some of the least efficient and been used less and less in residential settings in the last 10-15 years. You'll notice also that new double pane windows don't qualify for the rebate. While it is possible to make double-pane windows that meet climate requirements in Alberta, the rebate only covers upgrades to triple-pane windows.
How to ensure you are buying quality replacement windows
Looking at the chart above, you'll notice that your new windows will have to meet certain requirements as well, to qualify for the rebate. First of all, they have to be ENERGY STAR rated. In Canada, much like in all of North America, ENERGY STAR rates and qualifies windows for different climate zone based on their performance. Most of the urban areas in our country, including Calgary and Edmonton, are located in climate zone 2.
This map shows major urban areas in Canada in three distinct climate zones.
In order to be considered comfortable and efficient in Climate Zone 2, and get the appropriate ENERGY STAR rating, replacement windows must meet the following minimum requirements:
Currently, there are 3 climate zones for replacement windows in Canada. The majority of populated areas in our country fall under climate zone 2.
The ER Rating is a derived number that factors in how well a window prevents heat loss through the material, how airtight it is, and how much energy it gains from the Sunlight. The benefit of ENERGY STAR participant window companies is that you know you are getting products that meet requirements for your local climate. ENERGY STAR participants are also registered with the government of Canada so you can see exactly how different windows are rated based on their performance.
Check out the list of ENERGY STAR participating window companies
You'll notice that the windows should also have Low-E coatings and Argon gas fills to qualify for the rebate. These features usually come standard in modern vinyl windows, but you always have a choice to upgrade to more Low-E coatings or get Krypton instead of Argon gas for even better efficiency.
Rebates on Tankless Hot Water Heater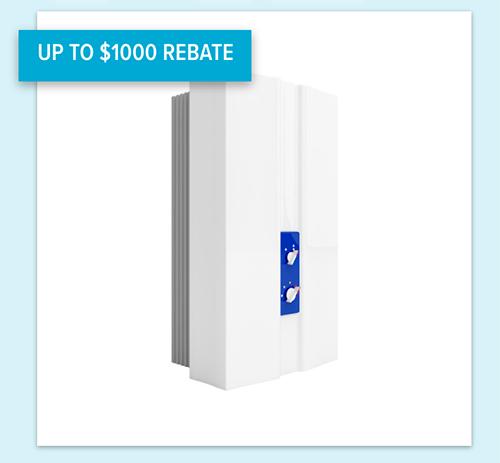 Rebates on Insulation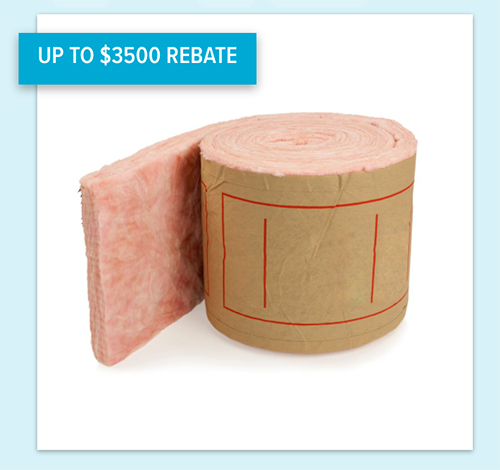 A big chunk of the rebate program is also focused on reimbursing homeowners that are looking to upgrade the insulation in their home. It makes sense to focus on this as an important aspect of a home renovation. Canadians spend as much as 60% of their annual energy use on heating their home. An adequately insulated home not only keeps the heat in better, it also requires less energy to warm the different rooms. The rebate covers insulation to the home's attic, main walls, basement, or pony walls. The rebate will be based on where the insulation is added, how much of it is used, and how many square feet in your home receive the upgrade. Because the rebate covers different parts of the home where different insulation materials are better suited, the rebate qualifies the following types of insulation:
Rolls or batts
Blown-in
Loose fill
Rigid board
Spray foam
You can read about the different types of insulation and what part of the house they are best suited for in this Energy Efficiency Blog.
The R-Value is a common measurement to quantify how resistant a material or a structure is to losing heat. The higher the R-value, the better a material insulates.
Residential No-Charge Energy Savings Program

We wanted to briefly mention this other program by Energy Efficiency Alberta because unlike the Home Rebate program, the No-Charge Energy Savings can apply to any household, not just ones looking to replace their windows, insulation, or water tank. Through the energy savings program Albertans are welcome to schedule an inspection with a certified technician who will inspect the whole and replace old products with more energy-efficient ones.
The products and services covered include:
Replacing existing incandescent nightlights, lightbulbs and exit signs with LED products
Replacing inefficient shower heads with high-efficiency shower heads
Installing faucet aerators if no aerator is present
Replacing a traditional power bar with an advanced power bar
Replacing a non-programmable thermostat with a smart (self-adjusting) thermostat
See the full list of no-charge products available through the Energy Savings Program
You can sign up for the Energy Efficiency Alberta's Energy Savings Program here.
If you are considering upgrading your insulation, water tank, or windows through this Alberta energy rebates program, Efficiency Alberta's CEO Monica Curtis recommends you get at least three quotes for each project to ensure you are getting the best price and value on your renovation investment. There are small and pretty simple home improvements you can tackle if you are asking yourself 'How can I make my home more efficient?'
Find out everything you need to know about buying replacement windows in Alberta:
Learn everything you need to know about egress windows
See how to compare replacement windows
What you should know about window prices
Apply For Windows Replacement Rebate Today
Compare Best Window Companies in Your City:
Speak with our window replacement experts in your city: