It has been said before, and will be repeated for eternity: good window installation is essential to the performance of your new windows.
You can buy the best triple pane windows with all the additional upgrades you can find, but if they are not installed and sealed off correctly, they may not be keeping the warm air in. Worse yet, your windows may still be leaking water into the wall structure, further damaging your walls.
But because in most cases the homeowner knows very little about the window installation process, they are at the mercy of the window company they decided to go with.
So how do you make sure you get the most out of your window installation?
Before we get into talking about this, let's go back a step. If the efficiency of your windows depends on good window installation, then proper installation greatly depends on correct measurement. The great benefit of custom windows for your home is that they are measured to the rough opening so that the gap between the frame of the window and the wall is just wide enough for sufficient insulation foaming and shimming of the window.
There are many types and styles of windows, but there are two main types of installation: full-frame (tearout) and retrofit (insert).
We wrote extensively about both types of these installations, so for the sake of this post we will mostly focus on the differences between good and bad installations of both kinds. Hopefully, this will give you a better idea of what to look out for before and during your window installation.
What parts of the window are getting replaced?
A big difference between full-frame and retrofit window replacement is in the parts of the window that get installed.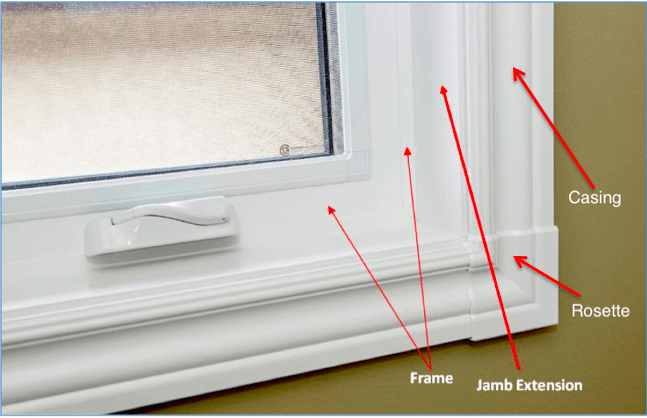 With a retrofit, your existing frame remains intact, and a new glass unit is inserted in place of the old one.
In a full-frame replacement your frame, brickmoulds, jambs, and casings get taken out, and replaced with new ones. Although a full-frame replacement is more costly, it is the most thorough and correct way to replace windows
Simple enough, right? Yet it is worth mentioning because time and time again shady window companies take advantage of clients, and sell retrofit as a full-frame, or assure clients that a retrofit installation is better.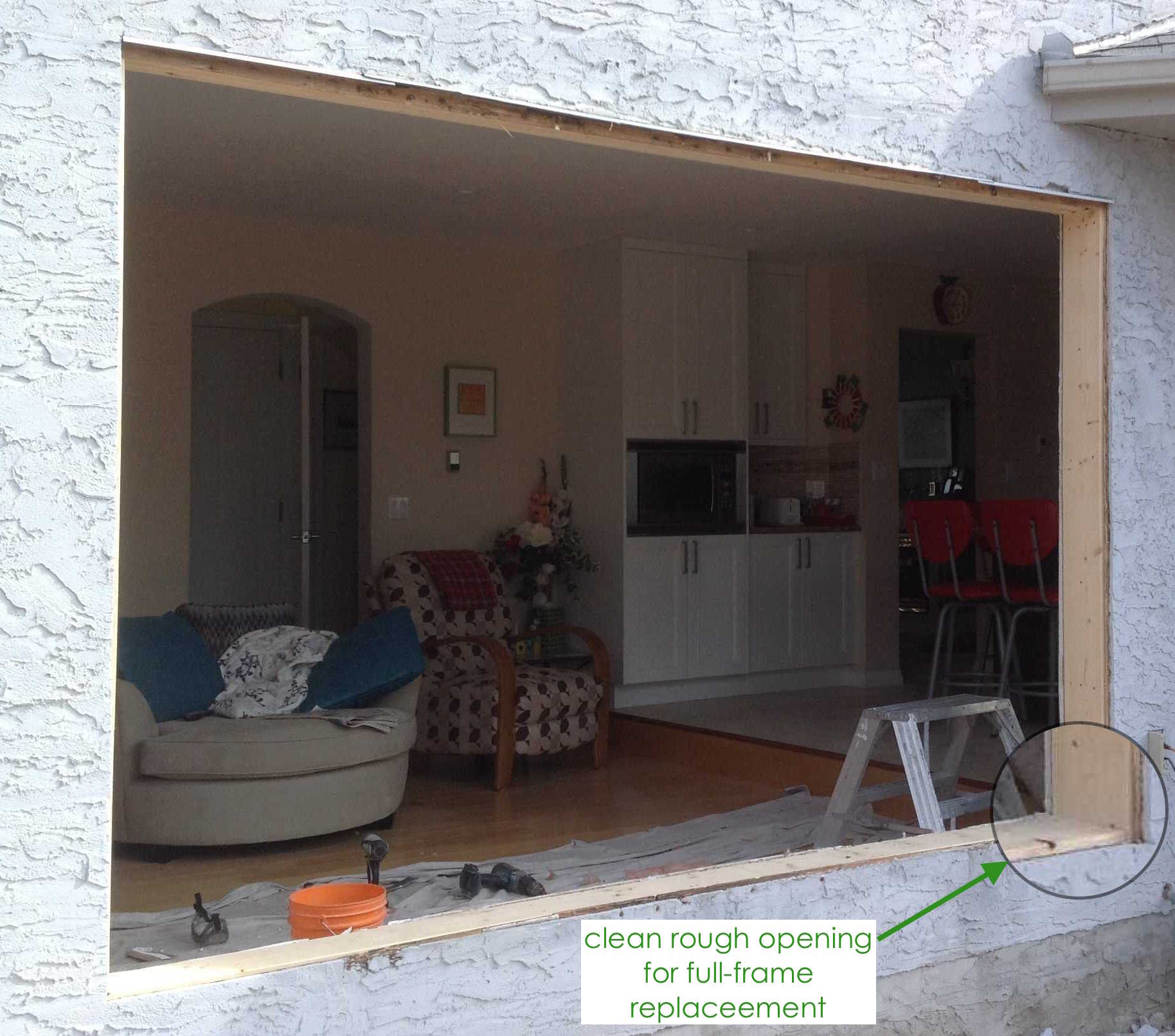 With a retrofit installation, the problems around the window may not be addressed properly. If your existing window was allowing moisture into the frame, it will continue to do so. In that sense, a retrofit replacement may end up being just a temporary solution to a much bigger problem. And if the structure inside is still getting damaged by moisture, a couple of years down the road you may have bigger problems than just a drafty window.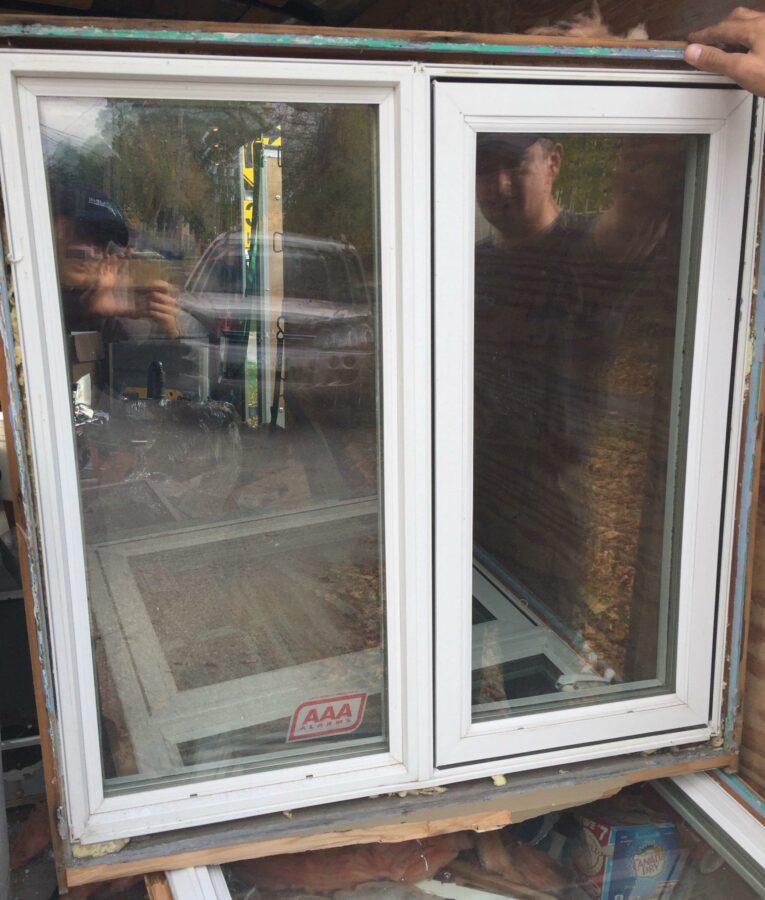 Another problem with retrofit installations is that, although cheaper, they often require more care and attention to be done properly. It can be quite challenging, even for skilled installers, to remove the old window and put in an insert without damaging the jamb, frame, or casings. Remember, these window components carry over from your existing units.
Because companies that specialize in retrofit installations are generally on the cheaper, less-skilled end of the spectrum, chances are their installers will be less careful and attentive to your windows. That isn't to say there aren't window companies doing good retrofit work. The point he is, unless you are absolutely strapped for cash and need windows done immediately, you should be considering a full-frame window replacement as your main choice.
What do you need to know about post-installation service?
Even the best proper window installations often need adjustments or post-installation service. Regardless whether you got a retrofit or a full-frame replacement, the actual window components should be warranted for 20-25 years.
The same isn't true about the installation labour. While most companies offer a labour warranty, there is no single convention for the terms. Labour warranties can range anywhere between 1 and 10 years. But exactly what a labour warranty covers may be a bigger draw for one company than the other.
Within their labour warranties, many companies separate what is considered "general" and "skilled" labour. While they are often generous with general labour warranties (ie. everything to do with the window being installed square, level, and plumb) they are not so generous with skilled labour warranty like the replacement of insulated glass units. Replacing a sealed unit falls under "skilled labour" with most companies and is often not warranted at all. At best you may find a company with a five-year warranty for skilled labour.
Common installer mistakes to look out for during window installation:
Messy or incomplete caulking. Caulking is usually the last thing that gets put on, on the outer perimeter of your new windows. Caulking is also the first barrier of protection between the outside elements and the inside of your walls. Even if the caulking is applied evenly around the window, it may still have holes or gaps as it dries around stucco or siding. Because caulking takes a few weeks to fully dry and settle, you may want to revisit it a month after the installation to make sure the seal is even and continuous.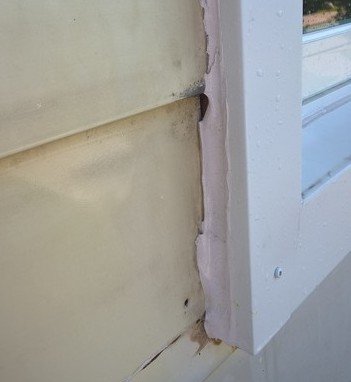 Stains on the glass. As installers use different glues, cleaning agents, and caulking, chances are you may end up with stains or smudges on the glass of the window. Try to look for these during your post installation inspection as it will be much easier to bring to the attention of the installers and possibly rectify on the spot. 
Inadequate cleanup. Most homeowners don't realize how much mess a window installation can cause. While most companies advise and even help homeowners to cover their furniture and belongings, a considerable amount of dust and debris still ends up in your home. What bad window installers do regularly, is disregard cleanup as part of their job and leave the mess for a customer to deal with. You can usually tell a lot about the installer's professionalism by how they treat not only the windows they install but your property and things on it.
Check out:
5 Steps to a No-Mess Window Installation
What To Expect From Your InstallationCan My Installation Be Done in The Winter?