When it comes to finding the right window company in Edmonton, there is almost too much choice for homeowners today.
So how do you get exactly what you want when most companies out there seemingly offer the same thing?
In reality, getting a trustworthy window company whether in Alberta or anywhere else in Canada, is not so much about searching, but rather about comparing what these companies actually do.
Find out what people are saying about us online:
Ecoline Windows on BBB
Ecoline Windows on Facebook
Ecoline Windows on Twitter
Ecoline Windows videos on YouTube
Ecoline Windows on YELP
Here is what you must know about window companies in Canada:
How do you know if a window company is legitimate?
There are several official and unofficial ways through which window companies become legitimate. This distinction is especially important in Western Canada where in the recent years there has been a wave of companies that pop up for a summer and disappear just as a fast. Remember, just about anyone can stick a flier in your mail advertising discount windows. Serious companies, however, will have the appropriate paperwork to back these factors:
– Industry Canada profile. The Industry Canada registry provides profiles on registered businesses, as well services and products that they offer. You can find Ecoline Windows' Industry Canada page here.
– Service Alberta Prepaid Contracting License. This license is mandatory for any business in Alberta that negotiates prepaid contracts and collects money before work is done. Because most residential custom window orders involve a down payment, pretty much all companies in the province must have this license to legally collect downpayment from homeowners. This license also ensures that any window company or renovation business is bonded and you are financially protected in the event the business cannot fulfill their contractual promises. You can find information about Ecoline Windows license as well as other companies on the Service Alberta website.
– Better Business Bureau (BBB). Although BBB is not an official or government related registry, it is still respected and commonly used by consumers. What is more important is that businesses are made accountable through this website and are forced to address customer complaints and desired resolutions. You can visit the Ecoline Windows BBB page here.
– Homestars.com We mention this one with some mixed feelings. Homestars is probably the most comprehensive and inclusive renovation company website in Canada. But although Homestars does a job of moderating and regulating the customer feedback, many companies still rise in the ratings through fake reviews. When looking at any business on Homestars, make sure that the company page has been set up for a while, or that the vast majority of their feedback isn't from a short period of time. Also, look for some variety in the reviews. No company is perfect, so it should be suspect if all of a company's reviews are a perfect 10. You can see the Ecoline Windows Homestars reviews here.
How to know if the windows you want are quality?
Getting the most out of your energy efficient windows depends on two factors: quality of the product and proper installation. There are also associated groups and companies in Canada that ensure these factors.
– ENERGY STAR If you are looking for quality windows, then it is mandatory that the product you buy is ENERGY STAR rated. The rating not only measures the performance of your windows but also assesses their efficiency in relation to three distinct climate zones in Canada. A big advantage of ENERGY STAR rated products is that all the performance specs are stickered onto each window when it leaves the manufacturing plant. That way you can see exactly what criteria your new windows meet before they are even installed. You can find a list of ENERGY STAR window companies, including us, on the Natural Resources Canada page.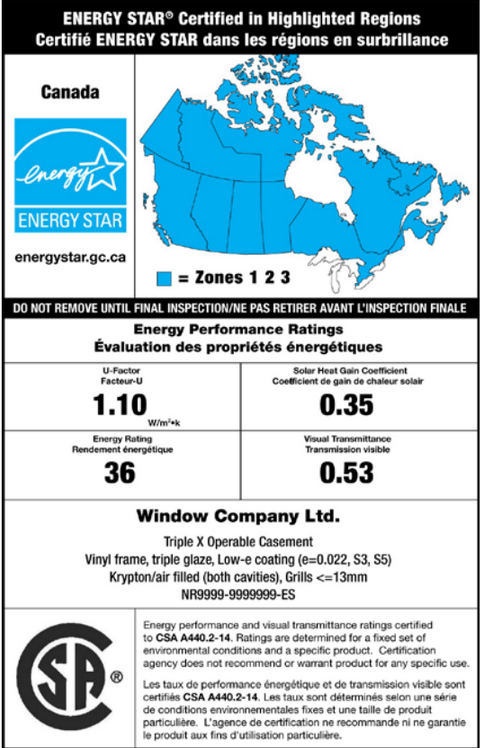 – Canadian Standards Association (CSA) Similarly to ENERGY STAR, the CSA provides testing, certification, and verification of standards for windows in North America. The CSA also relies on ENERGY STAR qualifications and energy ratings to certify all products they test. The certification is usually labeled on the window itself with a CSA logo. CSA also lays out the correct methods for replacing windows and is generally considered as a rulebook for window installers. Although there is no online directory for CSA compliant companies, any product that is certified, is always labeled with the appropriate logo.

–Window Wise Window Wise is a quality assurance program that provides training, certification, and random inspections for window installers and contractors working with replacement windows and doors. You can find Window Wise participation information on the same Natural Resources Canada page that lists window companies participating in the ENERGY STAR program.
Remember, none of these three certifications are mandatory for window companies in Canada. However, if you want the most value out of your replacement, make sure that the companies you consider for a quote at least sell ENERGY STAR certified product.
These are the most common and necessary certifications that trustworthy window companies in Canada should have. You can also find out a lot about a window company through their website and social media. Does the company have actual pictures and videos of their work, or does their website rely on stock images from the Internet? Do they update their social media platforms with relevant information? Is the information provided through their channels actually useful, or just more glorified sales copy? Good window companies don't shy away from showing, talking about, and sharing their work. These also tend to be the companies that are willing to work with clients to resolve any problems. Chances are if they are willing to put up as much material as they can, the company stands behind their product and workmanship.
Check out:
Find Out The Cost of Replacement Windows
One Thing You MUST Know Before Scheduling A Window Replacement Quote
Modern Windows Compared: Awning And Casement vs. Slider And Hung