Buying replacement windows for your home is something that is done once, or at least should be, and will not be done again for 20 to 30 years down the road. Just like before buying a car  you should take a test drive, when buying windows it is important to see the actual window replacement product that will be installed in your home. Some window companies have showrooms to display the product, while others will bring a window sample right to your home. From the first look, all vinyl windows look similar, but when you pay close attention you'll find many differences in the window construction and that will ultimately determine how well the window will perform in your home.
Here are some things you should look for when examining windows:
1. Start checking your windows from the exterior.
Check for welds in the corners, they should be continuous without any screws or glue.
Check for welds in the corners, they should be continuous without any screws or glue. Ideally, the sash and frame should be fusion welded using extreme heat and pressure. This ensures an inseparable bond at every joint for sturdier frames and longer lasting windows.
2. Check the operational hardware: 

For sliding windows we recommend ordering a cam lock made of steel, it virtually has no service issues.
For casement and awning windows:



Get a fold down handle, it tucks away for maximum space on the inside, and looks modern and sleek.

Multi-point locks are easy to operate, sturdy, and add to the overall security and insulation of your home.
3. Test the windows for easy operation.
Try to open, close, lock and unlock the window. It should move freely, and not rub or catch anywhere along its range of motion.
4. Check the window for easy maintenance features
Check if the window is designed for easy cleaning. Most window companies have developed windows that are easy to clean with such features as a tilt option.
5. Pay close attention to the glass sealed unit
Check to see from  which material the sealed unit is made. Look for a EnerEDGE IG Spacer seal. Some window companies use outdated aluminum seals, which are not as energy efficient as a EnerEDGE IG Spacer seal, and does not allow for glass movement which might translate into easier glass breakage when there is a sharp change in temperature.
6. Weatherstripping
A good sliding or hung window should have weather-strips all around its sashes in order to prevent wind and drafts. Weather-strips are also one the wear and tear components of the window, and therefore, should be designed in a way that is easy to replace.

7. Ask if the window can be ordered with vinyl jambs and casings.
This will not only ensure your vinyl windows are easy and quick to maintain, but give them a uniform look all around, and increase their longevity. A full vinyl window will be less prone to drafts and leaks.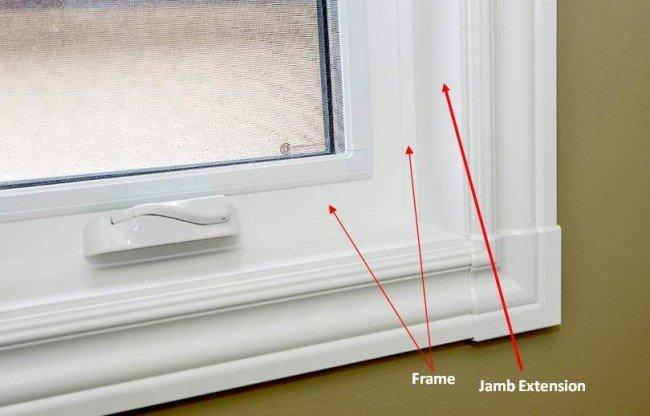 Check out these window replacement articles:
See our full line of replacement vinyl windows
Find out how we price our windows
Learn some frequently asked questions for your window quote appointment